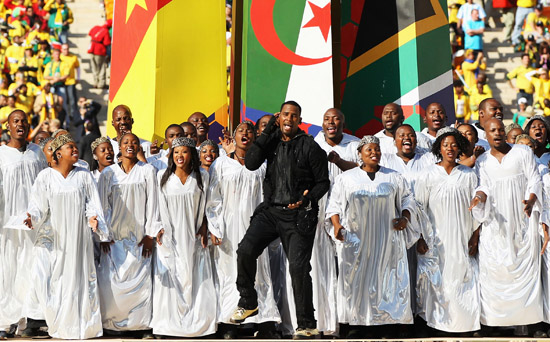 R&B singer R. Kelly helped kick off the festivities today in Johannesburg, South Africa at the Opening Ceremony of the 2010 FIFA World Cup.
Kelly performed a special tribute song called "Sign of a Victory" along with the Soweto Spiritual Singers in front of a sold-out crowd of 84,490. The song happens to be the official 2010 FIFA World Cup anthem and is also the opening track on Sony Music's Listen Up! The Official 2010 World Cup Album.
In an interview this past Wednesday (Jun 9), Kelly talked about his conception of the song and how he hoped it would be inspirational to all.
"It's definitely no doubt a humanity song, and I'm hoping that everybody feels the same way when they hear it. I'm hoping they can be as touched by it as I was when I heard it in my head."
Kelz, keep doing your thang! Peep the performance below: