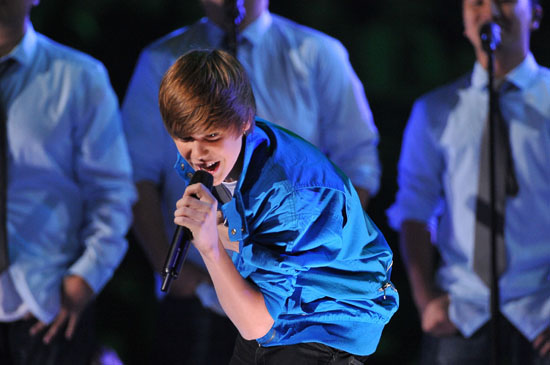 …had he not made it big on his own!
The 16-year-old YouTube sensation, who was discovered on YouTube by R&B superstar Usher a little over a year ago, was asked if he would have tried out for the show if Usher hadn't picked him up. And his response was:
"For sure! You know … we used to watch [the show]. Me and my mom used to watch it when I was little and we were like, 'I could get on there, you know,' " he told MTV News. "When I turned 16, I might have went and tried out, but this was faster," he said of being discovered on YouTube. Bieber also said that he stopped by the show to help out with charitable organizations and actually did not give advice to any of the "Idol" hopefuls. "It was great. I was just there. I didn't really work with any of the contestants," he said. "I was there supporting Usher when he performed."
Justin will appear tonight on American Idol during their "Idol Gives Back" special. The executive producer for the show says they chose JB because they feel like he's an inspiration for today's youth.
"I looked at that night as a good night for him to be on, because he's absolutely phenomenal," executive producer Cécile Frot-Coutaz explained. "And he's young and he's a real inspiration for [the] young generation, so it was a really good fit for him to be in that special episode."
Published