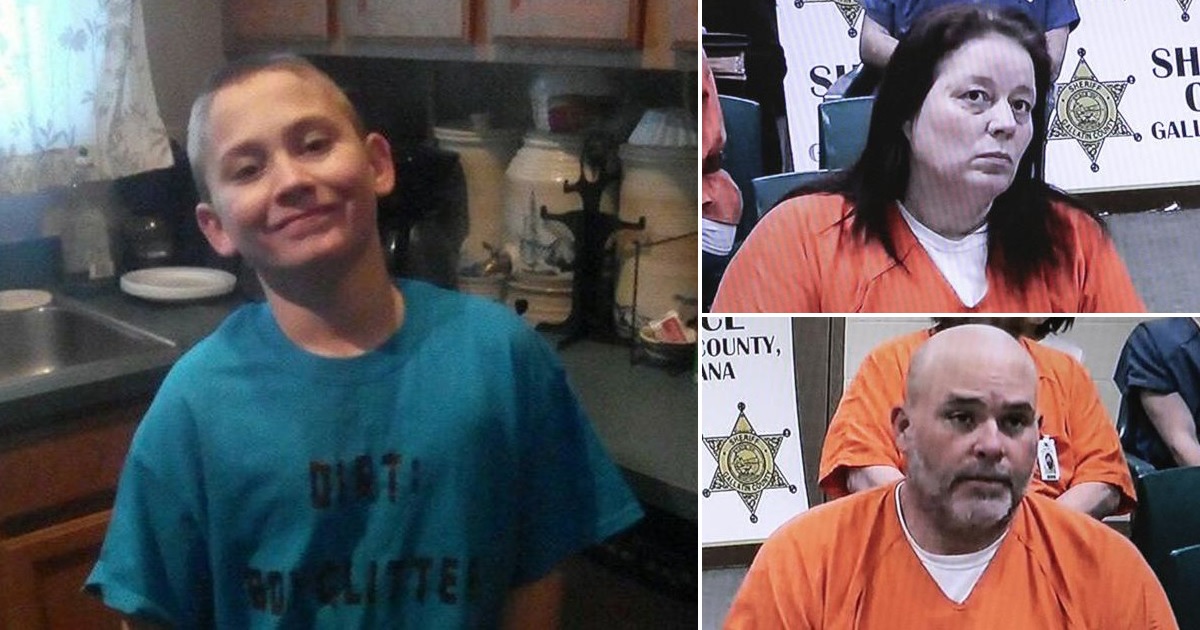 Three relatives have been charged in the death of a 12-year-old boy who police believe was brutally tortured and abused for at the least the past several months.
James Hurley, 12, was found dead in his grandparents' living room on February 3rd in a small Montana town. He had multiple wounds and contusions on his entire body, including a large gash in the back of his head.
Police found his death suspicious and launched an investigation.
A preliminary autopsy report shows that Hurley died from blunt force trauma. However, the medical examiner is also waiting on a toxicology report to make an official determination.
Hurley's grandparents, James Sasser Jr. and Patricia Batts, and the boy's 14-year-old uncle, James Sasser III, have all been charged with felony deliberate homicide for the death of the young boy.
"I believe the systematic torture and beatings are perpetrated on the victim in this case that led to his death," deputy county attorney Bjorn Boyer said during their court appearance last week.
One day before Hurley's death, Sasser III searched "concussion symptoms," "symptoms of sleep deprivation" and "what are the symptoms of brain injury?" on his phone.
Police believe an altercation between Hurley and Sasser III led to Hurley's death.
The uncle—who is 6 feet tall and 300 pounds—says he saw Hurley standing over Batts with a knife and tackled the 100-pound 12-year-old and repeatedly hit him with a paddle.
Though he says he never hit Hurley in the head during this particular altercation, he did repeatedly kick Hurley in the head 24-36 hours before his death.
And Batts called a January 27th incident between the two a "blood bath," in which Sasser III punched Hurley in the face.
Police obtained video footage dating back to December 2019 documenting the abuse Hurley suffered at the hands of his grandparents and uncle.
The footage shows the three choking, slapping, and hitting Hurley with a paddle and executing other forms of torture.
In one video, Batts can be seen choking and slapping her grandson against a wall.
In another, Hurley is seen forced to walk outside in a t-shirt while his family wears heavy coats.
"Dad said don't let him pass out from hypothermia," Sasser III wrote in a text message to Batts the day after this incident was recorded.
A criminal complaint offers more details of the abuse, as reported by Fox59:
Instances of the abuse included James being forced to do exercises — jumping jacks and wall squats — along with standing in front of a fan with no clothing but his underwear, according to the complaint.

Videos reviewed by detectives also showed the suspects spraying James in the face with an unknown substance that burned him and choking him, the complaint said.
Police also say the food in the house was locked up and Hurley had no access to it.
The three charged with his death initially told investigators that Hurley had been hearing voices and tried to harm himself and others.
However, they have since walked back that claim and detectives have found no evidence of the family seeking any medical or psychiatric treatment for the boy.
Hurley had lived with his grandparents and their three children, including Sasser III, for the past two years, following the death of his father in 2018. They took him out of school in September.
Hurley's mother—who lives in Texas—says she tried to call her son multiple times, but Batts prevented her from speaking with him.
A fourth person, family friend Gage Roush, has also been arrested for felony assault in the tragic case. The 18-year-old was also captured on video beating Hurley with a paddle.
Be the first to receive breaking news alerts and more stories like this by subscribing to our mailing list.