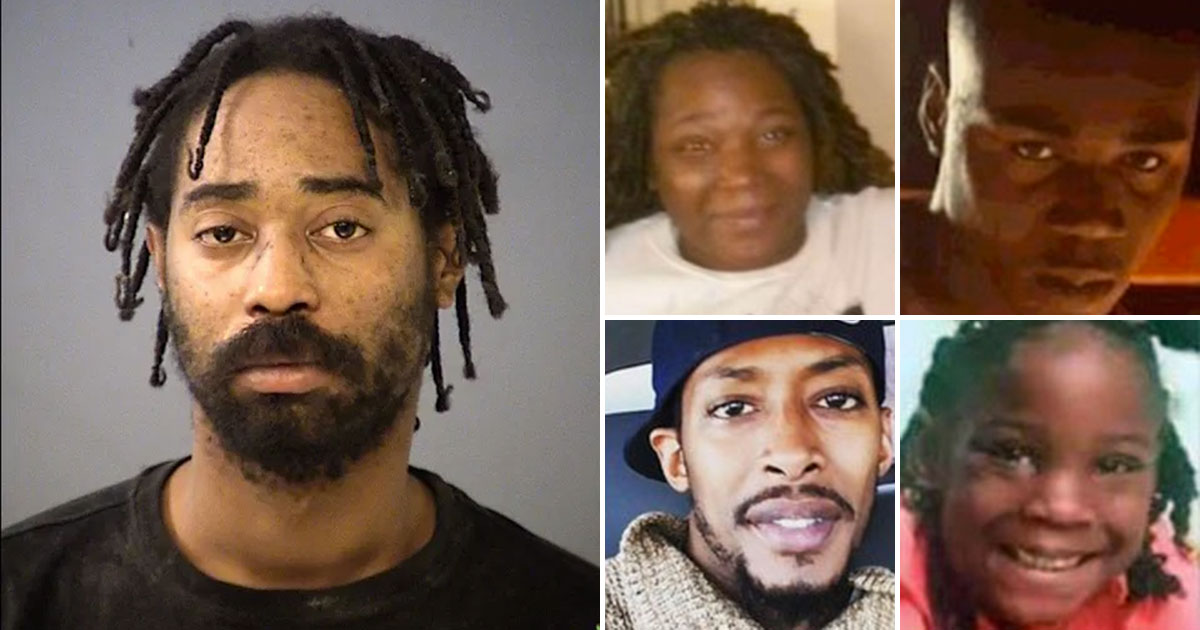 An Indianapolis woman was shot and her 7-year-old daughter, mother, brother and cousin were killed over the weekend after an explosive argument with her child's father over her stimulus check.
According to Fox 59, the shooting suspect, 25-year-old Malik Halfacre, had demanded that Jeanettrius Moore—a mother of two young daughters, one of whom she shares with Halfacre—give him half of the $1,400 stimulus check she received for their daughter, a request that she refused.
"He wanted some of Jeanettrius' tax money, stimulus money," Moore's cousin, Wendy Johnson, told the local Fox outlet. "She had just got her money, and he wanted half of her money."
Johnson continued: "She said, 'No, you don't deserve any of this. I work. I take care of our child. You don't do anything.'
"He said, 'I really want half.' She said, 'I'll give you $450. Take it or leave it.' He said, 'I'm gonna get that money.' This was the day before."
Johnson went on to say that she was told Halfacre was waiting outside Moore's home Saturday evening (Mar. 13).
"[Jeanettrius] said [Malik] gave her an evil look and walked off," Johnson added. "He came back."
Repeating the story Moore told her, Johnson said: "Malik came back in the house asking, 'Where's the money? Where's the money?'"
Johnson said that's when Halfacre started rifling through Moore's purse, and not long after, he opened fire on Moore and her four family members.
Jeanettrius Moore survived the shooting, but her family members were killed.
The deceased were identified as Jeanettrius' 7-year-old daughter, Eve Moore, her brother, 23-year-old Daquan Moore, her mother, 44-year-old Tomeeka Brown, and her cousin, 35-year-old Anthony Johnson.
"Daquan was trying to save his sister. He was taking up for his sister," Johnson said. "He stood up and said, 'You cannot have the money. You cannot have her money.'"
Johnson said Daquan then pushed Malik, "and Malik pulled out the gun and just started killing everybody."
Johnson added: "He shot Daquan first. He shot Anthony. He turned around, and he shot my Auntie Tomeeka. My Auntie Tomeeka said, 'Malik!' and he shot her again. He came back and shot Daquan for the second time and somewhere between little Baby Eve got hit somewhere and she was screaming, she was screaming."
The chaos didn't end there. Recalling Jeanettrius' story, Johnson said Malik returned to the house to retrieve a milk bottle after taking her and their 6-month-old daughter to the car and strapping the baby in a car seat.
"He went back in the house, and that's when he shot Anthony again when he was coming down the steps," Johnson said.
"When he went in the house, that was Jeanettrius' cue to run for her life, and that's what she did. Ran for her life in traffic across New York Street and knocking on everyone's doors."
Jeaneattrius, who was suffering from a gunshot wound, hid on a neighbor's porch until police arrived as Halfacre drove away with their child. Malik then fled the scene with their baby, which triggered an Amber Alert early Sunday morning.
"He told her that she made him kill everybody," Johnson said. "She made him do it."
Craig Jackson told a WISH-TV reporter that he was waiting on a food delivery when he heard someone banging on his door.
"I was sitting right here in my chair. I hear a loud bang on the door; bam, bam, bam, bam. I get up. I said, 'Who is it?'" Jackson said. "She said, 'Can you help me? I have been shot.'"
"She was frantic. She was hysterical. She was in pain," Jackson said. "She said her baby daddy shot her, and he shot her, her mother and the kids. She said she was the only person who got away."
Jackson said he tried to keep Moore conscious by talking to her as they waited for the police to arrive.
"I said, 'Why did he shoot you?' And her exact words were 'stimulus money,'" Jackson said. "Her exact words were, 'I am the only one who got away. He killed the rest of them.' Those were her exact words."
This is the man who was able to call 911 and possibly save the life of the only survivor from a weekend homicide that killed four people.

"Stimulus money" is what the woman told him caused the suspect to shoot her and kill 4 members of her family. @WISH_TV pic.twitter.com/l8HapBNTQk

— Sierra Hignite (@SierraHigniteTV) March 15, 2021
Jackson said while they were waiting for the police, he noticed a pickup truck circling the block at least three times, but he couldn't see who was inside.
"She kept on saying, 'Please help me, please help me, please help me. And I told her, I said 'The police are on the way. The police are on the way,'" Jackson said.
When the police arrived, Jeaneattrius directed them to the home a block away where the victims were found. Lorenzo Moore, another brother of Jeaneattrius, walked in at the same time and discovered the bodies of his family members.
"I seen all my family members in there on the floor dead. I could put the picture together of how everything went down and how everybody went," Lorenzo said, adding that he was in pure disbelief at the gruesome scene.
"I didn't even know that that was my people on the ground suffering because they let a monster out of prison."
Malik Halfacre is an ex-con and was previously arrested for shooting a man in northwest Indianapolis in early 2017, but was released in 2018 after pleading guilty to a lesser charge.
"We always knew that he carried a gun," Lorenzo said of Halfacre. "He didn't have a job—just laying around being lazy."
Lorenzo also said his sister was afraid of Halfacre, adding: "It was like you could feel this fear, but you never want to do anything about it because you're too scared and it might come to what it's come to. Just him being angry about not having any money and him not doing anything for himself, so he thought he would just take something from her."
Several hours after the shooting, the couple's baby was found unharmed in northeast Indianapolis, and within 24 hours of the shooting, Halfacre was arrested after a 4-hour-long standoff with a SWAT team.
While he has yet to be formally charged, online arrest records list Halfacre's preliminary charges as murder, robbery and attempted murder.
As for Moore, she was taken to a hospital and her condition was described as stable.
The family has set up a GoFundMe to raise money to help pay for the funerals of the murder victims.
Be the first to receive breaking news alerts and more stories like this by subscribing to our mailing list.