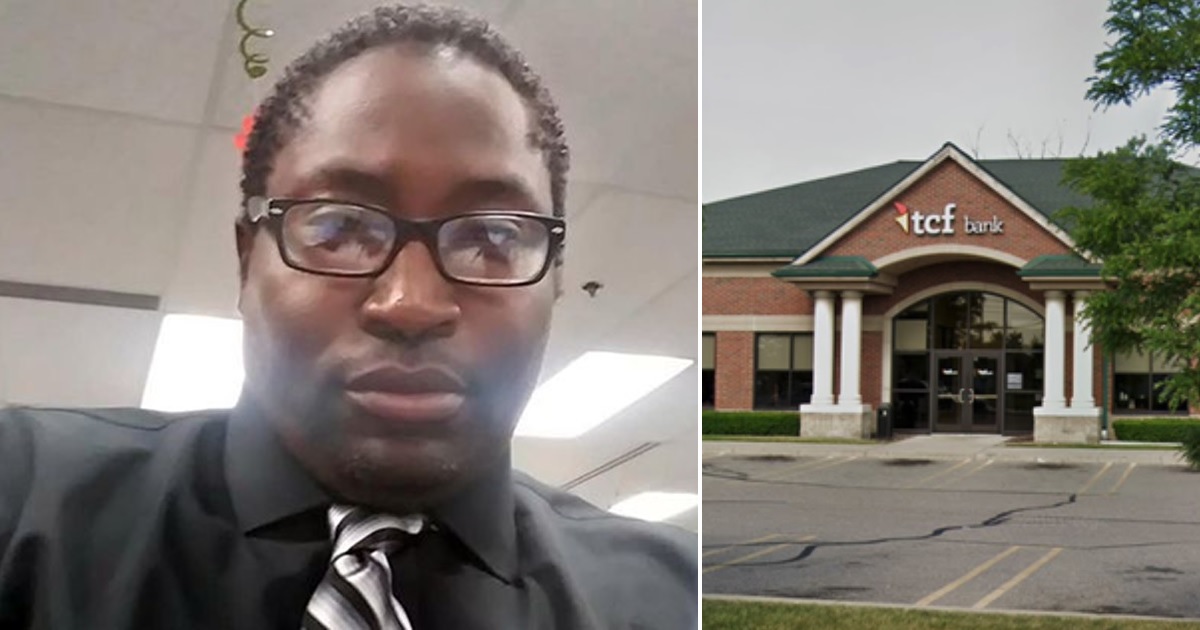 A black Detroit man is suing a Michigan bank for discrimination after the bank refused to cash checks that had just been awarded to him in a separate race discrimination lawsuit settlement from his employer.
Sauntore Thomas is suing TCF Bank after employees labeled his settlement checks fraudulent and called the police on him on Tuesday (Jan. 21).
Four officers arrived on the scene—two talking with Thomas while the other two stood guard outside.
The 44-year-old—who has held an account with the bank for two years—was stunned and humiliated by the way he was treated.
"I didn't deserve treatment like that when I knew that the check was not fraudulent," he told the Detroit Free Press.
"I'm a United States veteran. I have an honorable discharge from the Air Force. They discriminated against me because I'm black. None of this would have happened if I were white."
Thomas even called his lawyer, Deborah Gordon, during the matter hoping she could verify the checks' authenticity to police and the bank. Unfortunately, even she wasn't believed.
"I got on the phone with the bank. I sent them my federal court complaint, to see that it matched. I did everything," Gordon told the newspaper.
Gordon echoes her client's sentiment that the bank discriminated against him because he had large sums of money.
"Obviously, assumptions were made the minute he walked in based on his race," she said. "It's unbelievable that this guy got done with a race discrimination case and he's not allowed to deposit the checks based on his case? It's absolutely outrageous."
"They could have just called the bank that issued the checks, and they apparently didn't do anything because it would have all been verified immediately," she added.
Though Thomas did not reveal the amount of his checks due to a confidential agreement with his former employer, Enterprise Leasing Company, TCF says Thomas was attempting to deposit three checks valued at $59,000, $27,000, and $13,000.
Tom Wennerberg, a spokesman for TCF Bank, says the checks were watermarked "VOID" and the bank's system deemed them fraudulent.
Wennerberg also said that the African-American assistant manager who assisted Thomas was suspicious, not because of his race, but because of his behavior.
The manager felt something was off after Thomas made two unusual requests: to deposit the two larger checks into an account with only 52 cents and cash the third; he then asked for another debit card because his wasn't working.
Thomas also claims that he manger directly asked him "How did you get this money?" and then misled him by telling him that she was still trying to verify the checks, when she was really calling the cops.
TCF issued an apology to Thomas on Thursday (Jan. 23). It read in part:
"We apologize for the experience Mr. Thomas had at our banking center. Local police should not have been involved. We strongly condemn racism and discrimination of any kind.

"We take extra precautions involving large deposits and requests for cash and in this case, we were unable to validate the checks presented by Mr. Thomas and regret we could not meet his needs."
"TCF Bank is a diverse business serving a diverse community and we abhor racism in all forms," the statement continued. "Mr. Thomas' transaction was handled like any other transactions involving requests for large amounts of cash."
Thomas was not arrested or charged after the incident at TFC Bank.
He closed his TCF account, took his settlement money to a Chase Bank and cashed the checks with no issue. The money was available in his new Chase account within 12 hours.
Thomas filed the discrimination suit against TCF Bank on Wednesday (Jan. 22).
"I want to be vindicated," Thomas said.
"I had a very long journey and I feel like I have to go through the same thing again. It's frustrating…[but] I will be vindicated because I didn't do anything wrong."
Be the first to receive breaking news alerts and more stories like this by subscribing to our mailing list.