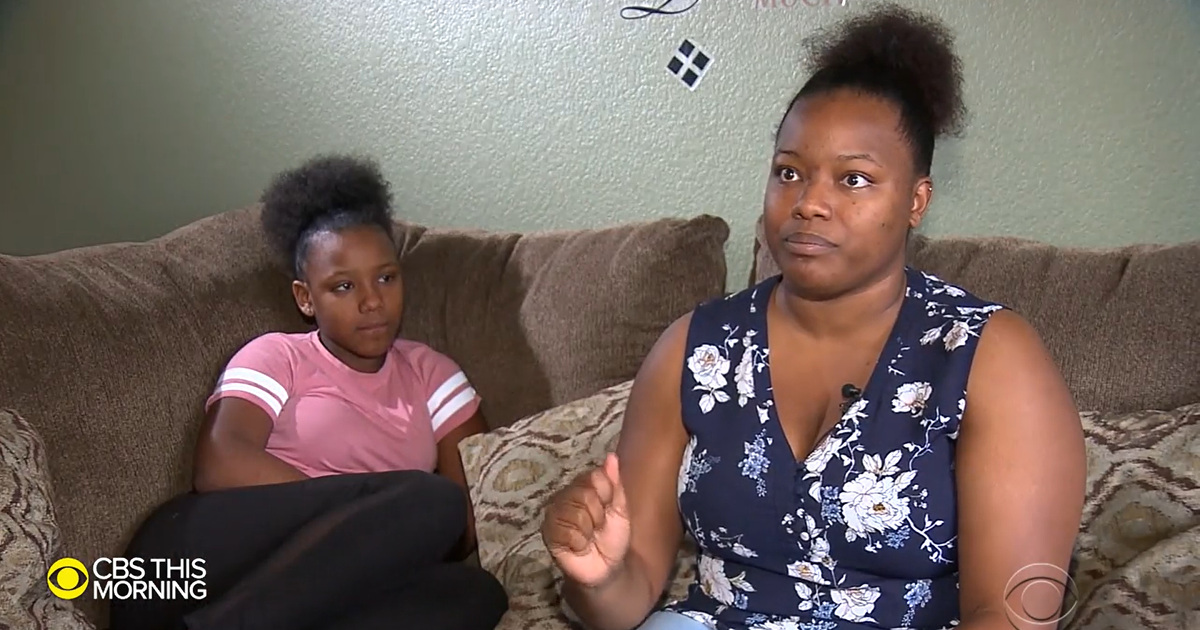 A Colorado mom is upset after her 11-year-old daughter was kicked off an elite cheerleading team because the coach refused to let her compete with her natural hair.
Tiyana Young claims Diamond Elite All-Star Cheerleading coach Stephanie Trujillo demanded her daughter, Niemah, wear a ponytail hairpiece instead of her naturally curly hair during competitions in order to match her white and Latina teammates.
But when Niemah no longer wanted to wear the piece, it became an issue and the 11-year-old was kicked off the team.
"It is easily a two-hour process," Young told CBS News. "I have to literally use a hard brush and pull her hair back into the tightest ponytail I can get it into."
Niemah wore the hairpiece throughout the previous season. However, it would often cause her to become lightheaded due to its tightness.
"Coach said, well if she doesn't like it, she doesn't have to wear it," Young said.
Young says Coach Trujillo suddenly changed her mind during this season and would even subtly antagonize Niemah during practices.
"The coach continues and asks the other teammates: 'How do you feel that this African-American girl gets to wear her natural hair?'" Young added.
After the matter became an ongoing issue, Niemah was ultimately asked to leave the squad.
However, in a statement, Diamond Elite and Trujillo state the 11-year-old's dismissal from the team was never about her hair, but because of alleged threats Young had made to staff.
"[Niemah's dismissal] was never based on the athlete or her ethnic background. The decision was based on threats received that were directed at the staff which brought forth major safety concerns."
Young pushed back against the claims to CBS News.
"I've worked hard to not become that person that unfortunately black women and black men are portrayed to be, is violent," she said.
Diamond Elite does say that the issue has caused them to review their uniform guidelines and expectations.
According to the national governing body for U.S. cheer and dance teams, "hair must be secured off the face with a simple and unexaggerated style that is adaptable to all diversities."
Unfortunately, Niemah no longer wants to cheer anymore because of the debacle. She no longer feels welcome in the cheer community, but would appreciate an apology from Diamond Elite.
Be the first to receive breaking news alerts and more stories like this by subscribing to our mailing list.