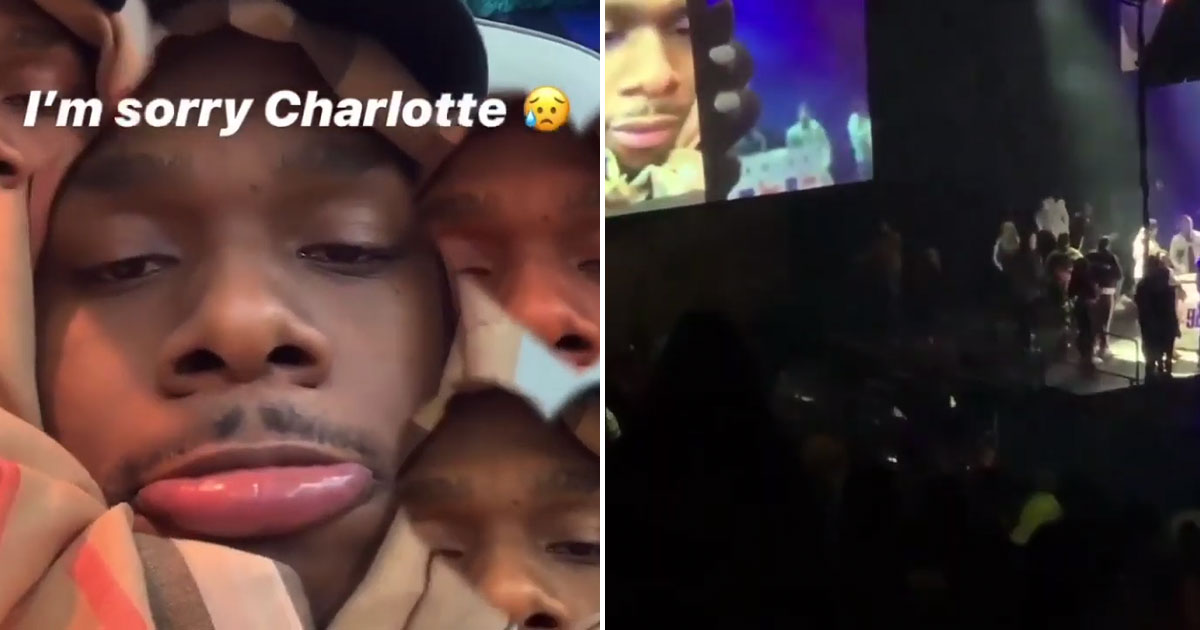 DaBaby's a very busy man right now. In fact, he's so busy that he was forced to perform for his fans in Charlotte last night via FaceTime.
Charlotte's Power 98 FM radio station hosted a Winter Block Party concert at the Bojangles Coliseum Thursday night (Dec. 5) featuring performances from Megan Thee Stallion, Fetty Wap, Layton Green, Tyla Yaweh and Blacc Zacc and more.
DaBaby was supposed to headline the show, however, he got stuck in New York City (where he was doing rehearsals for his upcoming SNL appearance) after the private jet he was supposed to fly on experienced technical difficulties.
The rapper expressed his disappointment in the situation, writing in a post shared on his Instagram stories: "Maintenance issue on this weak a** jet … Night of the hometown show [thumbs down emoji]"
He added in a video story: "Bitch I'm mad as hell" as another person chimed in off-camera: "Me too bro. This ain't what it is right here."
Because he was already cutting it so close to show time, securing another private jet in time wasn't an option, but that didn't stop DaBaby from putting on a show for his hometown fans.
Videos posted to social media show the rapper explaining to the crowd firsthand via FaceTime what happened and why he was unable to make the show.
So @DaBabyDaBaby said he was stuck on a "Raggedy ass jet" (because of @nbcsnl ) and performed on #FaceTime at @TheBOplex ?????? #DaBaby #Charlotte @Power98FM #Power98 #concert #fail #lol #clt #lolclt #kirk #hiphop pic.twitter.com/dxkZjqf9Et

— lol CHA (@LOLCLT) December 6, 2019
He also performed a couple of his hit singles, including "Suge" and "Intro," and promised to throw a free concert for the disappointed fans who mostly came to see him (you know, since he was the headliner and all).
While some fans on Twitter understood that the situation was beyond his control, others were pissed that DaBaby didn't make the show.
Y'all…

DaBaby got stuck in NYC and was performing via FaceTime for his own show.

Whew chile…? pic.twitter.com/dFWaTAtTJP

— Tab (@GiftOfTab) December 6, 2019
DaBaby really performed on FaceTime..

— magali (@Magali_Alvarado) December 6, 2019
Dababy performed his concert through facetime ? gotta love him lol

— Jaz ?? (@jazalexa_) December 6, 2019
DaBaby couldn't make his concert cause of the jet having issues. This man FaceTime in to perform for his fans. That's some real love to his fans

— Nwamaka ? (@LoveWammie) December 6, 2019
Dababy really tried to perform via FaceTime… pic.twitter.com/xy91QKkNDm

— darius?? (@daretobedapper_) December 6, 2019
@DaBabyDaBaby I paid over $200 for a bunch of wack ass artist and you on facetime.

You lost a fan tonight. Say what you want about weather, ur ass never had any plans on coming tonight…..#Charlotte #dababy

— Stingy Life (@_StingyLife) December 6, 2019
This nigga dababy performed thru FaceTime that's dedication

— aintbeentosleep™? (@devinsofficial) December 6, 2019
DaBaby perform for his fans over FaceTime cuz his PJ broke down…..PR need a raise. That was genius!

— Tj Markray (@_Legendaryt) December 6, 2019
Power 98 FM hosts No Limit Larry, Ms. Jessica and Burpie said in a video on Instagram that fans who attended the show would be able to cash their ticket stubs in for tickets to a free make-up concert that will be announced Friday morning at the Bojangles Coliseum box office.
Plane issues aside, 2019 has been very good to DaBaby, who released not just one, but two successful albums this year alone.
After dropping his debut studio album Baby on Baby back in March, he returned just seven months later in October with his sophomore album Kirk.
He also spent the year collaborating with everybody and their mama, including Lizzo, Nicki Minaj, Megan Thee Stallion, Lil Nas X, Post Malone, Lil Baby, Gucci Mane, and many others. He recently revealed he did a song with Lil Wayne too.
The rapper also earned his first two Grammy nominations for next year's ceremony for Best Rap Song and Best Rap Performance, both for his biggest hit to date "Suge."
Be the first to receive breaking news alerts and more stories like this by subscribing to our mailing list.