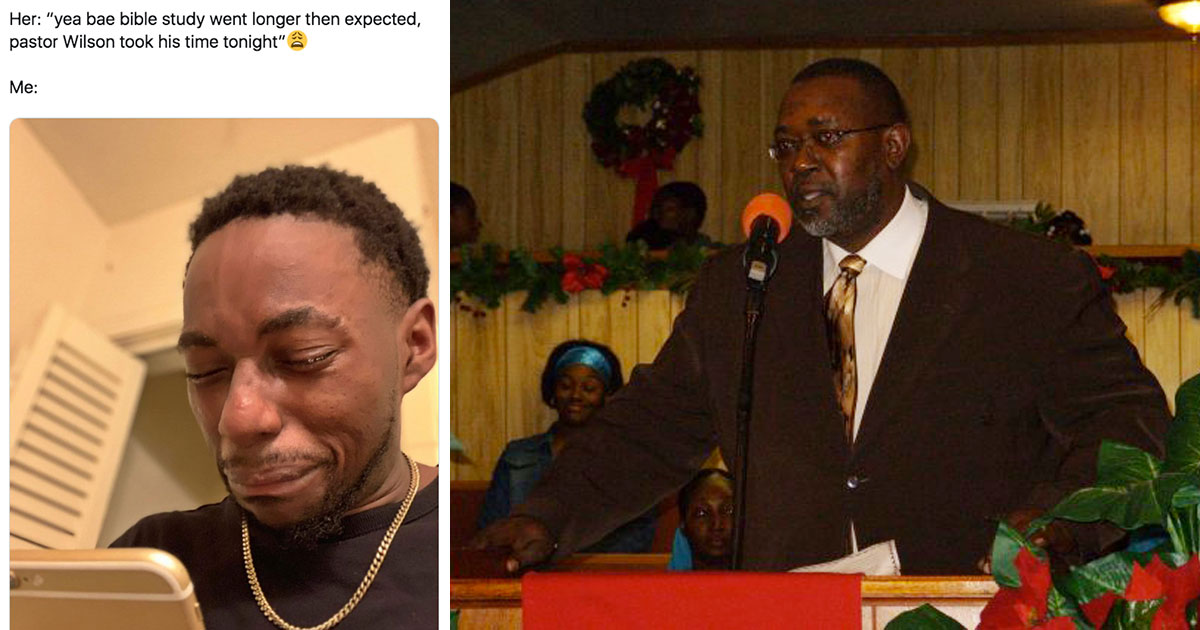 After a graphic video showing a man believed to be the pastor of a church in Texas performing oral sex on a woman who was supposedly not his wife went viral, social media responded with enough jokes and memes to keep #PastorWilson trending on Twitter for two days straight.
In the video, the man who strongly resembles Pastor David E. Wilson—who heads Bibleway Ministries and World Out Reach Inc. in Texarkana, Texas—can be seen going to town on an unidentified woman's nether regions for nearly a full minute.
Of course, we can't share the video here, but what we can show you are the hilarious Twitter reactions.
Check 'em out below:
Her: "yea bae bible study went longer then expected, pastor Wilson took his time tonight"?

Me: pic.twitter.com/WQXS83bwkG

— JO$H JONE$ (@jappoffjones) October 17, 2019
#PastorWilson walking up to ole girl house pic.twitter.com/73qsnmM2rz

— Kia N Da Ville (@IBeLike_PhuckIt) October 17, 2019
"Hey girl…. How you doing?
They call me Pastor
Last name Wilson…." ?

?? #PastorWilson pic.twitter.com/r4smBodi3W

— Poetry Amaru (@iiam_amaru) October 18, 2019
Pastor. Last name Wilson. pic.twitter.com/vzbMiKeEam

— Kevín (@KevOnStage) October 19, 2019
Woman: Pastor, I'd like to see you in your office, I need counseling, my husband just died and……

Pastor Wilson:??
#PastorWison pic.twitter.com/1rD4ffeYU3

— Izzy Deraah (@datchidexman) October 19, 2019
A clear picture of pastor Wilson ??#PastorDavidWilson #PastorWison pic.twitter.com/wbl6jls1sh

— BOLANLE'S EX (@ui_bigmouthed) October 19, 2019
#PastorWilson walking into church on Sunday. pic.twitter.com/mCgbJpEye3

— Akna2 (@Akna22) October 17, 2019
After finding out who Pastor Wilson is ? ????? #pastorwilson pic.twitter.com/1bsMtUC1RN

— Zo? (@Zobrianaa) October 18, 2019
Pastor Wilson's Deacons after watching Pastor Wilson split them yams and go to work. #PastorWilson #AnAnointing pic.twitter.com/3EFzE0Brih

— Almulk Alshijae (@chosen_won76) October 18, 2019
When you trying to stop your mom from asking for prayer with #pastordavidwilson #PastorWilson pic.twitter.com/oHEPzVTogY

— Freight train up (@Black_Megatron) October 17, 2019
Seeing Pastor Wilson walk out my Grandma house ? #PastorWilson pic.twitter.com/GzG70Px1ii

— Self Loved ??? (@Kae_Kae_23) October 17, 2019
Pastor Wilson in front of the congregation this Sunday pic.twitter.com/CtZ101QuY6

— Great Value Lance Gross? (@KoolKerm) October 17, 2019
If your grandma go to Pastor David Wilson's church… pic.twitter.com/JunEbcCLQJ

— Roshod ?? (@TheRealRoshod) October 18, 2019
When Pastor Wilson tries to enter those pearly gates in heaven.

GOD: pic.twitter.com/TE2OQKjEl0

— Jerome Trammel (@MrJeromeTrammel) October 17, 2019
Pastor Wilson said "Golden Corral and Chill, Sister Dorris?" pic.twitter.com/ytkXKeXA7a

— Heel Turn Haden (@_TheSonOfMars_) October 17, 2019
How all the woman pulling up for pastor wilson Sunday service pic.twitter.com/F4ABFe5XAQ

— Ya'H?d (@AbstractdMindEd) October 18, 2019
I just saw the Pastor Wilson video and I hereby will not accept any slandering of his name! A KING ? pic.twitter.com/HrEEA6MO0n

— ??My Line Suspended??? (@TheJessieWoo) October 17, 2019
Where is MY Pastor Wilson?! pic.twitter.com/rjQhEc5llX

— ??My Line Suspended??? (@TheJessieWoo) October 17, 2019
The Usher board women pulling up to Pastor Wilson church to get some one on one prayer sessions pic.twitter.com/MH89GlwzwZ

— JamakeComedy (@Jamake0602) October 17, 2019
Congregation:

Pastor Wilson This Sunday… #PastorWilson pic.twitter.com/tV4Xon3Euc

— Dallas (@RnBMaster) October 18, 2019
When pastor Wilson say get ready I'm coming to get you #PastorDavidWilson #PastorWilsonChallenge #pastor #Inktober2019 #WildNOut pic.twitter.com/0EP1OoWkRe

— LeahCashdaire (@LeahCashdaire) October 18, 2019
He was just following the word?????? pic.twitter.com/eJQDai9WbS

— Lala ?? (@Askalaunad) October 18, 2019
#PastorDavidWilson is showing an entire generation how it's done! pic.twitter.com/fkWB14sRq7

— Michael Tipton (@mrtipton33) October 18, 2019
#PastorDavidWilson
When that head good, but not pastor Wilson kinda good? pic.twitter.com/7e9wWvlFKL

— GEEMORE (@sirlukane) October 18, 2019
Me getting the Holy Ghost in front of pastor Wilson on Sunday #PastorWilson pic.twitter.com/2JwqgX9iAF

— Penny (@Pennycutie1920) October 17, 2019
#PastorWilson challenge… ?????? pic.twitter.com/Vc21U1isUi

— Bobby Lee (@IAmBobbyFlay) October 17, 2019
Me: praying for yall sinners l?king for #PastorWilson pic.twitter.com/J8XjcKY3vu

— Unknown Beauty ? (@2beAbeauty) October 18, 2019