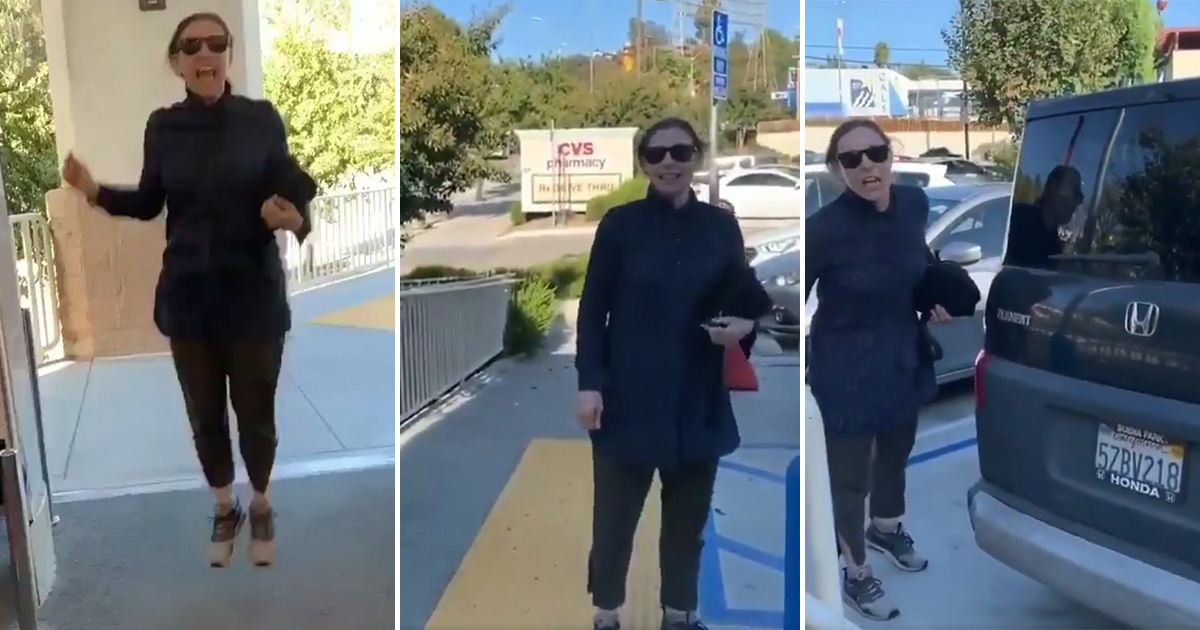 A white woman was caught on video not just saying, but SCREAMING the N-word, and the footage has gone viral on social media.
The short video begins with the woman, who has since been identified as Heather Lynn Patton, jumping up and down at the entrance of a CVS in the Eagle Rock neighborhood of Los Angeles shouting "I hate n***ers!"
When the woman filming asks if Patton "is on drugs or something," the woman replies: "No, I just hate n***ers."
As Patton walks toward the parking lot, she says "f**k you n***ers," and a man walks by and tells her "come on lady, take a break," to which she replies, saying once again: "I hate n***ers."
After the woman behind the camera threatens to call the police, Patton screams: "I would kill a n***er but the law says I can't kill the n***ers! If the law didn't say I couldn't kill the n***ers they'd all be dead!"
Patton then walks to her car in the parking lot and points out her license plate number (which is how she was quickly identified on social media) to the woman recording and then chants "n***er" several times before getting into her car as the video ends.
Watch below (but be warned of the excessive use of the n-word):
"If the law didn't say I couldn't kill the nig*ers they'd be all dead"

This racist lady told a Black woman that she would kill all black people if it wasn't illegal in a CVS in California

WHO IS SHE?! SHE NEEDS TO BE IN PRISON FOR LIFE! pic.twitter.com/iiShKgmkPL

— StanceGrounded (@_SJPeace_) September 26, 2019
Renee Saldana, another woman who witnessed the entire incident, which happened on Tuesday (Sep. 24), wrote on Twitter that she had reported the incident to the police.
"It was quiet in CVS & then someone just yelled the n-word and then it was quiet again & then that woman started screeching racist stuff towards a Black woman (who shot that video)," Saldana shared. "There was no build-up or prior altercation."
She added: "There were at least a dozen witnesses and there was more yelling going on inside before the video starts. That woman was freaking out everyone in the store shouting about lynching Black people. There were 2 shoppers who saw her drive up & said she was driving erratically when she parked. When the woman took off after the rant, she was speeding west on Colorado driving on the wrong side of the street. Other frightened customers kept saying, 'She could kill someone!'"
Another customer said he was shocked to see that type of behavior in Eagle Rock.
"I'm extremely surprised to see it in Eagle Rock, because there's a whole bunch of all kinds of minorities here," he told CBSLA. "That's all I can say, I'm surprised to see it here."
According to Heavy.com, Heather Patton (the racist woman in the video) is a 49-year-old resident of Los Angeles who works in the film and TV industry as a costume designer, wardrobe assistant and various other film crew crews.
Her IMDB page shows that she's worked on several TV shows and movies, including Epic Move, Private Practice, Medium, Rescue Me and The Americans, among others.
Heavy also reported that L.A. County court records show that Patton has been issued at least two restraining orders dating, both back to April 2017, by her neighbors in the Mount Washington neighborhood of Los Angeles.
One neighbor told KTLA that patton "has a long history of erratic, unstable behavior and making violent threats to him and his family."
A spokesperson for the Los Angeles Police Department told the news station that a hate incident report was taken.
Be the first to receive breaking news alerts and more stories like this by subscribing to our mailing list.