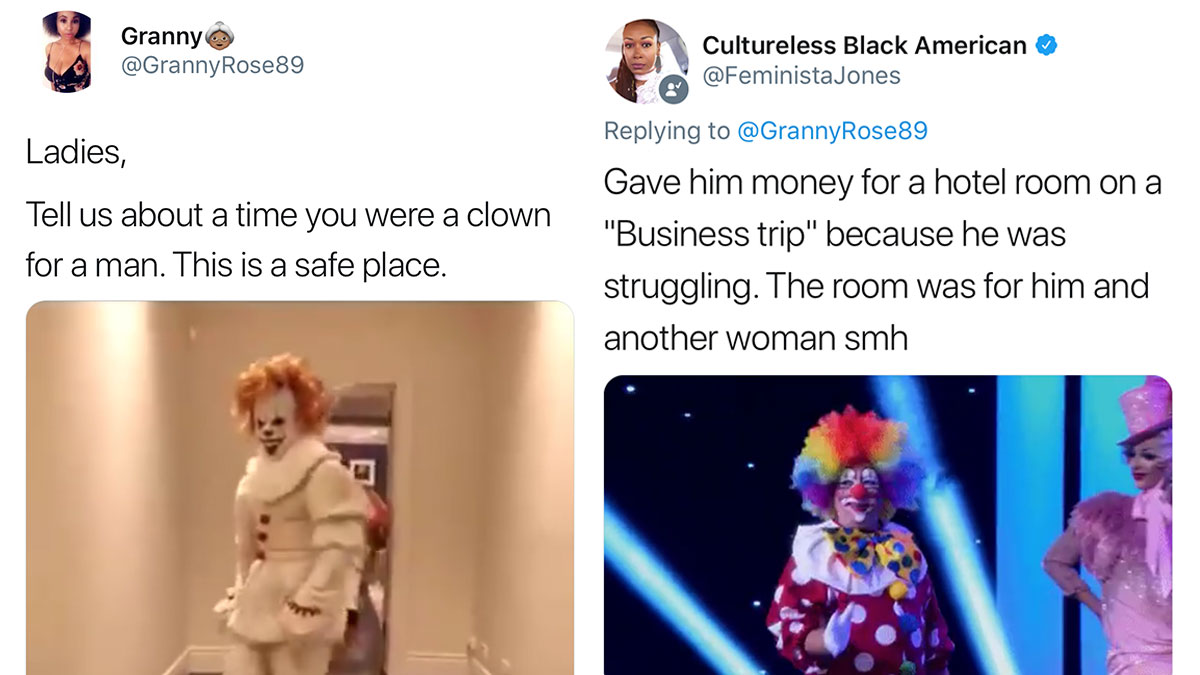 Women on Twitter are sharing instances in their lives in which they were clowns for men … and, let's just say, their stories are probably some of the funniest tweets on Twitter right now.
It all started when Twitter user @GrannyRose89 said, "Ladies, Tell us about a time you were a clown for a man. This is a safe place" along with a hilarious video of Diddy dressed up on Halloween as that scary ass clown thing from the movie It.
Ladies,

Tell us about a time you were a clown for a man. This is a safe place.

— Granny?? (@GrannyRose89) August 10, 2019
Being a good sport, @GrannyRose89 kicked things off with her own story.
"Alright. So Boom. My ex cheated on me with a good friend, got her pregnant, & my stupid ass married him," she tweeted. "To answer y'all questions: I was 19 with low self-esteem; Divorced 4yrs now; He was physically abusive."
From there, a bunch of women proceeded to let their guards down and openly discuss various moments in their lives in which they did things for men that ended up making them look like fools.
While a lot of the tweets themselves are funny, what makes them even funnier are the GIFs and video clips of clowns attached to some of them.
Check out some of the best and funniest responses below:
Gave him money for a hotel room on a "Business trip" because he was struggling. The room was for him and another woman smh pic.twitter.com/JQy9ZCA7XO

— Cultureless Black American (@FeministaJones) August 11, 2019
My ex stole & totaled my car 9 days after we started dating. Later that night I was talking to him on the phone and he was faded and thought I was the girl he was cheating on me with and told me he was going to dump me. Then I dated him for 4 more years pic.twitter.com/H2ZtqQITtn

— hannnah ? (@hannahnicolemm) August 11, 2019
Lmaooo I bought a dude a Christmas gift. He bought me nothing. But kept saying it was coming to my house… and then I found out he bought another bitch a car. pic.twitter.com/L5qPPLnXrj

— Toni Tomboy Romiti (@toniromiti) August 11, 2019
Bought him a playstation and an xbox ??????? he ended up giving the xbox I bought him to his side bitch little brother. Whew ? ? ????

— jazzy ? (@prvttychrissy) August 10, 2019
Aight, my turn, my ex was in Korea, cheated on me, i found out from his SC, me and the woman personally spoke, and when he came back, i took him back and got his car painted as a welcome back gift ?

— ? (@beingjocci) August 10, 2019
Ex had girl friends in every state, was with his baby's mother, I covered his shift so he can go on a "work vacation" for his photography and the girl posted a picture of them in bed .. got him an apartment w a friend and he brought another girl there.. let him live in my home !!

— Jess?? (@Sadgrlx3) August 11, 2019
Agreed to a threesome with the baby mama he told me he broke up with ( didnt go through with it but drove an hour). I'm still dealing with him pic.twitter.com/EAop5kCJXk

— Daves (@Tears4Clowns) August 10, 2019
i let a man that i had known for a week fly me out to florida just so that i could see the beach for my birthday. he kept me there for a month when i was supposed to be there a week. hated it. never saw the beach.

— brzy? (@brevaillancourt) August 11, 2019
this how i would've shown up on the news if i was stuck any longer pic.twitter.com/jn4pWlQD0n

— brzy? (@brevaillancourt) August 11, 2019
I paid my bd rent and he didn't tell me he was 3 months behind. Still got evicted. Then I let him move in with me and he didn't pay not 1 bill ?

— Brianna. (@bestfriendbri) August 10, 2019
Not a single one ? lived together for 6 months

— Brianna. (@bestfriendbri) August 10, 2019
— GK (@GK73986146) August 10, 2019
I bought him shoes for Valentine's Day and my mama always said never buy a man a pair of shoes cause he'll use them to walk out your life and he surely did … in the arms of another man

— Sammie Lynn !™? ? (@_MahoganyL0VE) August 10, 2019
Girl ! Threw me for a loop myself lol

— Sammie Lynn !™? ? (@_MahoganyL0VE) August 10, 2019
Aight so ..I caught my ex boyfriend in our bed in our house with another man who were both butt naked smoking weed and watching love and basketball…the guy then proceeded to tell me he has been to my house at least 8 times while I was working 2 jobs and my ex was unemployed

— HELP SAVE PUP PUP (@Myrajayjenni) August 10, 2019
I was 19, messing with a broke drug dealer and he would pick me up for my lunch breaks on pay day, take me to cash my check and take my whole check and drop me back at work. ????

— Empress of Light ? (@MrsTyna_) August 10, 2019
Gave up MY bomb ass condo downtown Atl that I got for the low and moved in w him and his parents. pic.twitter.com/L0Ne8DXXOt

— kkismet?? (@kiraalex) August 10, 2019
After i had his child alone, I moved me and my children from Hawaii to VA to be with him. He lived in Colorado and told me to wait for him. He never came and broke up with me. Meanwhile I have no friends or family in VA. Made a life here alone with my children. pic.twitter.com/kvae2X5Y2E

— demonic doll baby ?? (@lalajayreckless) August 10, 2019
Dating a guy that was unemployed living with his mama. We went out for Valentines Day and he was so embarrassed that he couldn't pay that he asked if he can give MY debit card to the waitress so she thinks he paid…AND I LET HIM ?

— Hot Girl Jessi (@ButerflySamurai) August 11, 2019
Me after reading the comments and relating to multiple situations pic.twitter.com/lw49ZNtmQR

— NAY ? (@_Naimah_) August 10, 2019
I'll tell yall when I'm done????

— LaTonya Daniels (@LaTonyaD74) August 10, 2019
That's why I'm just sitting here waiting for my turn ? pic.twitter.com/KBZOeBJ4WN

— sagittarius.????? (@chocolithoney) August 10, 2019
— Tons of Fun (@tokenbeigechick) August 11, 2019
Me too sis . pic.twitter.com/OgOcsHgreR

— Now y'all in distress (@peachfro) August 11, 2019
I'm still on my bozo tour! I'll give y'all the run down in 6wks pic.twitter.com/mey1ZADcx7

— ?? (@AReal_Ariel) August 11, 2019
Be the first to receive breaking news alerts and more stories like this by subscribing to our mailing list.