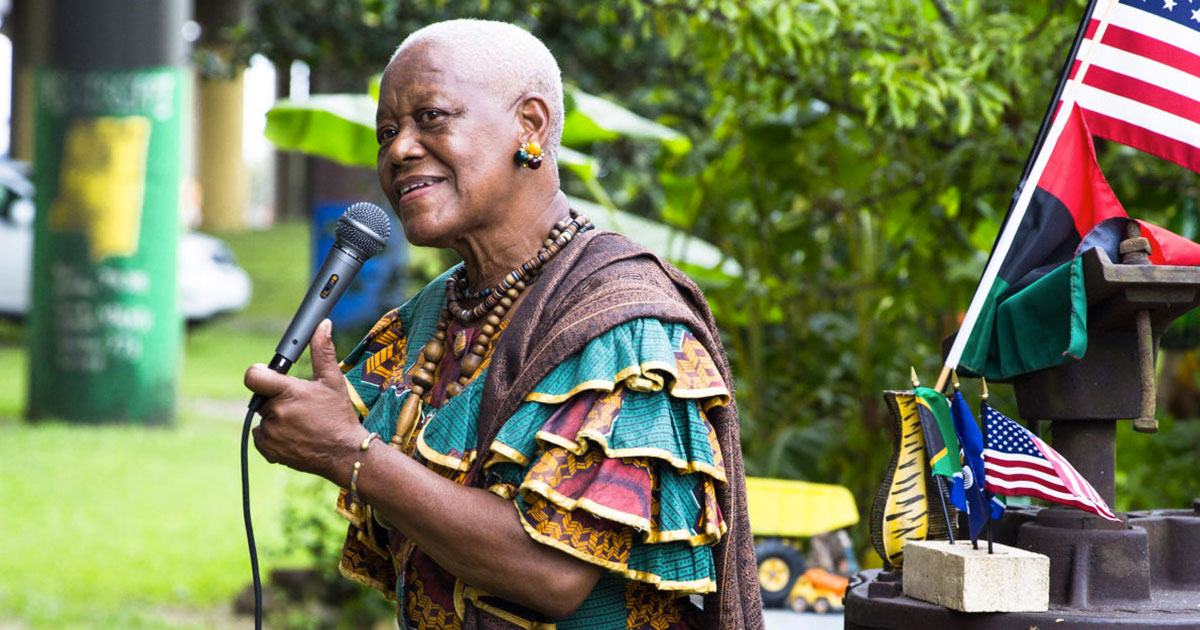 A 75-year-old Louisiana woman who founded an African American history museum was found dead in the trunk of a car, Baton Rouge police confirmed.
Police said Sadie Roberts-Joseph—an icon in the black community and Baton Rouge, Louisiana—was found dead around 3:45 p.m. on Friday (Jul. 12). Her body was located about three miles away from her home.
Authorities haven't yet released how she was discovered and investigators said they were still for a coroner to determine a cause of death.
The Advocate reports Roberts-Joseph was the founder and curator of the Baton Rouge African American Museum, which she started in 2001 as the Odell S. Williams Now and Then African-American History Museum.
The museum is located on the campus of New St. Luke Baptist Church, where Roberts-Joseph's brother is the pastor.
Roberts-Joseph was also responsible for organizing an annual Juneteenth festival at the museum, marking the date June 19th, 1865 when Union soldiers delivered belated news to Texas that that President Abraham Lincoln had signed the Emancipation Proclamation two years prior, declaring all slaves in the South free.
The museum features African arts, exhibits on growing cotton and black inventors, as well as a bus from 1953 from the period of civil rights boycotts in Baton Rouge.
It also has prominent exhibits on President Barack Obama, whose presidency "gives children in particular a sense of hope," Roberts-Joseph told The Advocate. "As we inspire and as we educate them, we will see our youth doing greater things."
She continued: "We have to be educated about our history and other people's history. Across racial lines, the community can help to build a better Baton Rouge, a better state and a better nation."
The Baton Rouge Police Department released a statement about Roberts-Joseph's murder, saying: "Ms. Sadie was a tireless advocate of peace. Our detectives are working diligently to bring the person or persons responsible for this heinous act to justice."
The Baton Rouge Police joins the community in mourning the loss of Ms. Sadie Roberts-Joseph. Ms Sadie was a tireless advocate of peace in the community. https://t.co/HGtkaPVH4s pic.twitter.com/mjIYQYY14V

— Baton Rouge Police (@BRPD) July 13, 2019
Louisiana State Representative C. Denise Marcelle wrote on Facebook: "My heart is empty… as I learned last night that Ms. Sadie Roberts Joseph was found murdered! This woman was amazing and loved her history.
"She never bothered anyone, just wanted to expand her African American Museum downtown, where she continually hosted the Juneteenth Celebration yearly. I loved working with her and am saddened by her death…. whoever knows what happened to her, please contact the authorities and say something. RIP my friend!!!"
Last month, on Juneteenth, Roberts-Joseph led a procession to the Mississippi River to raise the official Juneteenth flag as part of a concerted effort with 45 other states and Washington, D.C. to make the day a national holiday.
State Rep. C. Denise Marcelle said in a Facebook post that that Roberts-Joseph had raised awareness of African American history and the civil rights movement. "My heart is empty … as I learned last night that Ms. Sadie Roberts Joseph was found murdered!" Marcelle wrote. "This woman was amazing and loved her history. She never bothered anyone."
Beatrice Johnson, one of Roberts-Joseph's 11 siblings, lives two doors down from her sister's house on a quiet street in Baton Rouge, and she said Roberts-Joseph would come by to visit her every day.
"Friday, she came by (because) she had mixed some cornbread, but her oven went out, and she brought it here to put in the oven."
Gesturing toward her kitchen, Johnson said: "The bread is still there. She never came back to get it."
Be the first to receive breaking news alerts and more stories like this by subscribing to our mailing list.