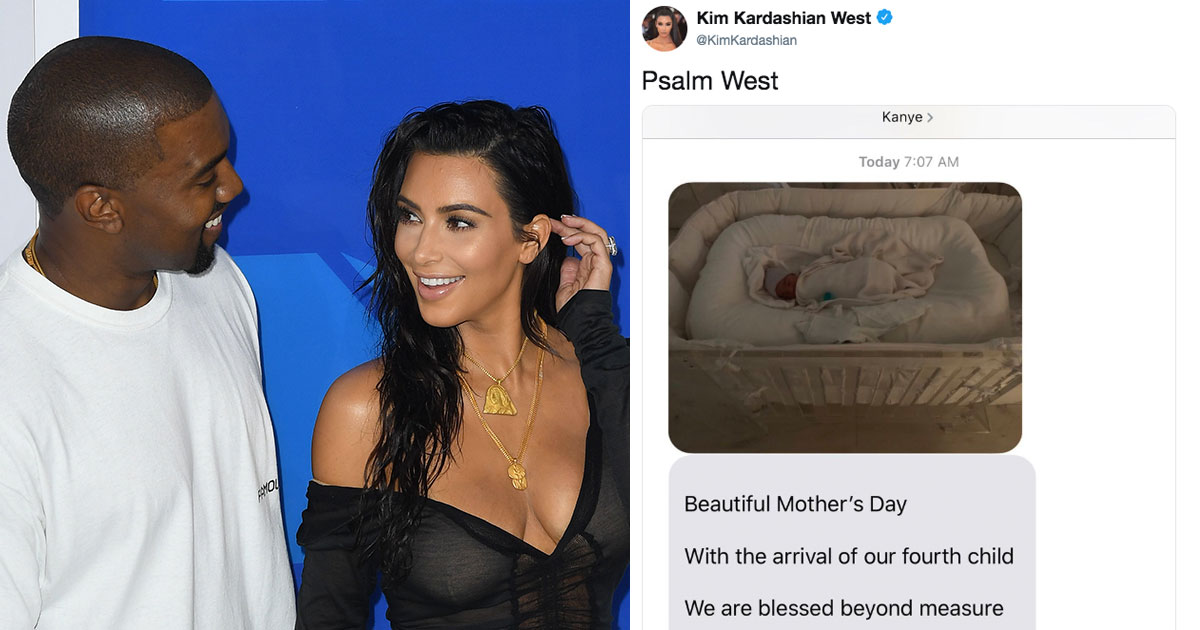 Kim Kardashian and Kanye West recently welcomed their fourth child, a son, via surrogate, and we've all been waiting to see what they were going to name their second boy.
With names like North West, Saint West and Chicago West, we already knew we were in for a treat. And on Friday (May 17), a week after the little guy's arrival, Kim and Kanye revealed the first photo of their newborn son, while also announcing his name: Psalm West.
Kim shared a photo of Baby Psalm via a screenshot of a text from Kanye, who wrote: "Beautiful Mother's Day With the arrival of our fourth child We are blessed beyond measure We have everything we need."
Psalm West pic.twitter.com/F0elQd1cJq

— Kim Kardashian West (@KimKardashian) May 17, 2019
News of Kimye naming their fourth child Psalm quickly became a trending topic on Twitter as people couldn't help but make jokes and post hilarious memes about the unusual moniker.
"Kanye West is so wild with these baby names," one Twitterer wrote. "Named after one of the most important books in the bible. I cannotttttttt."
"At least they didn't name the baby Deuteronomy," another Twitter user added, while another user tweeted: "Psalm West sounds like the location of a new desert music festival that costs $1,000 a ticket."
One person joked: "Kim Kardashian and Kanye West have named their newborn Psalm West. I have only one question. Is it a hymn or a her?"
See the best and funniest Twitter reactions below:
Psalm West?! I am deadddddd.

Loooooool, Kanye West is so wild with these baby names.

Named after one of the most important books in the bible. I cannotttttttt ??? https://t.co/SaluIAzH1o

— Nola Marianna Ojomu (@NolaMarianna) May 17, 2019
Psalm West. At least they didn't name the baby Deuteronomy. ????? pic.twitter.com/Ix94H4Pzoa

— Janelle (@Roketteaux) May 17, 2019
Psalm West sounds like the location of a new desert music festival that costs $1,000 a ticket

— Betches (@betchesluvthis) May 17, 2019
Kim Kardashian and Kanye West have named their newborn Psalm West. I have only one question.

Is it a hymn or a her?

— Mr. Drinks On Me (@Mr_DrinksOnMe) May 18, 2019
I'm a little disappointed in the name Psalm West.

I was hoping for Wild West

— Scott Williams (@jswilliams1962) May 17, 2019
kim: We'll name him… Psalm West
midwives and doctors in the room: pic.twitter.com/YCxYTPY365

— everything i do is pointless (@Lucie_Grayy) May 18, 2019
*Kanye west church*

Kanye: everyone open to psalms 12

Psalm West: pic.twitter.com/GNPlXf4tDy

— Big Head Sam (@BIGHEADSAM) May 18, 2019
Kim & Kanye: PSALM WEST!!

Jesus & the 12 Disciples: pic.twitter.com/MOsjHMFe1i

— nya threatt ? (@nyaaathreatt) May 18, 2019
Kim Kardashian : Psalm West

God: pic.twitter.com/M09lMI8wYS

— ntokozo (@NtokozoNxumalo4) May 17, 2019
Jesus when Kim and Kanye named their baby Psalm West… pic.twitter.com/UUSb1cvRH0

— skyerenaee (@skyerenaee1) May 17, 2019
Kim, Kanye, and God coming together to name Psalm West: pic.twitter.com/Uvw3vaj43t

— Jonah Miller (@jonahmiller1022) May 18, 2019
sister: Kim & Kanye had their baby

me: Oh what's his name?

sister: Psalm West

me: pic.twitter.com/jQxFiY1Kt3

— Kayla Pinkney (@_niggalodeon_) May 17, 2019
Psalm West…. pic.twitter.com/gkvKpSV4Lc

— Toni Claerhout (@toniixoxo) May 17, 2019
Kim coming up with Psalm West… pic.twitter.com/NN7pWqyY2I

— nattyyy? (@natadewole) May 17, 2019
PSALM BODY ONCE TOLD ME#Psalmwest pic.twitter.com/pbh0S4bv5U

— ????? (@ktstapleyx) May 17, 2019
Teacher: "Puh Salum West? Is there a Puh Salum West here?"

Students: "Do you mean Psalm West?" pic.twitter.com/DA1b6gUCN5

— ?? Slice of Mango ?? (@mango_lango) May 18, 2019
Me laughing at Psalm West as though my fave didn't name her daughter after a color and a plant pic.twitter.com/Rrg8827EC1

— tommy hilnigger (@akatayonce) May 17, 2019
Psalm west wondering why kim and Kanye couldn't just give him a normal ass name pic.twitter.com/IBnxpbSdlR

— Lightskin Panther (@Lightskn_Pantha) May 18, 2019
Kim Kardashian and Kanye West have had a fourth baby named Psalm West but could have named him after these UK parliamentary constituencies. pic.twitter.com/uiOpbYbaf1

— Joey D'Urso (@josephmdurso) May 18, 2019
Kim Kardashian announced that the name of her 4th child is Psalm West and someone comments "psalm wrong with y'all"

????

— Becca (@beccamarottaa) May 17, 2019
Kim Kardashian: "Psalm West"

God & everyone else who knows how she got famous: pic.twitter.com/4p9lBDYHcC

— kailee. (@kai_to_the_lee) May 18, 2019
everyone: "imagine naming your child Psalm West, these celebrities have lost their damn minds."

Kim & Kanye: pic.twitter.com/bT1hDcuwqs

— $aint (@premes_) May 18, 2019
kim kardashian watching twitter go crazy after revealing she named her baby "psalm west" pic.twitter.com/KhIaCUEIwt

— Yuli Oceguera (@yuli_ocegueraa) May 18, 2019
Psalm West:4 "Thou shall not give thy baby a normal name, in Yeezus we pray. Amen"#Psalmwest pic.twitter.com/U59APaBNAB

— Lisa Anne (@Huntenli) May 17, 2019
Psalm West during his first night at the new crib pic.twitter.com/6maxkP6xfX

— Kaitlyn Pulsifer (@KaitlynPulsifer) May 17, 2019