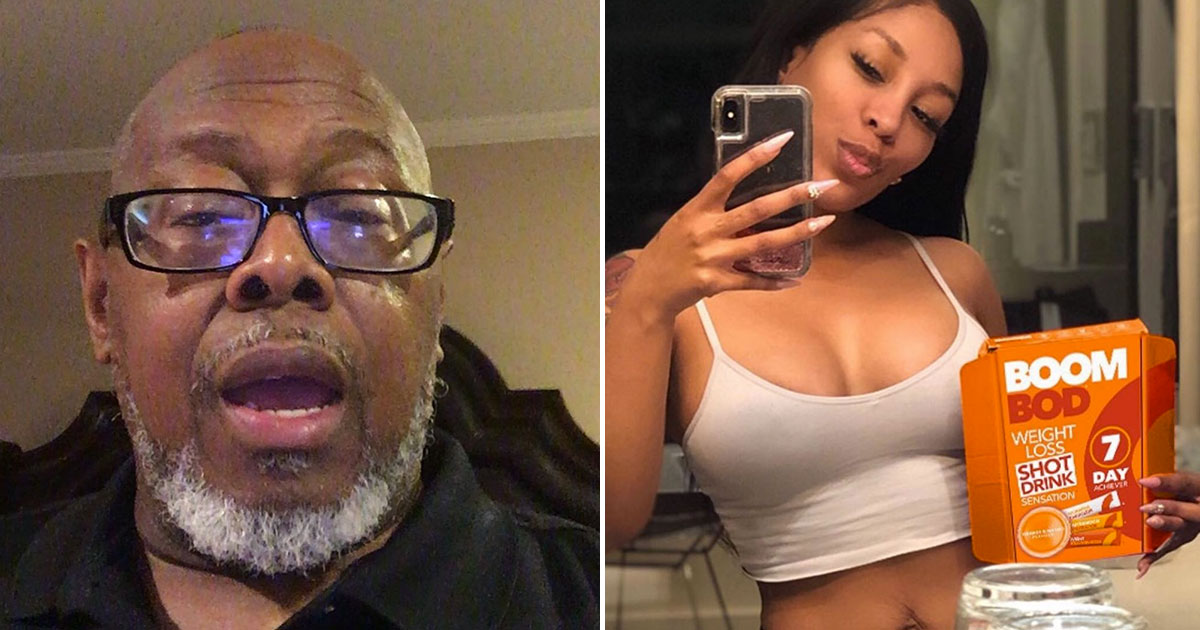 These new-age pastors sure as hell ain't like the pastors that your mamas, your daddies or your memaw and pop-pop used to know.
Thaddeus Matthews, aka the Cussing Pastor, has made a name for himself on social media by telling it like it is, with no regard for using foul language despite his being a so-called man of God.
It's probably not most folks' brand of refreshing, healing and genuine Christianity, but hey, it's good for a laugh on the 'gram.
But apparently, Pastor Matthews is ready to audition for a slot on one of the Love & Hip Hop franchises because he ran into K. Michelle at a Memphis restaurant and the two cursed each other out like dogs.
The foul-mouthed back and forth was captured on a cellphone that seems like it was recorded on a Motorola Flip phone that was picked up in 2002, but you can clearly hear K. Michelle and Pastor Matthews going at it.
In the first clip, which the pastor posted on his Instagram, you hear K. Michelle ranting that the police are on their way and accusing the pastor of touching on kids and having a boyfriend.
In the video, the pastor responds to K. Michelle's rants with a "bitch, please" but on Instagram, his caption is a devastating read.
Today I ran into the craziest bitch in the entire universe, K.Michelle. I have never met her funeral home makeup looking ass. As I entered I spoke to the owner and shook hands with some fans who were present at Regina's Cajun Kitchen in downtown Memphis. I guess her real ugly ass is still upset over the fact in December I reported that her trifling ass had painted the walls pink of a house she was legally evicted from after missing months of paying rent on a mansion here in memphis. As I sat waiting on my 3lbs Of crab legs the owner comes over and tells me that Michelle told her if I didn't leave she was calling the police and telling them I was stalking her, so I told her to tell her "Bitch call them" which she did 3 times. The police never arrived so after about 30 minutes her and her very feminine acting boyfriend decided to leave. At this point I laughed loudly and said, "Bitch don't look like even the police like your zombie looking ass". She started calling me all type of names and cussing me, Not being a novice to cussing I told her as I looked at my watch "Malnourished Bitch take you and your out of drag looking boyfriend on out of here and hurry across town before the graveyard closes. K. Michelle you got the right one I don't give a damn about you at all, if you hadn't acted up I would not have known who your poster child for funeral home looking ass was. This Video Was Taped By A Customer In The Restaurant
https://www.instagram.com/p/BxdfIy1hrAb/
In the next clip, which has slightly better video quality and is closer up on the action, you can hear and see K. Michelle much better as she accuses Thaddeus of having a boyfriend.
Thaddeus burns K. Michelle back by alleging that her boyfriend is femme.
Damn whole horse weave wearing ass was that best you could do, K. Michelle your man is more girl then you
https://www.instagram.com/p/BxdlactBXRx/
The final icing on the cake is an IG post in which the Cussing Pastor quotes Kenya Moore of The Real Housewives of Atlanta by saying, "Don't come for me if I don't send for you."
I guess we can conclude that Thaddeus is most definitely Team Twirl.
Don't come for me if I don't send for you, tonight on my Tv Show I will play the tape of Andrea who says that Dr. Kasdan Simms the boyfriend of K.Michelle gave her Type 1 and2 Herpes
https://www.instagram.com/p/BxfmT7XhsUu/
So far, K. Michelle has NOT responded to any of the antagonisms lobbed her way by Thaddeus, so either she's biding her time to clapback or she's evolved and has decided going back and forth with this foul-mouthed pastor ain't the move for her "I'm the black Taylor Swift" brand she's trying to pivot to.
Either way, she shouldn't play too much with Thaddeus cause he clearly pulls no punches.
Be the first to receive breaking news alerts and more stories like this by subscribing to our mailing list.