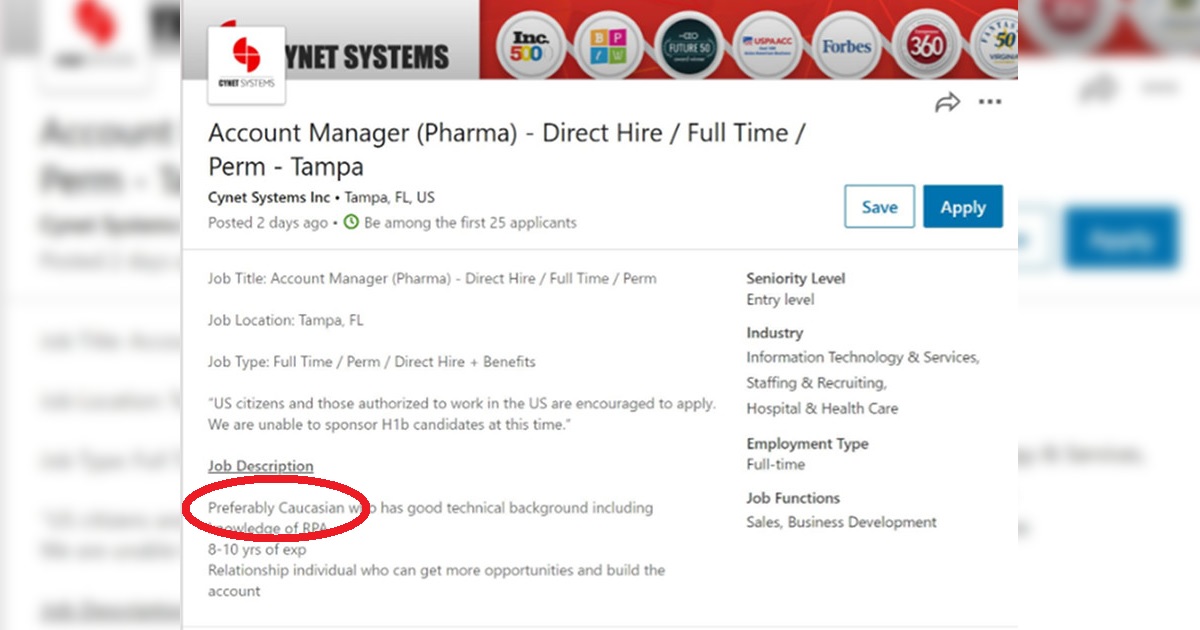 An IT company is doing serious damage control after one of their online applications requested "preferably Caucasian" applicants.
Cynet Systems faced heavy backlash in recent days after an online application for a pharmaceutical accounts manager position in Tampa, Florida went viral for encouraging white people to apply.
The job description read the employer was seeking a "preferably Caucasian" candidate "who can get more opportunities and build the account."
Uh, hey @cynetjobs – what's with this?

Your job listing for a mid-senior level business development position's top qualification is "Preferably Caucasian"

How could you POSSIBLY think that's okay? pic.twitter.com/DPWzpgXqqE

— Helena McCabe (@misshelenasue) April 27, 2019
Employment discrimination based on age, race, skin color, or ethnicity is illegal … unless there is a "bona fide occupational qualification" that is essential to the company's central mission. Although I doubt that extremely rare exception applies to a Florida IT company.
Social media was quick to call out Cynet Systems for the racist posting and advised the Virginia-based company to take diversity more seriously.
@cynetsystems has singlehandedly proven that institutional racism still exists in corporate amerikkka. They need to have their business license revoked. Unbelievable.

— Mike (@i_am_the_mike) April 30, 2019
I'm well aware of such bias. They want a guy with no accent and can talk to senior
leadership of companies which happens to be white. They want ppl of color to keep their head down and code. Shameful part is that the CEO is an Indian American and he's contributing to the problem

— Nirmaan Aggarwal (@desibernie) April 29, 2019
I wonder if we look at your payroll is it really reflective of a diverse community or is this just lip service to get past this challenge. What typenof diversity training do you offer as a company? what steps have you put in place to prevent this in the future?

— Simply me TG (@uniquelytoya) April 29, 2019
This was in more than one post for this company! Their response to this is unacceptable! That person should be terminated and the entire company should have diversity training annually! And call them out please @cynetsystems

— Dara Baldwin (@NJDC07) April 29, 2019
I want the names of the clients who requested candidates of a specific ethnicity. Cynet is just a staffing firm. They wouldn't list this preference if the client didn't request it.

— Sm LN (@ldn_sm) April 30, 2019
Which company had requested for a white policy? Because the persons there should also be fired – were they asking for diversity??? pic.twitter.com/EYQHDLjknJ

— Sheldon (@ang_sheldon) April 30, 2019
Cynet, who's owners are Indian-American, initially apologized for the post in a simple tweet on Sunday.
Cynet apologizes for the anger & frustration caused by the offensive job post. It does not reflect our core values of inclusivity & equality. The individuals involved have been terminated. We will take this as a learning experience & will continue to serve our diverse community.

— Cynet Systems (@cynetsystems) April 29, 2019
The company released an official statement apologizing for the incident on Monday and blamed the posting on employees, who have since been fired due to the discriminatory language.
The statement read in part:
"We understand why some may been upset seeing this listing, because we ere too. It is a long-standing policy for our company to refuse any request to list jobs only seeking candidates of any specific ethnicity, gender, or other inappropriate restrictions."
— Cynet Systems (@cynetsystems) April 29, 2019
The statement goes on to boast about Cynet's commitment to diversity with a "60% minority" workforce and claim they are taking measures to ensure "offensive or outside-of-policy ads" aren't published online in the future.
Cynet's racist online job posting comes days after Uber had to apologize for a tweet using the N-word. The post was a response to an internet troll who was using the slur as their Twitter username and then tweeted at Uber's support account, apparently in a deliberate attempt to get Uber to tweet the word.
Be the first to receive breaking news alerts and more stories like this by subscribing to our mailing list.