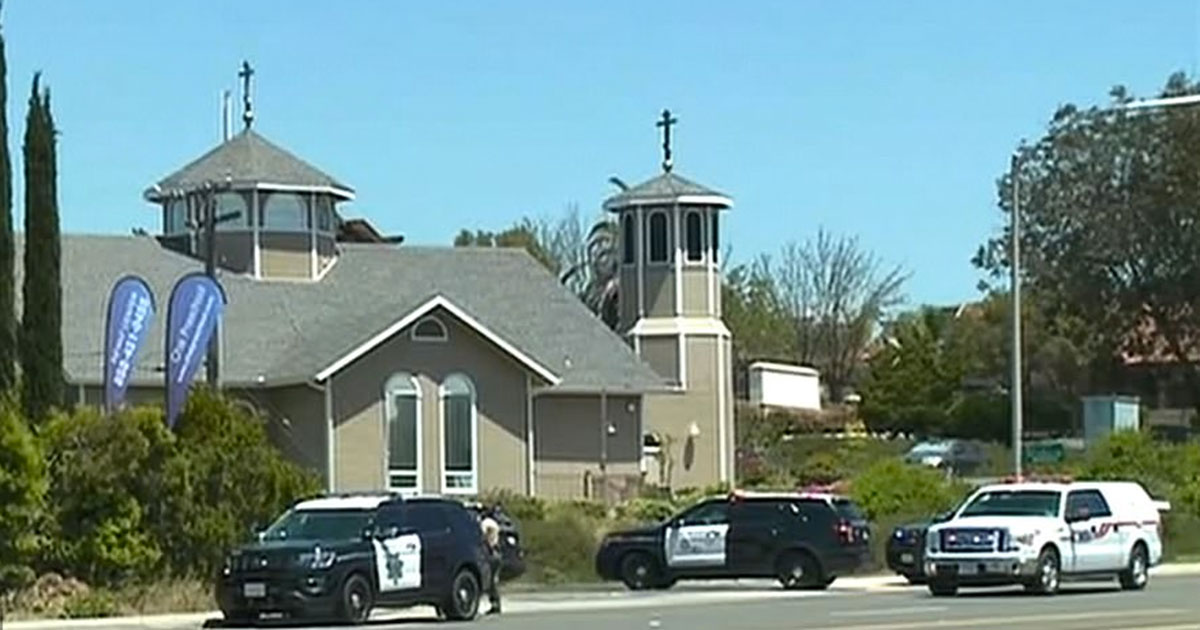 A shooting at a Southern California synagogue Saturday (Apr. 27) left at least one person dead and several others injuries, police said.
The incident, believed to be a hate crime, took place at the Chabad Poway synagogue around 11:30 a.m. local time, the San Diego Sheriff's Department's Poway station said on Twitter.
#BREAKING: At least four people shot during a Passover holiday celebration at Chabad Poway synagogue in San Diego pic.twitter.com/lHCKDGhH9N

— Amichai Stein (@AmichaiStein1) April 27, 2019
One woman died from her injuries, the sheriff's dept. said in a news conference, and at least three others—two men and a female juvenile —were injured, but they are all in stable condition.
Update #1: A man has been detained for questioning in connection with a shooting incident at the Chabad of Poway synagogue. @SDSOPoway Deputies were called to Chabad Way just before 11:30 a.m. There are injuries. This is a developing situation.

— Poway Station (@SDSOPoway) April 27, 2019
Authorities said the shooting suspect, a 19-year-old white male, has been taken into custody for questioning.
Police said the shooter was armed with an AR-15-style semi-automatic rifle.
An armed off-duty Border Patrol agent who was inside the synagogue returned fire and injured the suspect, who then retreated in a vehicle before surrendering to police without incident, police said.
The suspect's identity was not released, and authorities did not discuss a possible motive for the shooting.
During a news conference Saturday afternoon, investigators referenced social media posts from the suspect and an open letter attributed to him, but they didn't elaborate on their contents.
Update #5 @SDSheriff Bill Gore confirms one person was killed and three others were injured in the #synagogueshooting at Chabad of Poway. Our hearts go out to those affected by this incident.
19-year-old man was arrested in connection with the shooting by @SanDiegoPD.

— San Diego Sheriff (@SDSheriff) April 27, 2019
Speaking to reporters on the South Lawn of the White House, President Donald Trump said the shooting "looks like a hate crime" and he promised to "get to the bottom of it."
President Trump on deadly shooting at Chabod of Poway synagogue: "It appears to be a hate crime."

— Breaking911 (@Breaking911) April 27, 2019
Saturday marked the last day of Passover, and according to an event announcement, Chabad of Poway was celebrating a "Passover Holiday Celebration" at the time of the shooting. The event was scheduled to begin at 11 a.m. and end at 7 p.m. after a final Passover meal.
Chabad of Poway said about the celebration on Facebook: "Experience the Priestly blessing during the prayer service." The flyer also said there would be a "Yizkor Memorial Service" and a "Final Holiday Meal with Matzah, Wine and Appetizers."
The Chabad of Poway added: "The Seder celebrates our past redemption, while the final meal is celebrated in anticipation of Moshiach and the coming redemption."
"It's a very important celebration for us. There's lots of people inside, they're praying,' Minoo Anvari a member of the congregation told NBC 7. "Everybody was crying and screaming."
Anvari said her husband was inside during the shooting, and he told her someone came in, started cursing and then opened fire. It's believed the man fired between 12 and 14 shots.
Local authorities said the synagogue's rabbi, Yisroel Goldstein, who founded the Chabad center in 1986, is one of the injured victims. He reportedly lost three fingers as a result of the shooting.
Witnesses said that even after being shot, Rabbi Goldstein tried to calm the shooter and called for unity and prayer among the congregation.
"Rabbi said, 'We are united,'" said Anvari, who is a refugee from Iran. "This is something bad (that) is happening all over. And we have to believe that this bad thing is real and we don't have to ignore it. We have to open our eyes. He prayed for peace. I respect him—even in spite of being injured he refused to go to the hospital and he spoke. And he finished his speech and he then left the synagogue."
According to its website, "Chabad of Poway has become a popular center for Jews of all backgrounds who want to learn more about their Jewish roots. Chabad offers a wide variety of educational and spiritual opportunities, including Torah classes and lectures, Shabbaton dinners, and an array of family and social activities. Traditional Jewish values are brought to life in a joyous, non-judgmental atmosphere."
The website adds: "Chabad serves all segments of the Jewish community. Everyone is welcome regardless of their personal level of religious observance. The philosophy is in keeping with the Chabad-Lubavitch approach of joy, scholarship and unconditional acceptance and love for every Jew. The services are traditional and are conducted in a joyous, casual atmosphere. Children are included and most welcome. Many of those who attend cannot read Hebrew, yet everyone feels at home."
Saturday's shooting occurred exactly six months to the day a gunman opened fire at the Tree of Life synagogue in Pittsburgh, killing 11 worshippers and wounding several others, including police officers.
The accused shooter in that massing shooting, who investigators said was motivated by his anti-Semitic views (he shouted "All Jews need to die!" before opening fire), was arrested.
Be the first to receive breaking news alerts and more stories like this by subscribing to our mailing list.