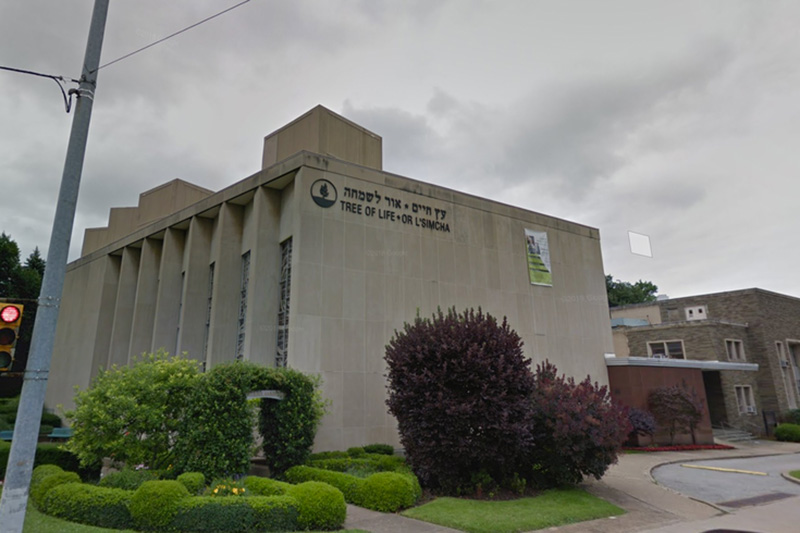 A gunman opened fire on a Jewish synagogue in Pittsburgh's Squirrel Hill neighborhood Saturday morning (Oct. 27) during a prayer service, and 11 people were confirmed dead, CBS Pittsburgh reports.
Active shooter alarm Shady Avenue in Squirrelhill police and emergency personnel responding #wpxi pic.twitter.com/wcMimsH1A6

— Stephen Banfield (@coachtvnews) October 27, 2018
At least two officers were also shot during the incident at Tree of Life Congregation. The shooter, later identified as 48-year-old Robert Bowers, surrendered and was taken into custody.
#BreakingNews Reports of an active shooter in a synagogue in Squirrel Hill. Huge police presence pic.twitter.com/vodOAuEBsu

— Lori Houy (@WPXI_Lori) October 27, 2018
According to police, the shooter walked into the synagogue and said "All Jews need to die." When cops arrived, the gunman started shooting at them.
outside of tree of life synagogue in pittsburgh. can hear multiple shots. police urging people to get away. pic.twitter.com/PAZlYKbywJ

— Campbell Robertson (@campbellnyt) October 27, 2018
Bowers was reportedly armed with an AR-15 and three handguns.
The initial 911 call was made around 9:54 a.m. and officers arrived on the scene within a minute. Two officers observed Bowers carrying an assault-style weapon, and he then opened fire on the two cops before retreating back into the building.
One of the officers suffered a gunshot wound to the hand while the other officer suffered several abrasions to his face from shrapnel and broken glass.
Pittsburgh SWAT officers arrived on scene, formed a small team and entered the building. Upon entering the building officers observed the devestation. SWAT medics carried two victims, one male and one female, outside of the building. The victims were transported to UPMC Presbyterian Hospital for treatment.

Officers began searching the third floor of the synagogue when they encountered Bowers again, who opened fire on the SWAT team. One officer was shot multiple times and critically wounded and another officer was also shot multiple times by Bowers. The remaining SWAT officers engaged Bowers while the two injured officers were carried outside to Pittsburgh Paramedics.

Bowers was injured in the exchange of gunfire. After being taken into custody, the suspect made statements to an officer that he wanted all Jews to die and also that Jews were committing genocide on his people, according to authorities.

It is believed that Bowers acted alone.
Be the first to receive breaking news alerts and more stories like this by subscribing to our mailing list.