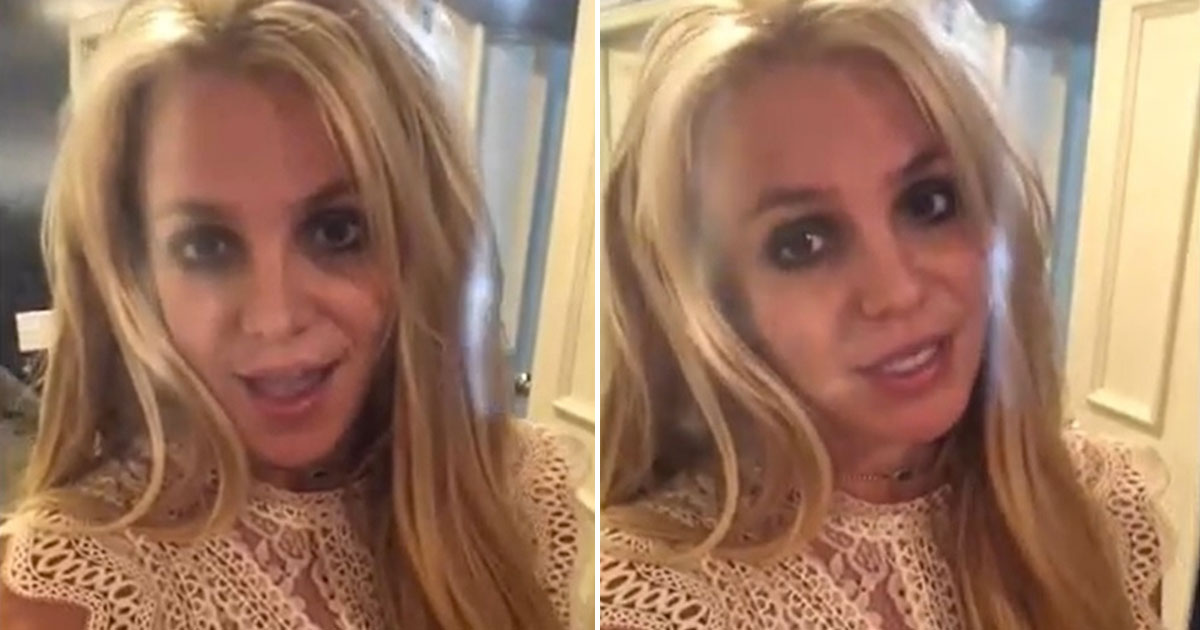 Britney Spears is speaking out for the first time since entering a mental health facility after a bizarre conspiracy theory that she is being held against her will by her team and family gained traction.
The singer took to Instagram on Tuesday (Apr. 23) to tell her fans, and the world, that "all is well" in a short video message.
"Hi guys, just checking in with all of you who are concerned about me. All is well. My family has been going through a lot of stress and anxiety lately, so I just needed time to deal. But don't worry, I'll be back very soon."
https://www.instagram.com/p/BwnqpG5g7qn/
It seems Spears recorded the message from within the California mental health facility where she's currently seeking treatment.
Though the video was short, it was accompanied by a longer written message in which she directly addresses speculation that she was involuntarily committed and is being held against her will.
She writes that the rumors have "gotten out control" and have led to death threats of her family and team. She assured fans that she made the choice to seek help and that the current rumors aren't helping.
"My situation is unique, but I promise I'm doing what's best at this moment. You may not know this about me, but I am strong, and stand up for what I want!" she wrote in part.
"What I need right now is a little bit of privacy to deal with all the hard things that life is throwing my way."
Spears announced that she was voluntarily entering a 30-day program earlier this month due to emotional distress caused by her father's current health issues.
However, last week, hosts of the "Britney's Gram" podcast speculated that it was not Spears' choice to seek treatment and that she's being held against her will by her father and those in charge of her court-approved conservatorship, which manages Spears' wellbeing and financial affairs.
The podcast was tipped off by an anonymous source who claimed to be a paralegal and knew inside knowledge regarding Spears' conservatorship.
The conspiracy theory gained traction and sparked the #FreeBritney hashtag, which celebrities like Eve and Paris Hilton used. Spears' own mother even "liked" some of the posts, adding fuel to conspiracy.
Thank you @TheTalkCBS & @TheRealEve for bringing this to the attention of the general public in a respectful manner ? #FreeBritney pic.twitter.com/6QdtyctyKs

— Geraint Ramon (@GeraintRamon) April 17, 2019
QUEEN @PARISHILTON ? #FreeXBritney #freebritney pic.twitter.com/ilRKuW91KX

— inStereo (@R_inStereo) April 20, 2019
Britney's mom, Lynne Spears, liked these posts about #FreeBritney that encouraged people to listen to the podcast and gave credence to the allegations. pic.twitter.com/Cfmt3kNAgS

— Britney Fan (@BritneyHiatus) April 21, 2019
On Monday (Apr. 22), several Spears fans staged a protest in Los Angeles in an effort to "free" Spears.
Britney Spears' fans have gathered outside West Hollywood City Hall demanding #FreeBritney. The #FreeBritney hashtag has been trending on social media after allegations were made on the "Britney's Gram" podcast that the singer is being held against her will. @etnow pic.twitter.com/SfWLETZWLw

— Brendon Geoffrion (@tv_brendon) April 22, 2019
.@etnow reporting from the #FREEBRITNEY protest ?? pic.twitter.com/RmdScVA9oU

— THE B ARMY ? (@army_britneys) April 23, 2019
TMZ also released a detailed report explaining that Spears' conservatorship does not allow her father or anyone else serving as a conservator to force Spears on medication or into a mental health facility.
However, the outlet noted that Spears' stay in the facility was triggered by her medication and not by emotional stress of her father's health.
Spears made her first public appearance since entering treatment on Easter Sunday. She received a day pass for the holiday and some felt she looked "disheveled."
Interestingly, earlier today, Spears posted one more video in an attempt to quell the wild rumors and put fans at ease. The performer is seen exercising and then dancing as "I Like It" by Cardi, Bad Bunny and J Balvin plays.
"Who knew stress would be a great 5 pound weight loss," she wrote.
https://www.instagram.com/p/BwpOJ-XgOYE/
Prior to the three April IG posts regarding her mental health status, Spears had not posted on social media since January when she abruptly cancelled her upcoming Las Vegas residency and announced an "indefinite work hiatus" to focus on her father's health.
Writer's Note: I have been a huge Britney Spears fan since her now-iconic 1998 debut single. Spears' mental stability has obviously been a concern of mine (and fans) since her 2007/08 breakdown. Her health is of extreme importance and we wish her well as she takes the necessary actions to get better.
Be the first to receive breaking news alerts and more stories like this by subscribing to our mailing list.