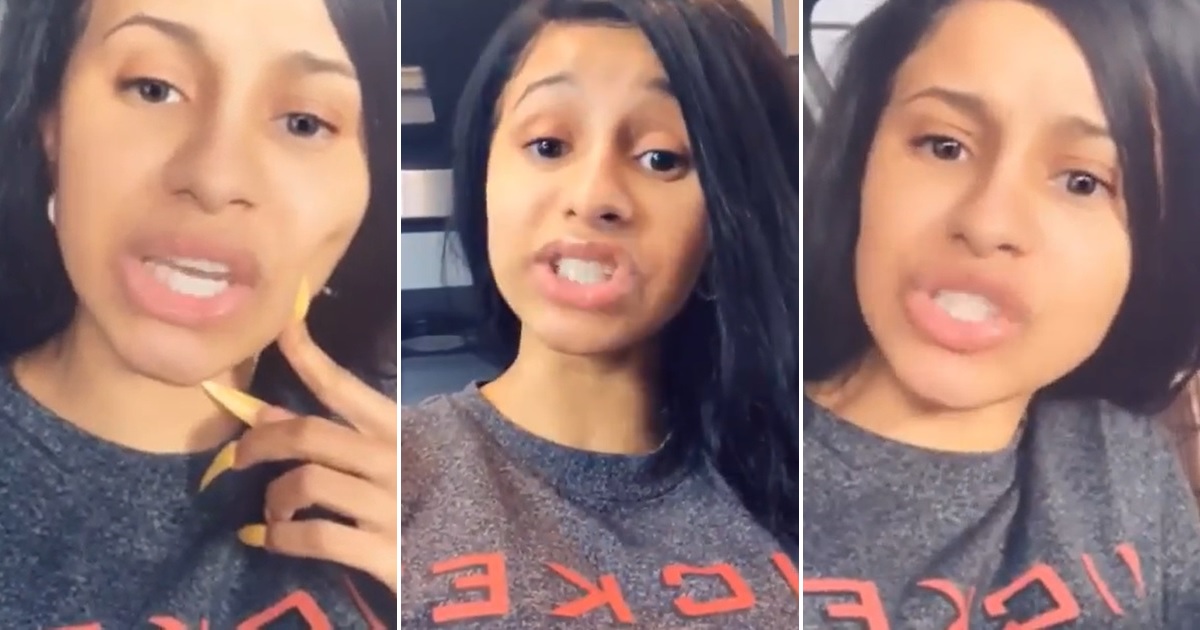 Cardi B just went all the off on The Shade Room!
In a series of now-deleted Instagram videos and posts, Cardi blasted TSR and its owner, Angie Nwandu, for what she believes is a "hate campaign" against her and people she associates with and/or supports.
The "Please Me" rapper went on the epic rant today (Apr. 23) and claims that since TSR agreed to not post about her, the Instagram blog then started going after artists she's close with, like artists signed to QC (Quality Control Music label), despite them being successful and doing positive things.
"Every artist that he got under his label is rocketing," Cardi said of QC owner Pierre "Pee" Thomas. "But nah, [Nwandu] rather not post when he's getting good accomplishments. She'd rather post him when he's dealing with baby mama drama or his personal life."
In another video, she pointed out Offset's recently charitable and philanthropic work, such as donating $25,000 to Ellen DeGeneres' wildlife organization and working on a cancer-free campaign, yet The Shade Room did not cover these positive stories, Cardi said.
"But they sure posted when he had drama with his baby mom. They sure posted about his court cases," she said.
She went on to say that blogs shouldn't be biased.
"I'm not saying that I only want people to post positive sh*t about us. At the end of the day a blog is a blog and I feel like they got to post the good and the bad. But that biased sh*t … that sh*t is getting whack. It's trash."
After Cardi's multiple rants went viral, The Shade Room took to its IG Stories and posted examples of positive stories they've written about Cardi and Offset in the past. The articles included "Bodak Yellow" hitting No. 1 on the Billboard Hot 100 chart and Migos handing out turkeys on Thanksgiving.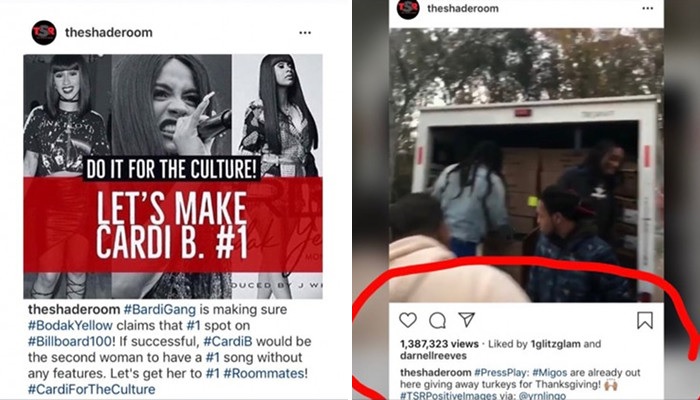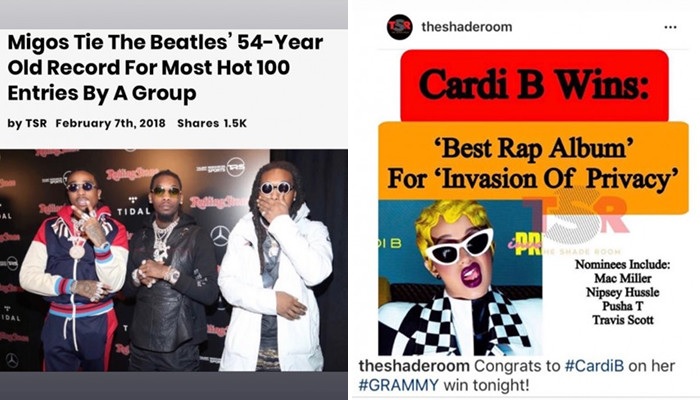 Cardi still clapped back, stating that most of the positive articles TSR shared were written last year. She also insinuated the blog was getting paid to "smear" her name.
"What positive sh*t have you posted about me or my n***a this year? Nothing at all. So, stop with the sh*ts. Or anybody that I'm associated with. All you do is try to get them dragged. So, stop it b*tch."
Cardi eventually deleted the videos and then advised blogs to stop claiming to be "for the people" when they continue to capitalize on the misfortune of urban artists they supposed to be supporting. She deleted that post too.
So yeah, Cardi had time today and it's safe to say her beef with The Shade Room is far from over.
Be the first to receive breaking news alerts and more stories like this by subscribing to our mailing list.