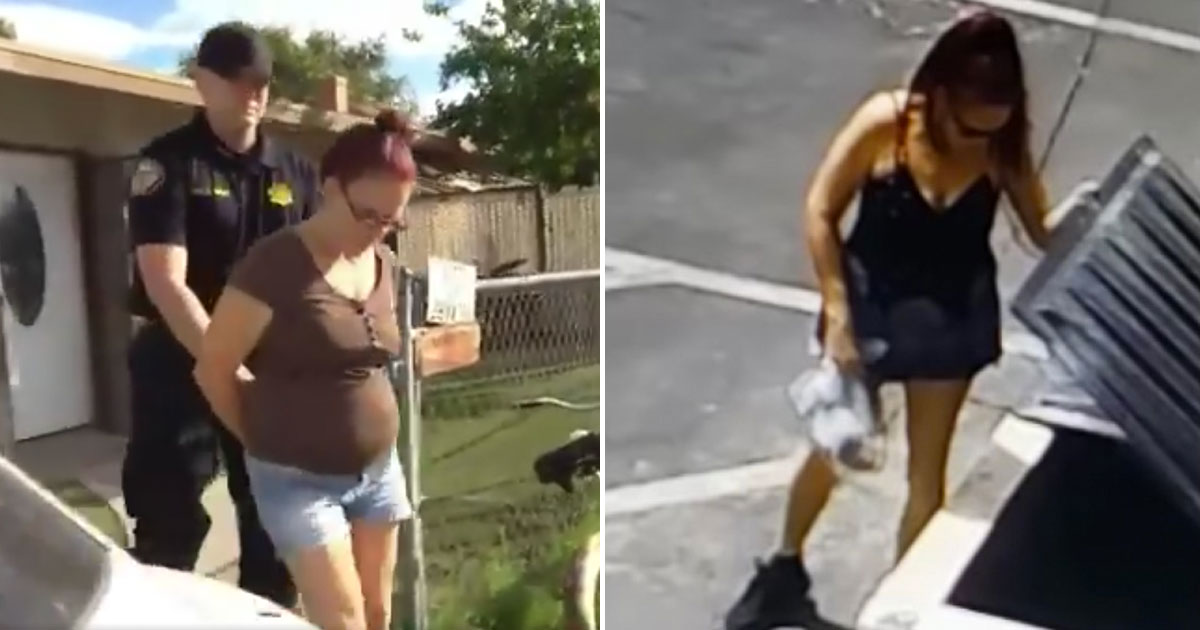 The Coachella woman caught on surveillance video footage tossing a bag of newborn puppies into a dumpster has been arrested.
The woman was identified as Deborah Sue Culwell and she was arrested Monday (Apr. 22) by Riverside County Animal Services at her Coachella home.
She remained silent as officers led her away in handcuffs.
Exclusive video: Woman caught on camera allegedly dumping puppies into Coachella dumpster in 90-degree weather arrested on animal abuse charges. @TonyNBCLA reports: https://t.co/OgHQ1QdONB pic.twitter.com/Gz163639dC

— NBC Los Angeles (@NBCLA) April 23, 2019
The Riverside County Animal Services released security camera footage showing Cullen pulling up to the area behind a Napa Auto Parts last Thursday (Apr. 18) in a white Jeep Wrangler and tossing a bag filled with seven puppies into a dumpster.
This woman was caught throwing a bag of 3-day-old puppies into a Coachella dumpster pic.twitter.com/dnWc2EvswH

— NowThis (@nowthisnews) April 22, 2019
A man rummaging through the dumpster shortly afterward spotted the bag and took it inside the store, which officials said saved the puppies' lives.
"The Good Samaritan played a major role in saving these puppies' lives," Riverside County Animal Service Commander Chris Mayer said. "His actions were humane and heroic."
The man reportedly left the bag outside the auto parts in plain sight so that someone would find the puppies, and eventually, a customer did.
"I noticed the bag on the floor, and they were tied up in the bag, so I immediately opened the bag a little further and I proceeded to call animal services to see what I could do with them because I couldn't leave them there," said the customer, who didn't want to be identified.
Authorities said the puppies, believed to be 3-day-old terrier mixes, probably wouldn't have survived the 90-degree heat had they not been found within an hour of being dumped.
The puppies are being cared for at a rescue organization, and as for Deborah Culwell, Riverside County Animal Services is working with Riverside County Sheriff's investigators as well as the District Attorney's office to build an animal cruelty case against her.
She was charged with seven felony counts of animal cruelty, one for each puppy. If she's found guilty on all counts, she could face up to six years in jail.
Be the first to receive breaking news alerts and more stories like this by subscribing to our mailing list.