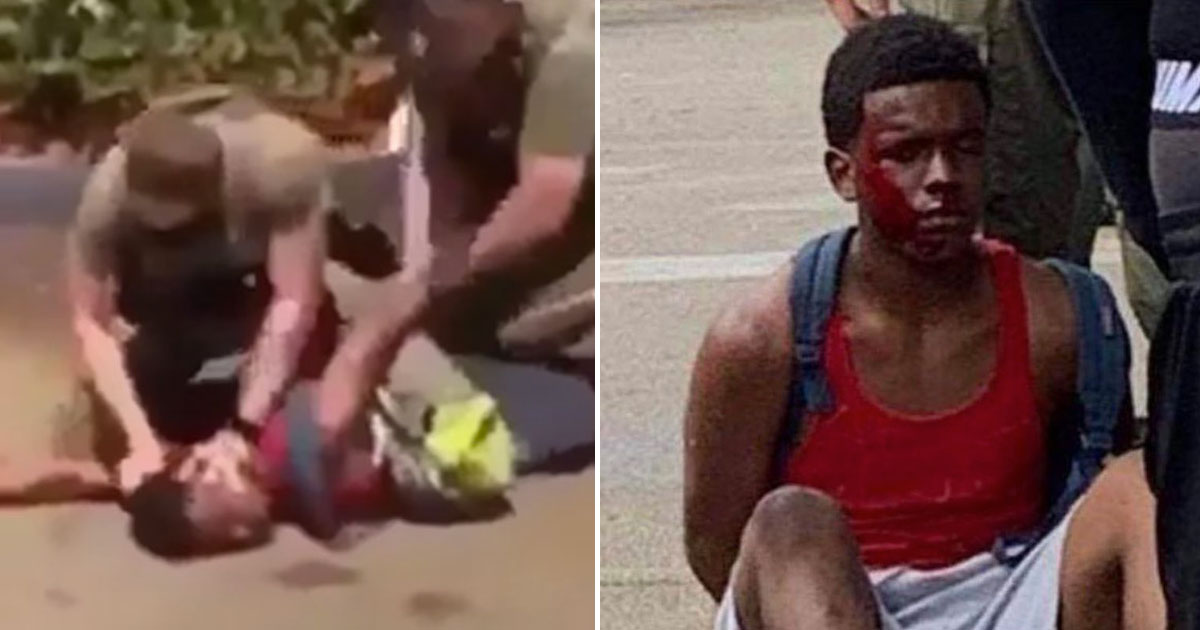 Calls of police brutality are growing after two Florida police officers were seen on video slamming an unarmed high school student's head against the concrete, leaving his face bruised and bloodied.
The teen's name hasn't been released by officials, however, the hashtag #JusticeForLucca was trending on Twitter this week in association with the disturbing video, which was recorded by another student.
According to the Miami Herald, the footage shows Deputy Christopher Krickovich and Sergeant Greg Lacerra surrounded by a crowd of mostly Black students from J.P. Taravella High School after a fight broke out outside a McDonald's in Fort Lauderdale.
Krickovich wrote in his report that because of a large fight Wednesday at the shopping center where the restaurant is located, the two were stationed there Thursday in case of a new eruption. Bell said the Tamarac plaza is a longtime afterschool trouble spot, with students threatening and harassing the mostly elderly clientele.

Krickovich said Thursday's fight ended before deputies could get there. He said as the crowd dispersed, Lacerra noticed a teen who had been told to stay out of the plaza after Wednesday's fight. Krickovich said he arrested the teen for trespassing and put him on the ground, causing the teen to drop his cellphone. He said a teen in a red tank top picked it up.
This is where the videos circulating on social media start.
One particular angle shows Lacerra shoving the teen in the red tank top in the head. When the teen appears to say something to Lacerra, the cop reacts by pepper spraying him in the face and throwing him to the ground.
?WARNING: POLICE BRUTALITY?
***This is typical of Broward Cops***
*Taravella is minutes from Parkland*
****Our children deserves better****pic.twitter.com/OwGJdqDSaB

— Ryan Deitsch (@Ryan_Deitsch) April 18, 2019
Another angle from a separate video shows Krickovich jumping on the teen and slamming his forehead twice into the ground while also punching him as the teen tries to cover his face.
A third deputy is seen helping Krickovhich pin the teen's arms behind his back to be handcuffed as the clip (below) ends.
15 yr old Black boy, Lucca picked up a cell phone that fell out of the pocket of a Black boy who was being arrested. In response @browardsheriff officers Christopher Krickovich & Greg LaCerra pepper sprayed, brutally beat, and arrested him.

He broke no laws.#JusticeForLucca pic.twitter.com/RQLj38GYGN

— Bishop Talbert Swan (@TalbertSwan) April 20, 2019
Photos circulating on social media show the teen with blood all over his face as a result of being brutally assaulted by the officers.
Please REPOST !!!!! #justiceForLucca !!!!!! This my nephew if anyone have anymore pic or videos please send me !!!! pic.twitter.com/qsHGy1OQdQ

— #JUSTICEFORLUCCA??? (@zoeyybrinae) April 19, 2019
Retweet if Christopher Krickovich and Sgt. Greg LaCerra and pieces of actual shit. #justiceForLucca pic.twitter.com/869JR5Uufq

— Javier Clemente Diaz (@javierdiaz2002) April 20, 2019
Krichovich wrote in his statement that he was trying to restrain the teen because he was afraid the boy would either try to fight him or run away.
"The three of us were outnumbered by the large group of students who were yelling, threatening us and surrounding us," Krickovich wrote. "I had to act quickly, fearing I would get struck or having a student potentially grab weapons off my belt."
Jeff Bell, president of the Broward Sheriff's Office Deputies Association, told the Miami Herald that Krickovich and his colleagues were simply enforcing aggressive police tactics the new sheriff has pushed.
"They did exactly what they were trained to do," Bell said.
Krickovich was placed on restricted duty and ordered to surrender his gun and badge until an investigation is complete, while the teen was charged for assaulting a police officer and resisting arrest.
Social media is in an uproar over the incident, especially considering the teen was arrested and charge, while the cop was simply placed on "restricted duty."
Most people with good sense don't think that's enough, and are calling for Krickovich to be fired, including Broward County Mayor Mark Bogen.
"The behavior of these BSO deputies is outrageous & unacceptable," he wrote on Twitter. "The officer who jumped the student, punched & banged his head should be fired. I have a problem with the deputy who threw him to the ground after he pepper sprayed him He could've easily arrested him after the spray."
He added: "I hope appropriate authorities will investigate this conduct and take appropriate action. The behavior of these officers is outrageous and unacceptable. There is no excuse for law enforcement to harm a teenager who is on the ground and gave no resistance."
The criminal in these photos are your police officers, beating up an innocent black child. The world is watching your racist abuse of force on innocent POC over & over again. We want justice for Luca, we want these officers charged with assault & fired. NOW #JusticeForLucca pic.twitter.com/ePd8fzZD8S

— rjb (@RobinJOJO) April 20, 2019
Lucca's next court date is May 17th and we want his charges dropped immediately @browardsheriff. He wasn't resisting he was protecting himself from an unhinged deputy that was smashing his face into the pavement. #JusticeForLucca pic.twitter.com/QuLHSnO6Fc

— SLIM PHATTY (@SLIMPHATTY) April 20, 2019
It's interesting how everyone in Parkland and Broward was calling out local law enforcement a couple of months ago.

But now the black and brown youth are being brutally assaulted in school by the same police 15 min away.

COMPLETE silence… #justiceForLucca

— David Hogg (@davidhogg111) April 20, 2019
Celebrities are also beginning to speak on the incident, including NBA superstar LeBron James.
"So wrong!! Hurts me to my soul!!" the former Miami Heat player tweeted. "To think that could be my sons Scary times man."
So wrong!! Hurts me to my soul!! To think that could be my sons. ??????. Scary times man https://t.co/tRxk6sV7sb

— LeBron James (@KingJames) April 20, 2019
Be the first to receive breaking news alerts and more stories like this by subscribing to our mailing list.