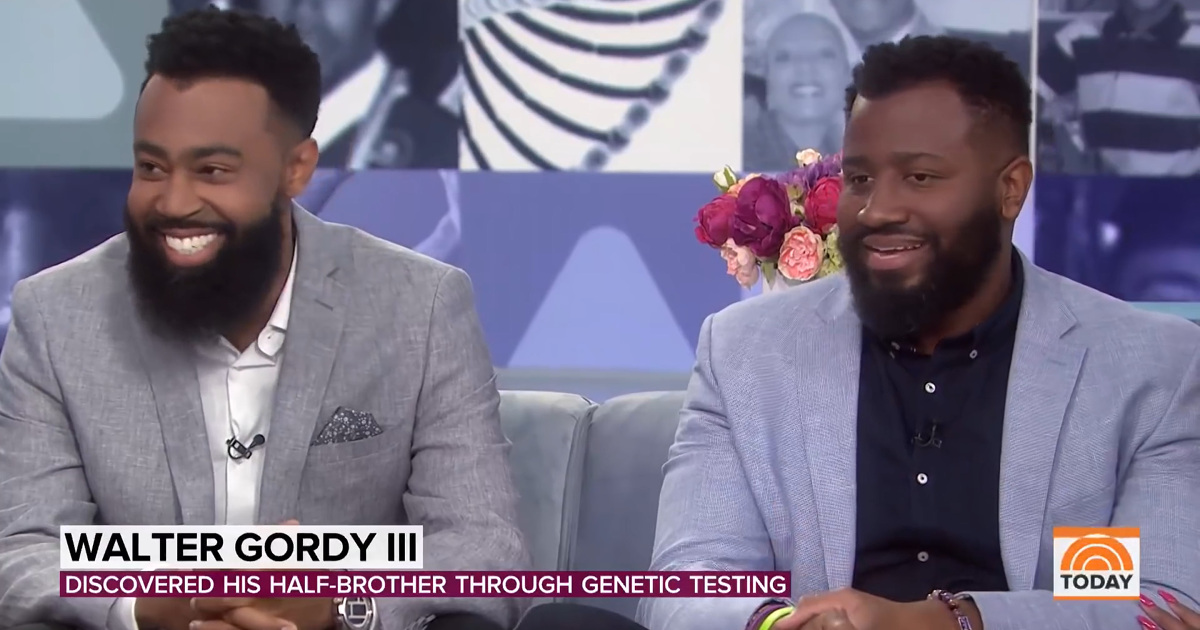 Imagine a cancer diagnosis leads you to take a commercialized genetic test only to discover one of your closest friends is your half-sibling.
It may sound like the plot of a feel-good Hallmark movie, but it's the true story of longtime friends, Walter Gordy III and Mark Tolson.
The friends/brothers and their mothers appeared on the Today show to share their incredible story.
Five years ago, Gordy, was diagnosed with lymphoma after doctors found a lump on his neck. He then used a 23andMe kit to learn more about his medical history.
Other than learning his African and European ancestry, there wasn't anything out of the ordinary from the results.
But a few years later, Gordy's received a call from his close friend, Tolson, that changed his life forever.
"I said, 'Man, I've been knowing you for 12 years. Are you telling me we're brothers?'" Gordy—an only child (or so he thought)—recalled upon learning the shocking news from his friend-turned-half-brother.
Raised by a single mother, Tolson took the test to learn more about his paternal ancestry. When he received the results and viewed his potential DNA relatives, he was floored.
"It popped up and said Walt Gordy III and I was like 'Mom, I know him!'" Tolson recalled. "Thirty-five years later, I find out I have a brother. So that's pretty amazing to me," he said.
It turns out Gordy and Tolson's mothers were both artificially inseminated by the same donor in the early 80s.
But the story gets even wilder. The newfound brothers' mothers not only know each other, but they have been singing in the same church choir for the past 13 years. Neither had a clue that their sons were biologically related.
"We've always prayed that he would find that fraternal part of him," said Booker Lynn Graves, Gordy's mother.
"And we truly look at it as a blessing from God because our prayers were answered. It's just a beautiful joy to both of them that they have one another the rest of their lives."
Added Tolson's mother: "It's a very wonderful feeling to know that he has found someone that he can lean on who's of his own blood."
Gordy and Tolson have continued to build their relationship as brothers, including spending quality time together while Tolson's home is rented out through Airbnb.
Gordy is now cancer-free but is thankful that the disease led him to his brother.
"Cancer was the best thing that ever happened to me because I was able to find a blessing in the end," Gordy said.
Be the first to receive breaking news alerts and more stories like this by subscribing to our mailing list.