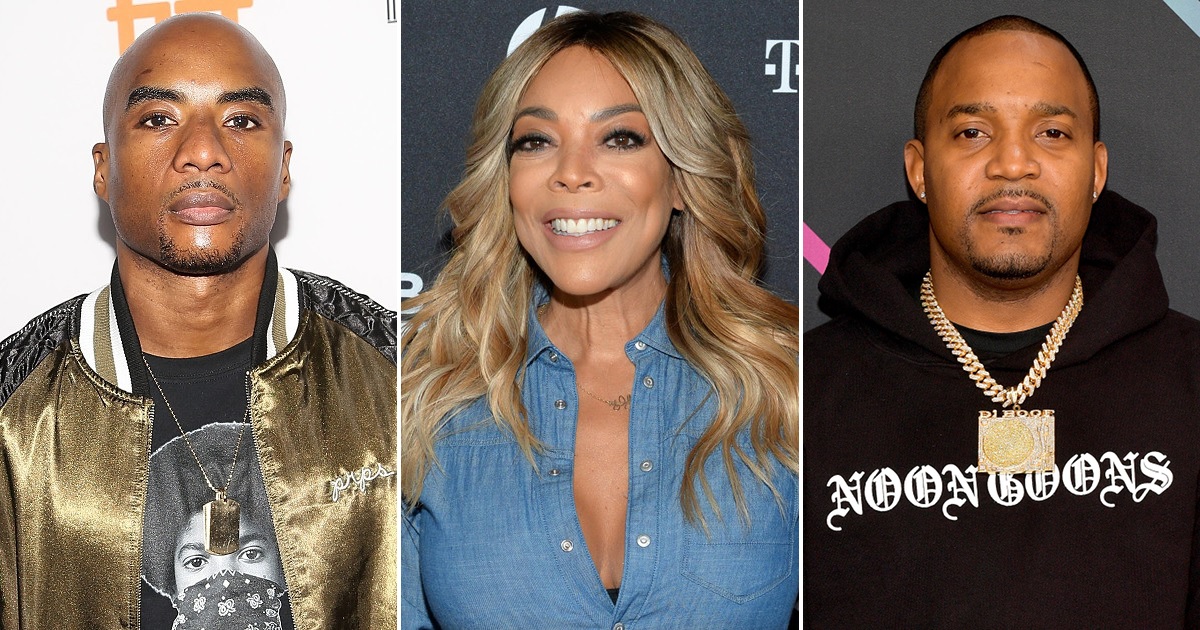 In the days since filing for divorce, Wendy Williams has joked on her daily talk show that she's "on the loose."
And today, she revealed to her viewers that her social calendar is beginning to fill up, including a "double date" with Charlamagne tha God and her in-studio emcee, DJ Boof.
Williams sets the scene of how two men asked her out on dates on the same night for her audience on Wednesday (Apr. 17).
She was reading "Fifty Shades of Grey" author E.L. James' new book when the phone rang.
"All of a sudden my cell phone rings and it's DJ Boof asking me out for dinner!"
Boof serves as the emcee for The Wendy Williams Show and hypes the audience before taping and during commercial breaks.
"I told Boof, 'I'll see you over the weekend. Pick me up on time.'" She continued her story as the camera panned to Boof.
And minutes later, Williams phone rings again. "No, it wasn't Boof! It was Charlamagne [Tha God]!" Williams revealed.
It was actually shocking to hear Williams utter the Breakfast Club host's name given their infamous decade-long feud. She usually even gives Charlamagne the Mariah Carey "I don't know her" treatment when asked about him.
So, if that wasn't surprising enough, Williams says that Charlamagne also asked her out to dinner. Coincidentally, it was on the same day and time that she had just committed to her engagement with DJ Boof and Williams informed the radio host of the conflict.
"So, Charlamagne says, 'I know Boof. Why don't we both take you out?' I said, 'Look, I'm reading and I have my food here. Why don't you call Boof, and set it up' … So, now I have a double date!"
Boof confirmed that Charlamagne called him to work things out so that they could enjoy a "threesome" with Wendy!
It's all in good fun, of course. Charlamagne has been happily married to Jessica Gadsen since 2014, and although we don't know Boof's relationship status, it's doubtful he'd be hitting on his boss just days after she filed for divorce.
However, the fact that Williams and Charlamagne are burying the hatchet to reunite remains the biggest revelation. The former colleagues have not spoken to each other in 10 years.
And it might have something to do with the fact that Charlamagne is the one who introduced Williams' estranged husband, Kevin Hunter, to his alleged longtime mistress, Sharina Hudson.
Charlamagne shared details of his strained relationship with Willaims and Hunter to Page Six:
"The reason Kevin Hunter and I fell out, and the reason why I don't communicate with Wendy anymore is because of Sharina…

"Kevin got upset because he thought Sharina liked one of my homeboys and he thought that I was hooking Sharina up [with other men]."
Charlamagne got his big break when he became Williams' sidekick on her radio show in 2006.
He briefly worked on the television show in 2008 until Hunter fired him and forbade him from contacting Williams ever again. "You're dead to us," Hunter told Charlamagne, according to the Breakfast Club host.
"Kevin has literally gone out of his way to try to stop my livelihood, to cut my head off and stop me from other jobs," Charlamagne continued. "He has done it a couple of times. Kevin has definitely got a couple of cease and desist letters from my attorney."
Upon hearing Williams had finally filed for divorce last week, Charlamagne went on his radio show and called Hunter a "clown of legendary proportions" and a "grade-A sucker."
"I feel sorry for [Wendy] because she was an abused woman on various levels," he added.
Williams must have heard Charlamagne's sympathies and decided to mend fences with her one-time foe.
Be the first to receive breaking news alerts and more stories like this by subscribing to our mailing list.