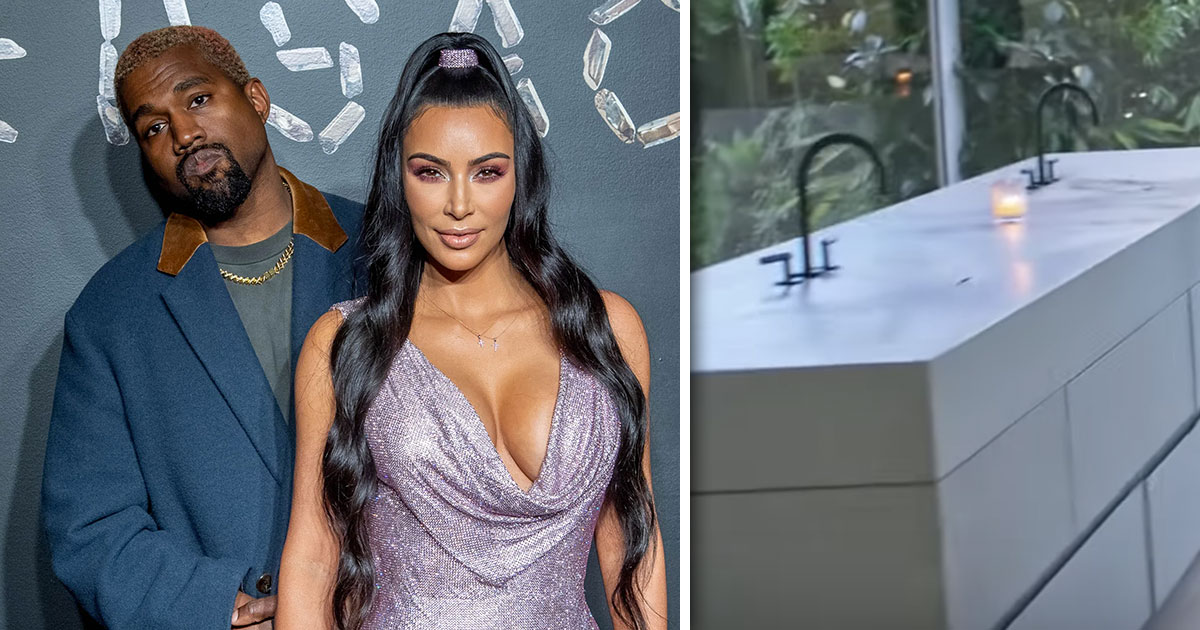 Where are the sink basins?
Remember just a few months ago, when Kanye West surprised Kim Kardashian with saxophonist Kenny G at their home, surrounded by vases of single roses for Valentine's Day, but the romantic gesture left social media puzzled because the couple had no furniture?
Well, now social media has even more questions after getting another glimpse into the super couple's Calabasas mansion.
Kim and Kanye recent welcomed Vogue into their home for the magazine's popular "73 Questions" series.
Kim describes her home as a "minimal monastery" as we see little furniture and an off-white color scheme throughout the mansion.
As the camera pans into a bathroom, a massive tub faces a window wall. And then there are the sinks.
can someone PLEASE explain the sinks at kim & kanye's house pic.twitter.com/bFqi1fpNkl

— secular celiac sicily (@djcoochnbooch) April 11, 2019
Viewers were mystified by the double sinks with no basins, just faucets.
Kim offered no explanation of the architectural marvel, leaving social media to offer their own theories and hilarious commentary.
Take a look:
I don't have this, but I can explain my knock-off model. Basically, it works by tipping over a glass of water and pouring it all over the countertop.

— Bette Says (@suckitcrawford) April 13, 2019
The sinken place

— ClownButMakeItFashion (@ssnnnee) April 13, 2019
It's absorbent marble stone.

— marlonmarshawn???? (@marlonmarshawn) April 11, 2019
This argument makes so much more sense now pic.twitter.com/jhBfGAJkqT

— Tons of Fun (@tokenbeigechick) April 13, 2019
It's a safety feature that prevents them from accidentally drowning while admiring their reflection in the drain stopper.

— The Babadook of Earl (@Go_Robot_Go) April 13, 2019
They are awfully shallow. The sinks are missing too.

— Mitch Davison (@mitch_davison) April 13, 2019
Can't wash dishes if there's no place to put the dishes pic.twitter.com/Qwd0XJkXen

— Tony (@righteouschill) April 13, 2019
Amid the jokes and GIFS, there were a few people who offered real explanations for those of us who are still like "But, why?"
Here are two pretty good ones:
It's a bowl less sink, however most seem to have a slit in the back to drain the water. I guess those small grooves in the front are the drains? You can see how it works on YouTube. https://t.co/tn6TKYZsyt

— Jawnerys Targaryen (@ajawnhasnoname) April 13, 2019
They're called sink covers. The 2 dark spots are where you put ur fingers to lift them off

— True indeed… (@KeepDopeAlive) April 13, 2019
What do you think about Kim and Kanye's sinks?
Be the first to receive breaking news alerts and more stories like this by subscribing to our mailing list.