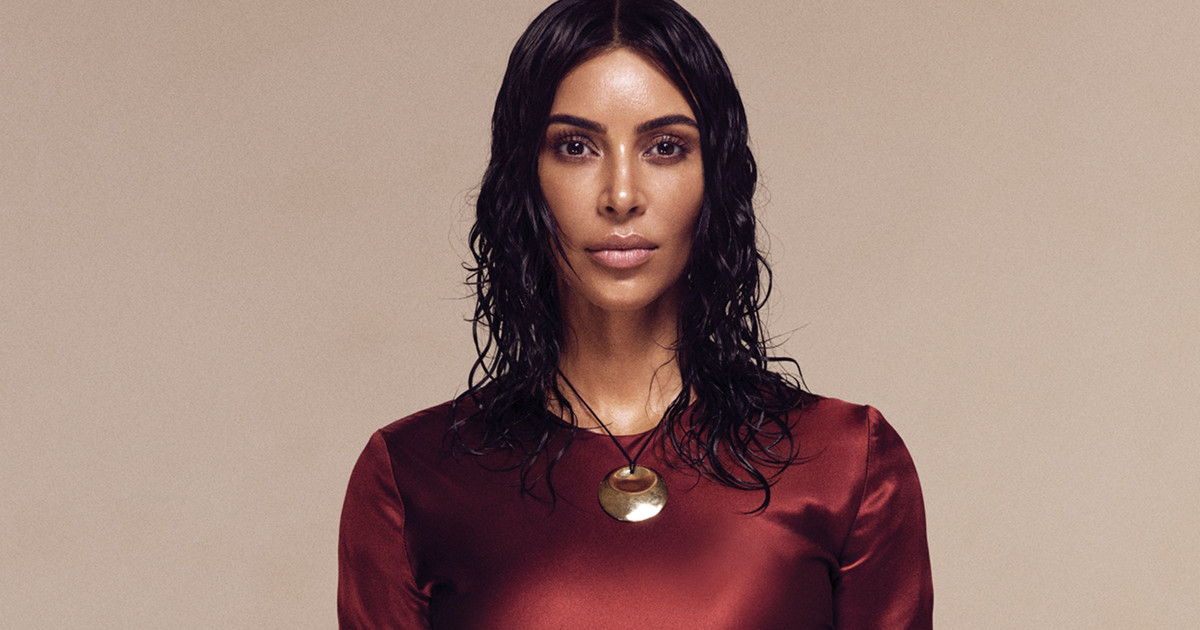 Since I feel like I've been living a bizarre twilight zone since November 2016, let me go ahead and paint this future for you:
America somehow survives two terms of a Trump presidency. (And yes, we're all still free!) It's 2025 and Kanye West has just been inaugurated as the 46th President of the United States. Kim Kardashian stands by his side, not only as FLOTUS, but as a Supreme Court justice!
This is obviously a hyperbolic hypothetical foretelling of our future, but back to reality, one thing is true: Kim Kardashian has confirmed her interest in becoming a lawyer and has begun the steps to do so.
"I had to think long and hard about this," Kardashian exclusively tells Vogue. Last summer, the reality star and business mogul began a four-year apprenticeship at a law firm in San Francisco, with hopes of taking the bar exam in 2022.
California is one of four U.S. states that allow people to take the bar exam by "reading the law" or apprenticing with a practicing lawyer or judge.
Kardashian will need to take a "baby bar" exam this summer and will be allowed to continue her studies for three more years if she passes.
"First year of law school, you have to cover three subjects: criminal law, torts, and contracts. To me, torts is the most confusing, contracts the most boring, and crim law I can do in my sleep. Took my first test, I got a 100. Super easy for me. The reading is what really gets me. It's so time-consuming. The concepts I grasp in two seconds."
Kardashian felt compelled to follow in her father's footsteps after playing a major role in convincing President Trump to grant clemency to Alice Marie Johnson in 2018.
The 63-year-old had been in prison for 21 years due to a first-time, non-violent drug offense. Kardashian, along with a team of activists, met with Trump at the White House to advocate for Johnson's release.
"The White House called me to advise to help change the system of clemency and I'm sitting in the Roosevelt Room with, like, a judge who had sentenced criminals and a lot of really powerful people and I just sat there, like, 'Oh, shit' I need to know more. I would say what I had to say, about the human side and why this is so unfair. But I had attorneys with me who could back that up with all the facts of the case.

"It's never one person who gets things done; it's always a collective of people, and I've always known my role, but I just felt like I wanted to be able to fight for people who have paid their dues to society. I just felt like the system could be so different, and I wanted to fight to fix it, and if I knew more, I could do more."
Since Johnson's release, Kim has quietly continued her work in criminal justice reform by visiting prisons, petitioning governors, and even attending more meetings at the White House.
She's also been working with #cut50, a national bipartisan criminal justice form advocacy group co-founded by CNN commentator Van Jones and attorney Jessica Jackson.
Kardashian was also present in the Oval Office when Trump signed the FIRST STEP Act, a "sweeping bipartisan criminal justice bill," that many activists argue will have minimal effect.
Kardashian said of the signing: "I never in a million years thought we would get to the point of getting laws passed. That was really a turning point for me."
Naturally, following the unexpected revelation that Kim Kardashian wants to be the real Elle Woods from Legally Blonde, social media had a few thoughts.
Kim Kardashian showing up to her bar exam pic.twitter.com/5GpUw5JQob

— Chicks in the Office (@ChicksInTheOff) April 10, 2019
I hope this Kim Kardashian rumour about law school is true but it's probably not and it's probably a rumor she started her damn self. But that would be a very bossy move

— jules ? (@JulieMango_) April 10, 2019
is kim kardashian really going to pass the bar before me pic.twitter.com/NfrzLiUPCS

— olivia (@itsalivstory) April 10, 2019
The judge when you walk into the courtroom with Kim Kardashian as your lawyer pic.twitter.com/0E3lqxE4Gu

— Pikliz Papi (@so_rudez) April 10, 2019
Kim Kardashian studying to become a lawyer is the equivalent of Mark Zuckerberg planning to release a sextape.

Neither can go well.

— Only The Truth (@iMeltSn0wflakes) April 10, 2019
Kim Kardashian is studying law so she can protect herself in court when Khloe decides to press charges against her for this: pic.twitter.com/Z5gQA6HPbl

— Reid (@ReidZura) April 10, 2019
this is what i thought of when i heard the news of kim kardashian west becoming a lawyer pic.twitter.com/aSjdAGPTfn

— ash? n8 day!! (@icedgreentaetae) April 10, 2019
the fact that Kim Kardashian is becoming a lawyer to help even more with criminal reform is so fucking amazing and all celebrities should realize the impact they have like her

— julia (@radfailure) April 10, 2019
The mother of three—with a fourth on the way via surrogacy—already knows people will doubt her decision, but she's content with that and ready to prove them wrong.
"I don't pay attention to that anymore," she said. "I love to be put in a situation where I can have a conversation with someone who might not be inclined to think much of me, because I can guarantee they will have a different opinion and understand what's important to me after they've met me."
Kim' late father, Robert Kardashian Sr., was an attorney, famously known for being part of O.J. Simpson's dream team of lawyers during his 1994 murder trial. Kardashian recalls sneaking into her father's office and being fascinated by the forensics and files of the case.
Kim Kardashian, attorney at law, is definitely not something any of us probably anticipated. But truth be told, the amateur sex tape star turned mogul has shut-up her haters one-by-one, including me, with her formidable business acumen. And now she's using her influence as an advocate for justice and political change.
At this point, I put nothing past Mrs. Kim Kardashian-West.
Be the first to receive breaking news alerts and more stories like this by subscribing to our mailing list.