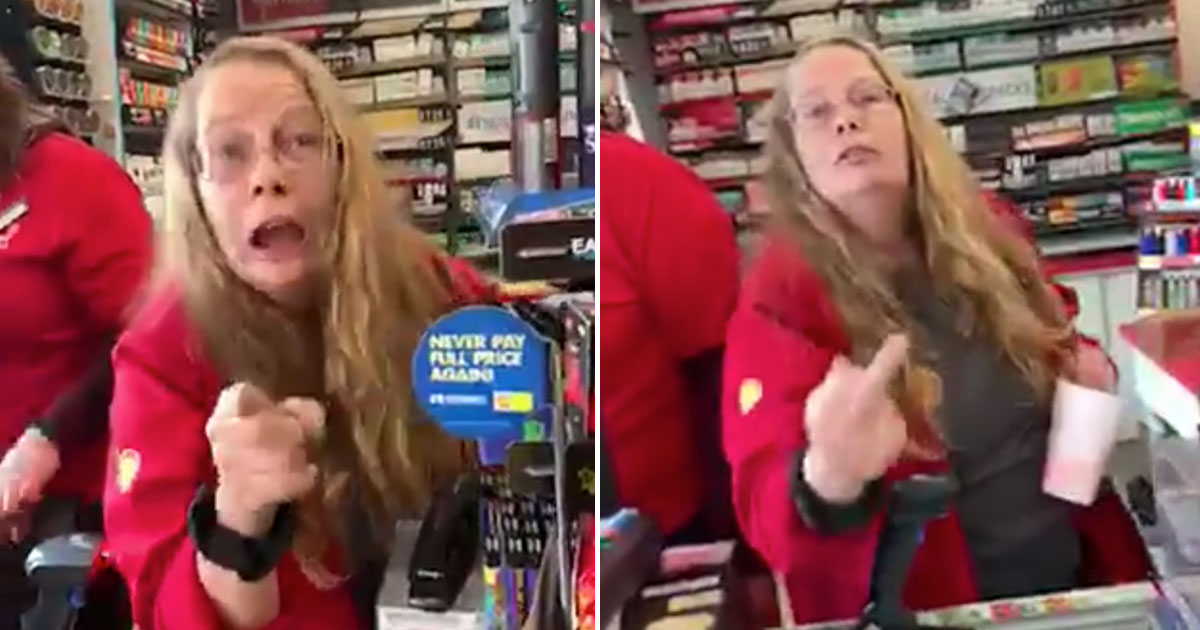 A series of videos showing a gas station employee in California screaming at a customer for speaking Spanish has gone viral on social media.
28-year-old Grecya Moran said when she went to the counter to pay for her gas at a Shell station in San Jose last Thursday (Mar. 28), she and an employee had a short conversation in Spanish, but they were interrupted by another employee who lambasted Moran for speaking a language other than one she's personally familiar with.
"She kept on telling me to speak English because we are in America," Moran, a stay-at-home mom of five, told NBC News.
Moran said she apologized at first because she didn't want the woman to think she and the other employee were talking about her
But the woman slandered Moran continuously without any hesitation, and the things she had to say were absolutely absurd, which is what prompted Moran to start filming.
"She then started saying things like 'Trump needs to build the wall.' That's when I realized she was being serious and I took out my phone and started videotaping her," Moran said.
"You don't tell me when I should talk in Spanish or should I don't," Moran tells the employee in the video. The woman, speaking over Moran, replied: "I don't care, you don't tell me nothing!"
The Shell employee also provoked Moran to "come at her" and later tried to victimize herself as if she was justified in her racist actions.
While Moran continued to film this employee's heinous actions she calmly asked her to repeat her name.
The woman refused and stated: "You f**ked up there, you know what? You want to catch me on camera? Do it, because I don't care. I'm turning 60 next week. Hurt me! Go ahead! I'm poor!"
While Moran continued to film, the employee steadily hurled profanities at Moran and flipped her off.
"You know what I planned on quitting anyway, and it makes no difference to you!" the woman shouted. "You have your (inaudible response), you have your money, You can do whatever the f**k you want, right? Because you are not a citizen of the United States!"
The employee then asked Moran to show her proof of her citizenship after Moran stated that she was born in the United States.
As the woman continued to yell at Grecya to prove her U.S. citizenship, you can hear a child starting to cry in the background.
"I can't believe someone would treat me like this. She didn't even care that I had my 18-month-old son with me," Moran shared with NBC News.
Moran added that this isn't the first time she's experienced discrimination against her speaking Spanish, but she said this particular interaction at the gas station was shocking.
"I thought it was a dream. It felt like a nightmare. I couldn't believe that someone could treat someone else like that. Our race and skin color should not define who we are. We're all humans," she said.
Moran later filed a report with a San Jose Police Department and the manager of the gas station said that the employee was fired the day of the confrontation.
After the situation had calmed down and Moran was able to discuss it outside the heat of the moment, she tried to keep a positive attitude regardless of the persecution she received.
"I hope she didn't mean those hurtful words [she said] to me. I hope and pray that she realizes that we're all humans and that nobody [deserves] to be treated like that," Moran said.
Moran's Facebook post showcasing the incident has been shared nearly 6,000 times and the videos collectively have more than 500K views.
Be the first to receive breaking news alerts and more stories like this by subscribing to our mailing list.