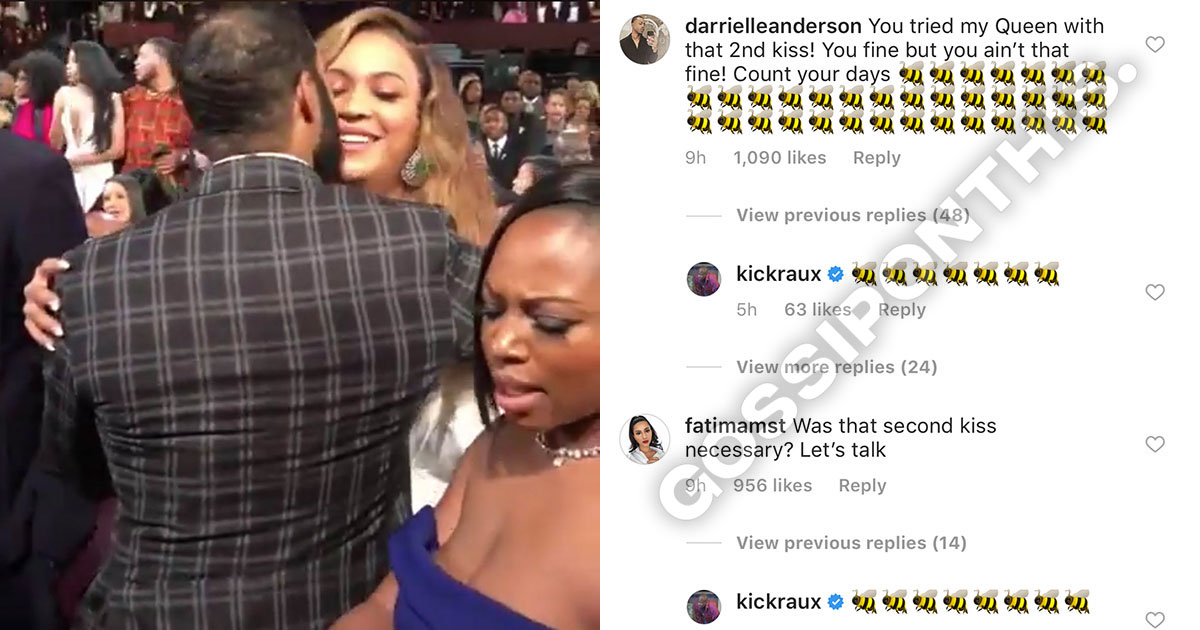 Oh no Omari Hardwick what is you doing?!
The Power star is in serious trouble with the Beyhive after a video went viral showing him kissing Beyoncé twice, with one kiss landing VERY close to her lips.
Beyoncé and Jay-Z attended the 2019 NAACP Image Awards Saturday night (Mar. 30) in Los Angeles, where they were each honored with a major award: Entertainer of the Year (Bey) and the President's Award (Jay).
At some point during the ceremony, Omari Hardwick and his Power co-star Naturi Naughton greeted hip-hop's royal couple in the audience.
While Naturi chatted it up with Beyoncé, Omari took a quick photo with Jay-Z and then made a bee-line for Beyoncé. When Hardwick and Beyoncé hugged, he kissed her twice … once on the cheek and the second time near her mouth.
Beyoncé has arrived! ? #NAACPImageAward pic.twitter.com/4GEXScVOma

— BEYONCÉ LEGION (@BeyLegion) March 31, 2019
As the video footage showing the moment circulated on social media, Bey's infamous legion of fans pointed out that Omari's double kiss was inappropriate and way too close to her mouth for comfort … especially considering the fact that her husband of more than 10 years was standing right there. And Beyoncé's apparently uncomfortable reaction to that second kiss made the moment even more cringeworthy.
Actor Omari Hardwick is currently receiving backlash from Beyoncé fans after it seemed like he tried to kiss her on the lips during the #NAACPImageAwards. pic.twitter.com/nt6KMpWFdU

— Pop Alarms ? (@PopAlarms) March 31, 2019
The incident quickly went viral on Twitter and "Omari" was a worldwide trending topic throughout the late Saturday night/early Sunday morning hours.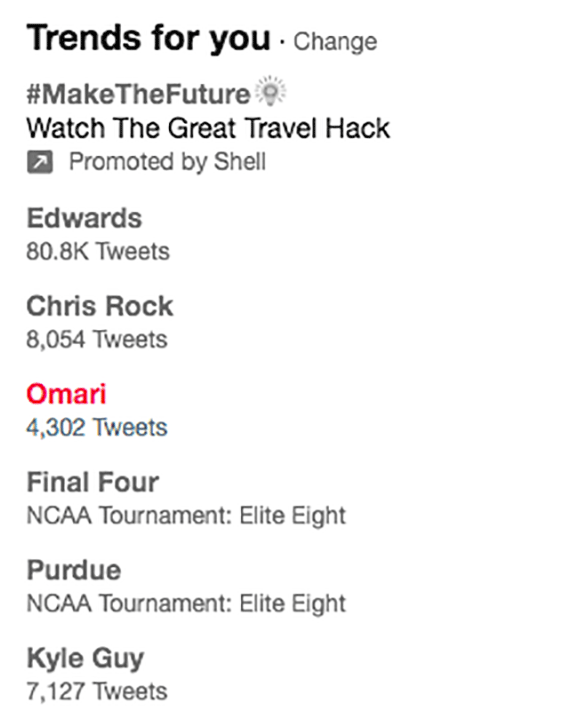 Check out the tweets below:
Omari Hardwick's wife after seeing him kiss Beyonce. https://t.co/ONgAfXkZEK

— Gabrielle (@gflo88) March 31, 2019
Omari kissing Bey twice pic.twitter.com/34XwqfqXSO

— Ill Greg Greg (@JeSuis_Greg) March 31, 2019
Beyoncé when that Omari guy kissed her on the corner of her lip pic.twitter.com/cV4jisxN8S

— kay. (@beyoncehatesme) March 31, 2019
Auntie mad uncomfortable. RT @yoncedastallion: this nigga Omari Hardwick really kissed Beyoncé on her mouth. I want him in prison. QUICKLY! pic.twitter.com/vzO5AubL76

— #MediumUglyHive (@iTWEET_FromMarz) March 31, 2019
Beyoncé after Omari kissed her pic.twitter.com/0a3xog3AGi

— Chase Blaise (@CHASEEEZY) March 31, 2019
…that second kiss from Omari ? she looked mad uncomfortable, damn near kissed her on her lips, why he kissing twice anyways?

and Viola Davis is a whole mood back there ?? looking like "if y'all don't sit down and stop acting foolish" https://t.co/NLS4GwZ5uc

— Adrian ? (@Adrian_Madimula) March 31, 2019
Omari I got two words for you: pic.twitter.com/QJBzWZLnGD

— AISA ?? (@AISA_Sayz) March 31, 2019
How many times did you want to kiss Beyoncé?

Omari:pic.twitter.com/MC2Juj7l2D

— SALUD (@Seb_Cremer) March 31, 2019
Omari just ruined it for all men. No man should be kissing Beyoncé on the cheek other than her husband. A proper handshake would suffice.

— swäv (@kallmekam_) March 31, 2019
What was Omari thinking?

— deray (@deray) March 31, 2019
If Kanye was there he would've punched Omari in the mouth.

What's Jayz's job actually pic.twitter.com/AU4cSXIOvk

— Zuri (@_Zuri_1) March 31, 2019
Of course the Beyhive didn't keep their backlash within the confines of Twitter.
Beyoncé's loyal fans also took to Instagram, where they flooded the comments section on Omari Hardwick's posts with bee emojis. Some fans even threatened the actor.
One fan wrote: "Bey felt so uncomfortable after that second kiss… I feel violated for her. I wanna fight him. You tried my Queen with that 2nd kiss! You fine but you ain't that fine! Count your days."
"So you're the dude that got too close to Beyoncé? Come outside I just wanna talk," wrote another fan, while another said: "I knew something shady was about to go down when he did the thumbs up pose with Jay right before… Beyoncé didn't want them kisses from ghost… you better chill before you be dead in the first episode of power."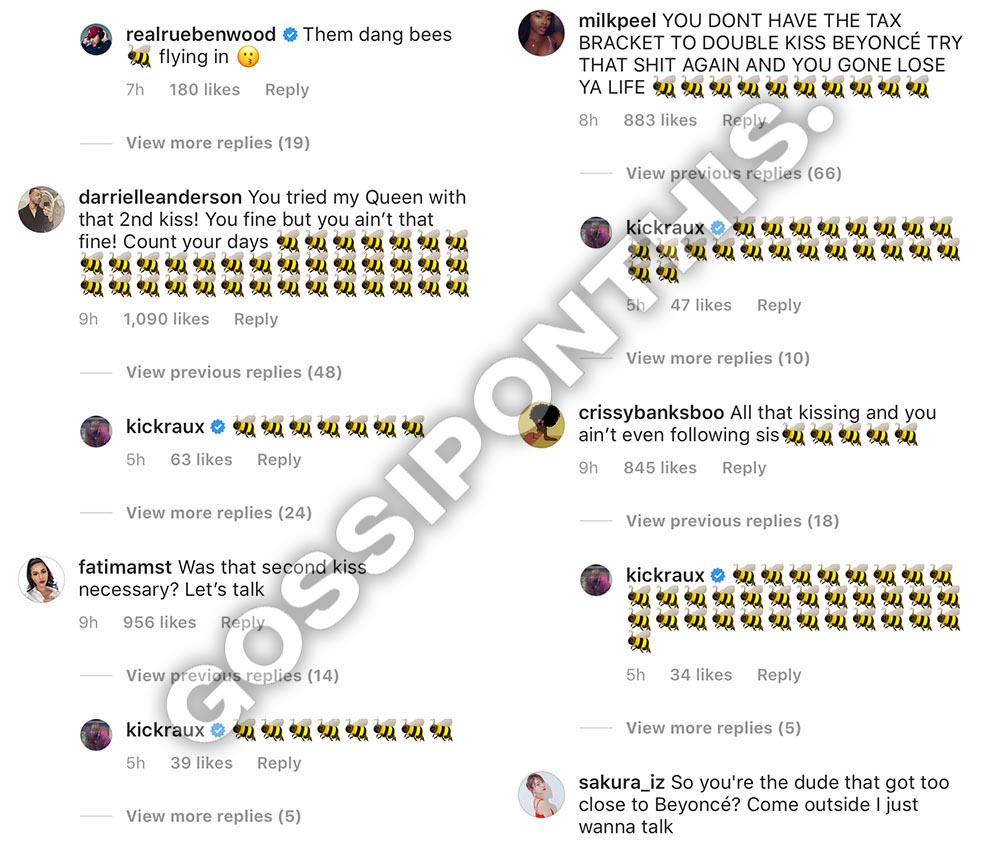 Another Beyhive member commented: "YOU DONT HAVE THE TAX BRACKET TO DOUBLE KISS BEYONCÉ TRY THAT SHIT AGAIN AND YOU GONE LOSE YA LIFE"
One fan even referenced the infamous elevator fight incident in which Solange beat the hell out of Jay-Z, insinuating that they would do the same to Hardwick: "Come to the elevator I just wanna pull a solange."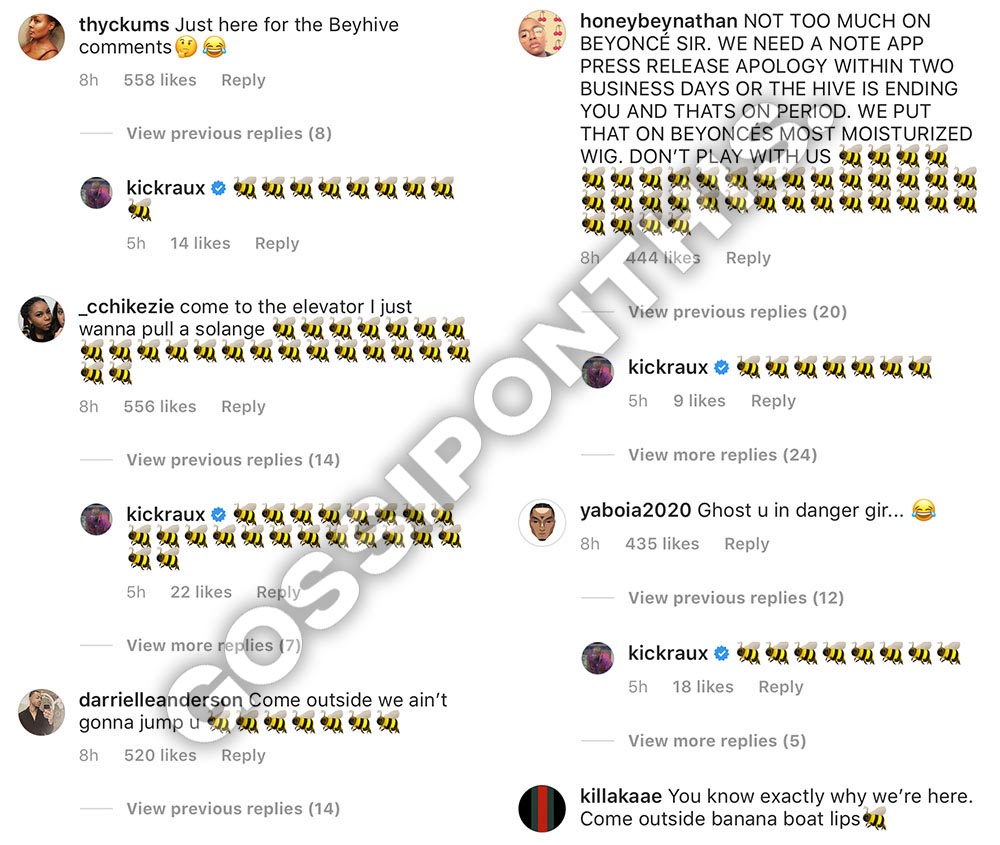 And one fan went all the way off on Omari, referencing #MeToo and demanding an apology from the actor: "This is why the #metoo movement is important. No matter how famous and powerful a woman is, there will always be some dusty ass inappropriate man who feels like he has the right to take your [manners] and generosity as an invitation to make you uncomfortable. You disrespected your wife, your children, Beyoncé and Jay Z and need to apologize."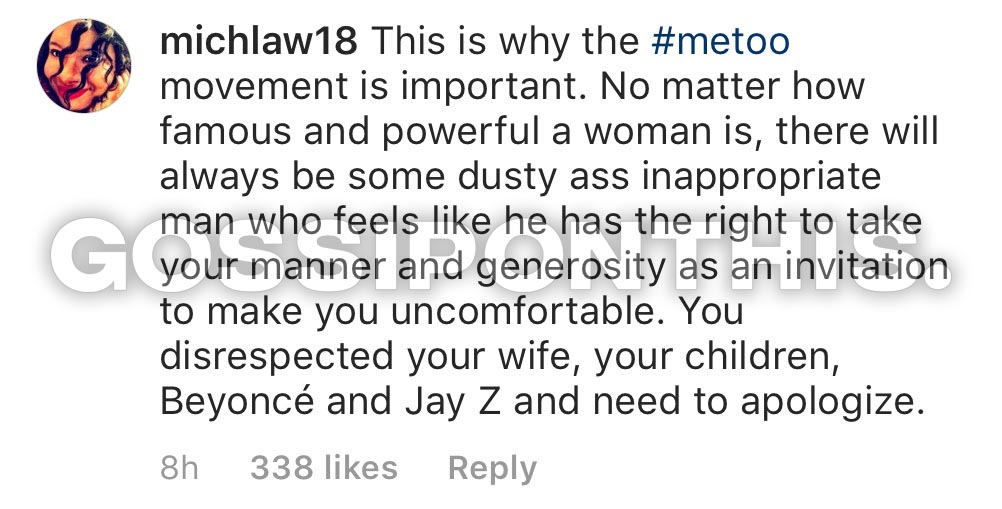 What do you think about this? Does Omari deserve the backlash? Is the Beyhive doing too much? Let us know in the comments below!
Be the first to receive breaking news alerts and more stories like this by subscribing to our mailing list.