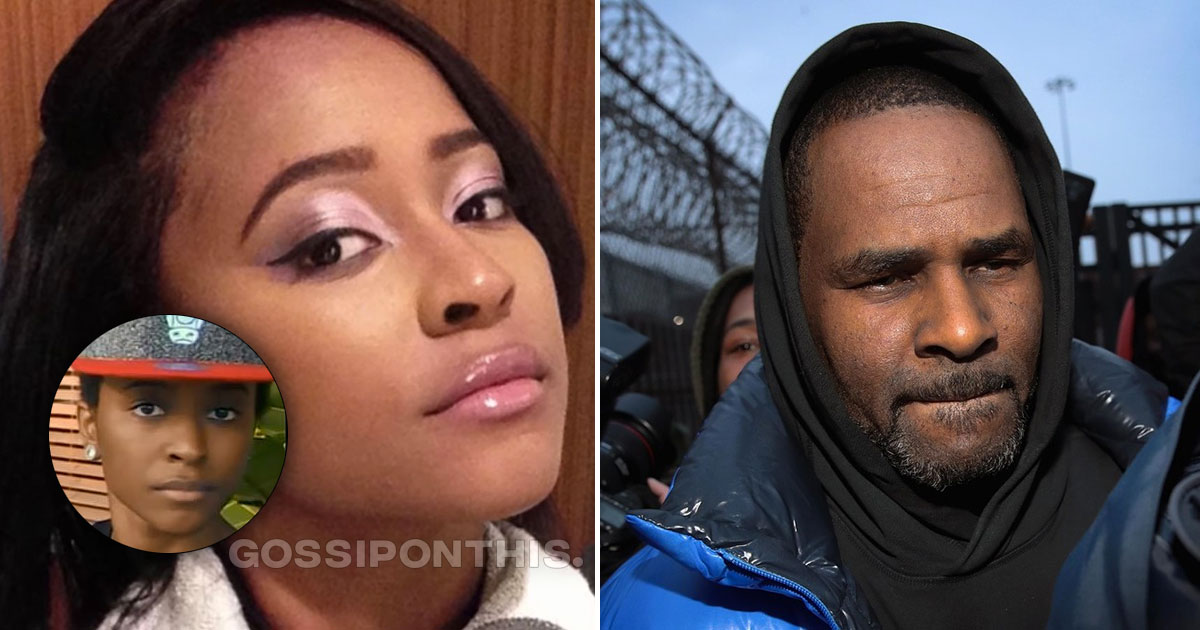 A former girlfriend of R. Kelly's is speaking out about the abuse she suffered at the hands of the singer during their 9-year relationship.
If you watched Lifetime's Surviving R. Kelly docu-series, the name Dominique Gardner should sound familiar. The final two parts of the six-part series showed footage of Dominique during her relationship with Kelly, following her mother as she rescued her from a Los Angeles-area hotel where she was allegedly being held against her will.
Speaking with the documentary's producers, Gardner described much of what R. Kelly imposed on his alleged victims, including a set of rules that he expected the women to follow, like wearing baggy clothes (so that other men couldn't admire their bodies), calling him "daddy" and asking for permission to eat or use the bathroom.
In a new interview with The New Yorker, Gardner goes further into detail about her nine years of hell with the singer who is now facing 10 counts of aggravated sexual abuse.
"I couldn't even have a drink without his permission," Gardner said. "I'm a grown-ass woman, and I've gotta ask you if I want a drink? Everything you do, you have to ask him. That's not living, that's not normal. I've got to ask to use the f**king bathroom? Are you serious? I'm about to pee on myself if I can't get in contact with you. What the f**k is this?"
Dominique said that she was the "tomboy" of the group of girls living with Kelly. Before being rescued by her mother, she stayed with Joycelyn Savage and Azriel Clary, who are both still with the singer.
Gardner said that she was the most rebellious of the bunch and would often disobey Kelly's rules, which would result in her having to face the "consequences," including being spanked, slapped, beat and sometimes being hit with an extension cord. "It's like a parent when your children go against your word," she explained.
In one incident, after she threw a carrot at Kelly, Gardner said the singer "grabbed me and he pulled my hair out, and I had, like, patches torn from my hair."
Despite going through all of that, Gardner said she doesn't regret being with Kelly.
"I loved him to death, you know what I'm saying? But he needs help. Who doesn't need help?" she said, adding that she wouldn't use the words "brainwashed" and "cult" to describe the control he had over her and the other women.
"I am not just about to spread lies about him," she said. "I wouldn't even say 'mind games.' It was just the fact that he tried to break me. I couldn't be broken. He wanted that control over me, and I wouldn't give him that power. So, he figured, like, If I don't give her food, she'll come around. Nope. I'd rather die than come around and give you my soul."
Dominique said she has a permanent reminder of her time with Kelly—a pair of tattoos she has of his face on her leg and rib cage.
She also said she doesn't believe Kelly deserves to go to jail in his criminal case and should instead be placed on house arrest and receive counseling.
"I feel like he should be on house arrest in a studio, because, like I said, his music makes him get through the situations, what he's going through. Jail time, no. He needs to have a twenty-four-hour therapist at his house," she said.
Addressing Kelly directly, Gardner said he needs to be honest about his behavior. "You can stop the cycle," she said. "Just be honest. People don't want you in jail."
Be the first to receive breaking news alerts and more stories like this by subscribing to our mailing list.