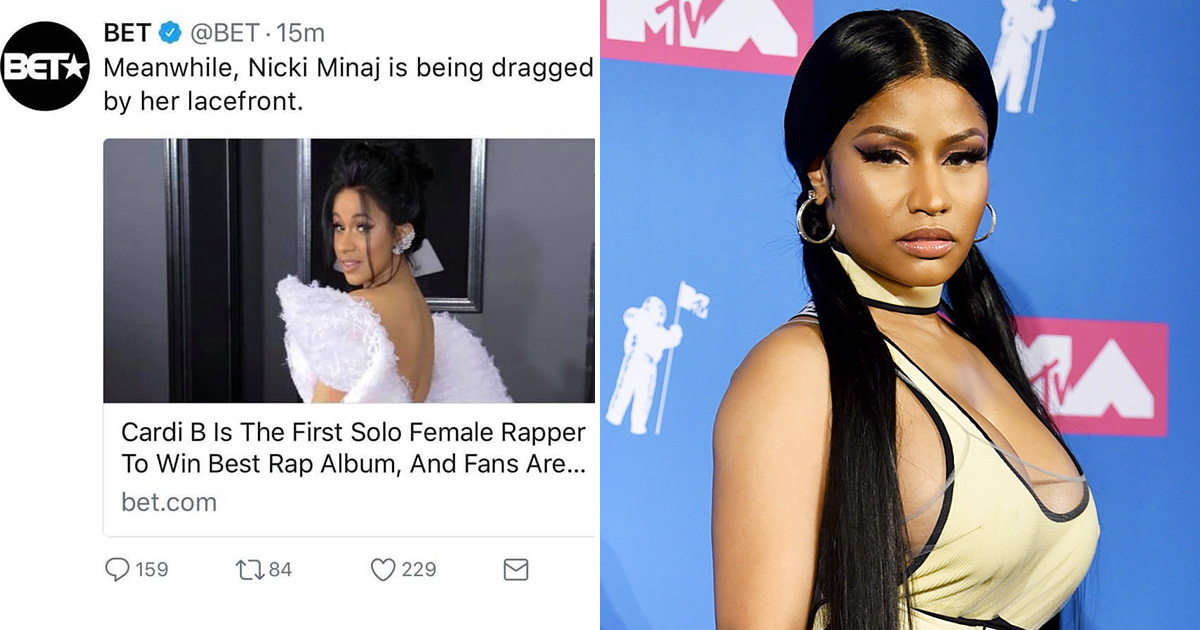 BET has apologized to Nicki Minaj after they dissed her on Twitter.
Following Cardi B's historic Grammy win for Best Rap Album Sunday night (Feb. 11), BET's verified Twitter account posted a link to an article talking about it, and wrote a shady message about Nicki Minaj in the tweet.
"Meanwhile, Nicki Minaj is being dragged by her lacefront," the tweet read.
The post ended up generating hundreds of comments and retweets before it was deleted, but you already know people took screenshots.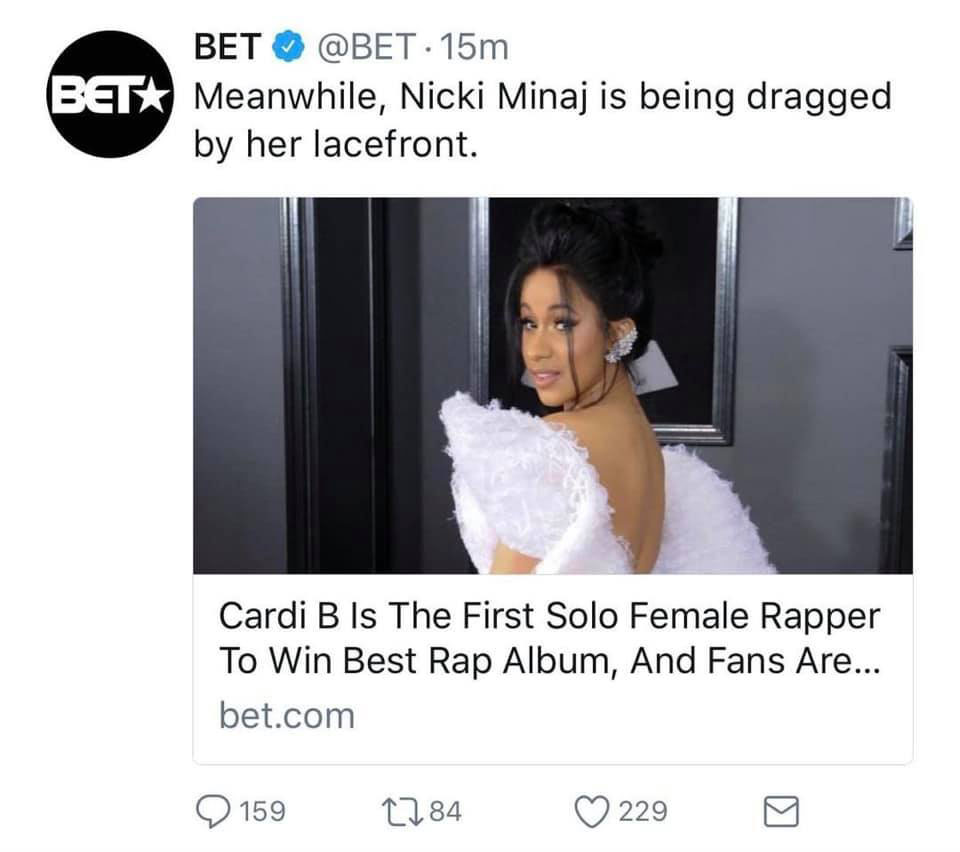 On Monday morning (Feb. 11), Nicki announced that she was dropping out of the upcoming 2019 BET Awards as well as BET Experience weekend, and she said she's taking the whole Young Money (including the label's founder Lil Wayne) with her. She didn't say why, but it's pretty obvious that it was over the tweet.
"Young Money will no longer be apart of the BET Experience or award show," Nicki tweeted. "Summer Tour dates dropping soon."
Young Money will no longer be apart of the BET Experience or award show. ?????? Summer Tour dates dropping soon ?

— QUEEN (@NICKIMINAJ) February 11, 2019
According to BET's website, Nicki Minaj and Lil Wayne (along with a number of other artists) were scheduled to perform on Friday, June 21st at the Staples Center in Los Angeles, with Cardi B and others performing the next day.
Nicki and Wayne's photos were still on the lineup page as of Wednesday (Feb. 13), however, there is a disclaimer at the bottom of the page that says: "talent subject to change."
BET has since fired the person responsible for the shady tweet and said in an apology to her and her fans that it "should never have happened," but the damage has already been done and we doubt Nicki will change her mind.
"The respect we have for Nicki was violated by this post that should never have been written," the network said in a statement. "The post does not reflect how we feel about Nicki. And further does not reflect our company values. We deeply apologize for the hurt, disappointment and confusion that this post has caused. We are committed to doing everything we can to address the situation."
Read BET's full statement below:
An apology to @NickiMinaj, her fans and all our readers: https://t.co/VVzuQybtbH pic.twitter.com/AUAEUfCSZh

— BET (@BET) February 12, 2019
Be the first to receive breaking news alerts and more stories like this by subscribing to our mailing list.