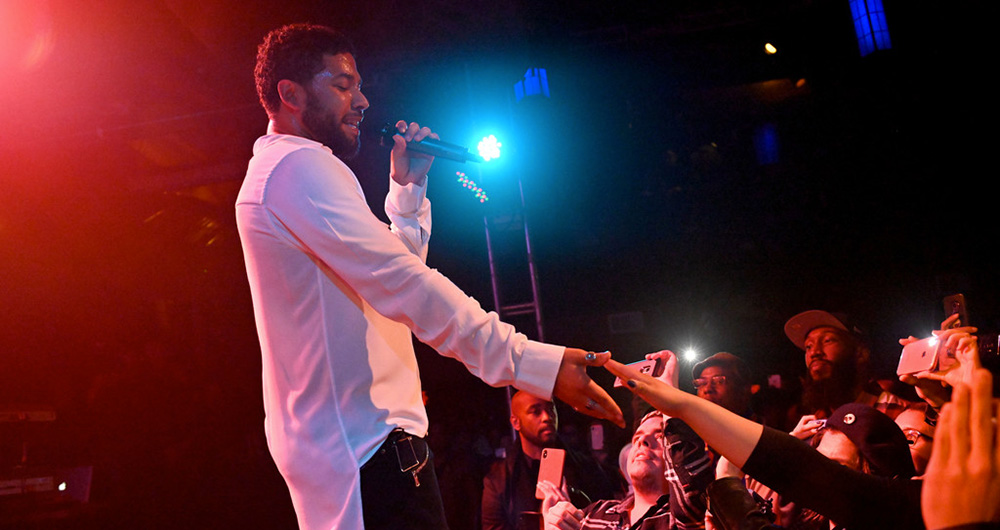 Jussie Smollett performed a concert at the Troubadour in West Hollywood over the weekend. It was his first public appearance since he was allegedly attacked in Chicago earlier in the week.
Before singing a note, Smollett talked to the crowd about the alleged attack in which two masked men punched him in the face, poured bleach on him, tied a noose around his neck, and hurled racial and homophobic slurs at him.
Smollett said those close to him didn't even want to do the concert, but he said he had to go on with the show because he refused to let his attackers win.
"The most important thing that I can say is to keep it simple and say thank you and I'm okay," Smollett said to the cheering crowd. "I'm not fully healed yet, but I'm going to and I'm going to stand strong with you all. I had to be here tonight. I couldn't let those motherf**kers win."
He added: "I will always stand for love, I will never stand for anything other than that. Regardless of what anyone else says, I will only stand for love and I hope you will all stand with me.:"
Jussie Smollett speaks out at Los Angeles performance. pic.twitter.com/l8QZAQfubW

— Keith Boykin (@keithboykin) February 3, 2019
Near the end of his concert, Smollett spoke to the crowd of about 400 people again to clear up a few things about his alleged attack.
He said he was bruised, but his ribs were not cracked. Immediately following the incident, he went straight to the doctor, but was not hospitalized, and physicians in both Chicago and Los Angeles cleared him to perform, but advised him to be careful, for obvious reasons.
"And above all, I fought the f**k back," he said as the audience erupted into cheers. "I'm the gay Tupac!"
Police haven't made any arrests, and they said they haven't been able to find surveillance video of the attack, though they did see footage of Smollett walking home with a rope around his neck. They also released blurry photos showing the two "persons of interest."
Chicago police also said Smollett has been cooperative throughout their investigation and they have no reason to believe he's not being genuine.
Be the first to receive breaking news alerts and more stories like this by subscribing to our mailing list.