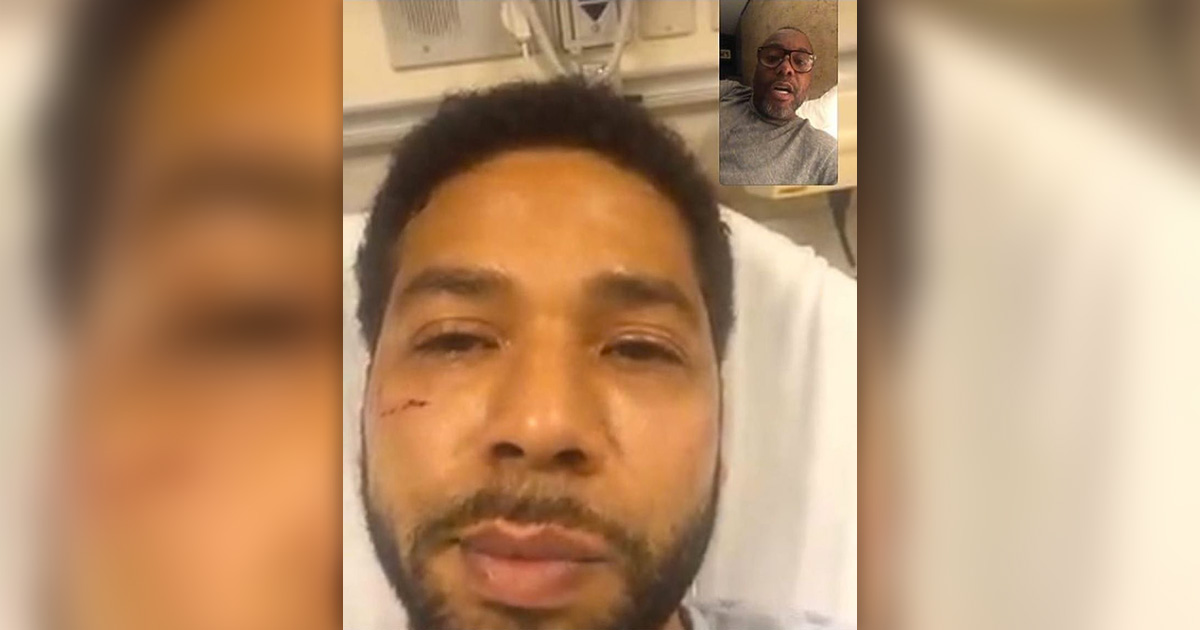 Jussie Smollet's facial injuries as a result of him being viciously attacked were apparent in a picture shared on social media by Empire creator Lee Daniels.
Smollett was pictured laying in a hospital bed while on FaceTime with Daniels. The actor—who plays Jamal Lyon in the Fox series—had a cut on his right cheek under his eye and his face appeared to be swollen and bruised.
Jussie was taken to hospital after he was attacked by two men wearing ski masks late last night/early this morning, according to That Grape Juice.
The entertainment blog also shared a photo of a letter that was sent to Fox Studios in Chicago last week with cut out letters spelling out "You will die black f*g." The envelope the letter was mailed in appeared to say "MAGA" in the top left corner.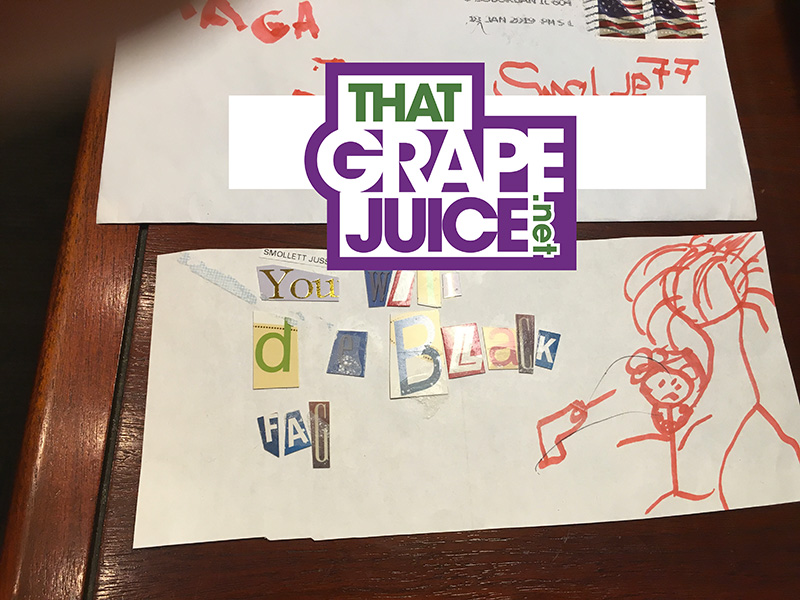 Smollett landed in Chicago late Monday night and headed to Subway to grab some food around 2 a.m. when he was approached by two men, TMZ reported.
The attackers reportedly asked Smollett "Aren't you that f***ot Empire n***a?" before viciously attacking him. He tried to fight them off but was outnumbered and overpowered.
The men also reportedly put a rope around his neck, poured bleach on him, and allegedly yelled "This is MAGA country!" as they left.
Smollett was treated at the hospital for injuries including a fractured rib and was discharged Tuesday morning.
The Chicago Police Department confirmed they are looking into the incident and they're investigating the attack as a possible hate crime. They've also reportedly obtained surveillance footage from a Target and an apartment building close to where the incident happened.
After reports about the incident emerged, Lee Daniels was one of the first to share his support on social media.
"It's taken me a minute to come to social media about this because Jussie, you are my son," he said in a video he posted on Instagram. "You didn't deserve, nor anybody deserves, to have a noose put around your neck, to have bleach thrown on you, to be called, 'die f**got n**ger,' or whatever they said to you. You are better than that, we are better than that. America is better than that."
Daniels continued: "It starts at home. It starts at home… We have to love each other regardless of what sexual orientation we are, because it shows we are united on a united front, and no racist f**k can come in and do the things they did to you. Hold your head up, Jussie. I'm with you, I'll be there in a minute. It's just another f**king day in America."
https://www.instagram.com/p/BtOrBBmH6GK/
Be the first to receive breaking news alerts and more stories like this by subscribing to our mailing list.