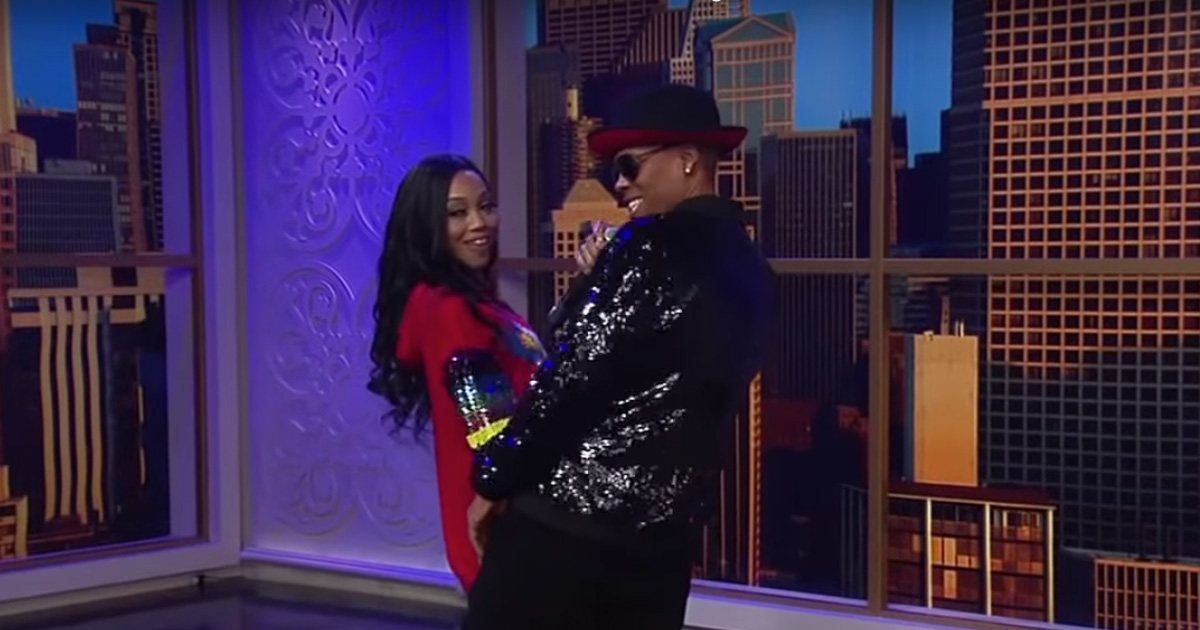 When Ronnie and Shamari DeVoe compared themselves to Beyoncé and Jay-Z on their Real Housewives of Atlanta debut, we all gave them the side-eye, and rightfully so. However, that didn't stop them from continuing to pursue their goals of being the next Hip-Hop power couple.
And now, because of their perseverance, we're able to see whether or not the DeVoes can live up to their "couple goals."
Ronnie and Shamari—who recently sat down with "The Breakfast Club" to discuss their open marriage—appeared on Chicago's Windy City Live Tuesday (Jan. 22) and performed their new single "Love Comes Through."
It was a whole entire mess.
Within the first few seconds when they had their backs turned to the camera and proceeded to do some awkward "shoulder bounce" dance, we already knew what type of performance this was going to be.
Then Shamari started singing and sounded like she'd already been performing a two-hour-plus show. Homegirl was winded as hell, and we weren't even 30 seconds into the performance yet! As for Ronnie, he's never been lead singer material and should live his life accordingly.
Both Ronnie and Shamari used to be a part of singing groups (New Edition and Blaque, respectively), so we definitely expected better from them.
Long story short: BEYONCÉ AND JAY-Z WOULD NEVER.
Of course, Twitter had thoughts:
Shamari & Ronnie Devoe performing their new song… pic.twitter.com/POFBFUCsNH

— An Awkward Black Girl (@I_Am_TamRoe) January 24, 2019
This video of Ronnie and Shamari Devoe performing together… pic.twitter.com/A1xgC3WTl2

— Belly Rowland (@trillificent) January 23, 2019
Sooooooooo ? the song and performance of "Love Comes Through" by Ronnie and Shamari Devoe AKA Me and Mari is uhmmm pic.twitter.com/5znZdh9Lcr

— IamMH (@maieshahawkins) January 24, 2019
This was me after just watching that video of Ronnie and Shamari DeVoe performing the other day. And Ronald had THEE NERVE to critique Kandi ????????? Life comes atchu quick, fast, and in a hurry, beloved #RHOA pic.twitter.com/YOQSeV0DfA

— Chanel (@MaeLiing) January 24, 2019
#shamaridevoe is ruining the NE legacy. I can never look at Ronnie Devoe and not think of that awful duet. #Devoeshrugs

— danielarenee (@danielarenee16) January 24, 2019
Are Ronnie and Shamari Devoe serious about this song ????

— ??Krystal with a K?? (@A_cappella1913) January 23, 2019
Shamari and Ronnie Devoe ??? that performance

— ?FatAzz Kelly Price? (@JMurphDirty) January 23, 2019
I loved this man for thirty years. I even unfollowed him on social media so I wouldn't have to see the impact his music career had on his subject verb agreement. But in the months since RHOA my love has been on life support. This pulled the plug. I'm done. https://t.co/rAXQpJzVRs

— Chaos and Disorder (@onlychyld) January 23, 2019
Ronnie and Shamari (aka "ShamRon") are working on a joint album called Me and Mari, and "Love Comes Through" is the first single from the project, which means we'll probably be seeing more performances from them, and hopefully they won't be as high school talent show-ish like how this one was.
ShamRon also sat down with Windy City Live for a short interview in which they talked about how they met, their hopes to expand their family with a girl (or maybe twin girls) and how they ended up on RHOA as fulltime cast members.
"It was a big thumbs down when I first heard about it because I come from the era when it's all about kinda sweeping your dirty laundry under the rug or keeping it in the closet. And like my wife said, it's a part of our testimony in hopes that we can inspire other married couples," Ronnie explained.
"We've been through some challenges," he added. "We were on the brink of divorce but we were able to turn that corner. We got our beautiful baby boys and were able to turn it around."
Watch the interview here:
Be the first to receive breaking news alerts and more stories like this by subscribing to our mailing list.