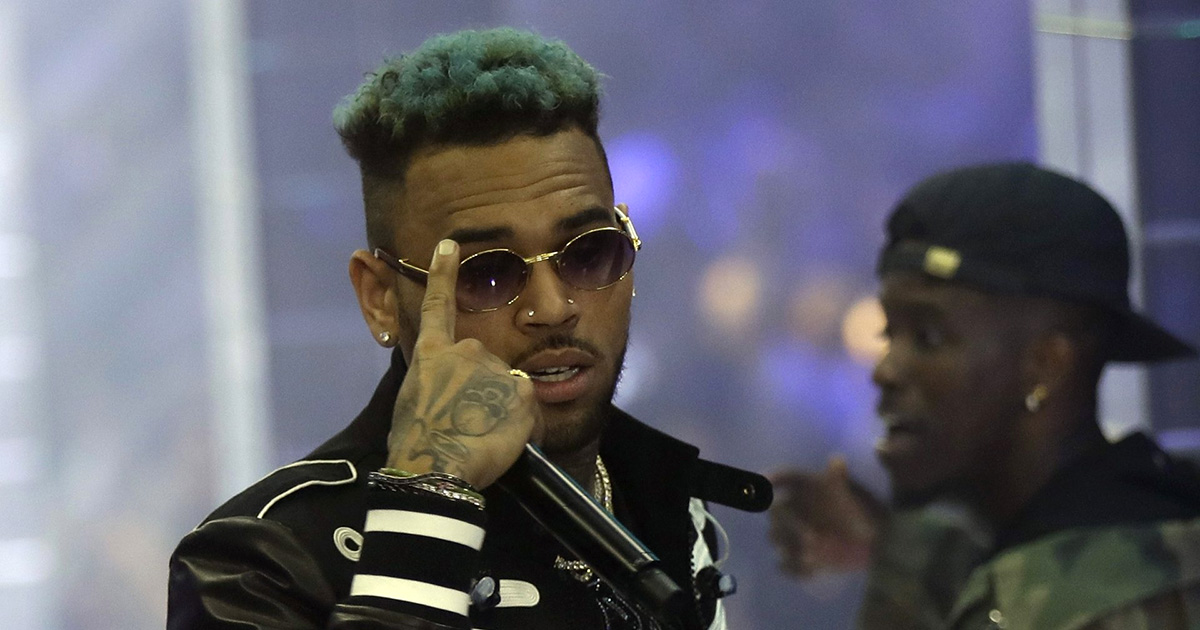 Chris Brown was detained by French police after a woman accused him of raping her in his hotel room.
Accused of aggravated rape and drug violations, the singer was arrested in Paris Monday morning (Jan. 21), along with two other people—his bodyguard and a friend who the woman says both raped her as well.
Brown since been released on his own recognizance without bail and with no charges filed. The other two men who were detained have been released as well.
The first thing Chris did with his freedom was adamantly deny the woman's rape allegations via Instagram. Along with an image that reads "This Bitch Lyin," he wrote:
"I WANNA MAKE IT PERFECTLY CLEAR…… THIS IS FALSE AND A WHOLE LOT OF CAP! NNNNNNNNEEEEEEEEEEVVVVVVVVVVEEEEEERRRRRR!!!!!! FOR MY DAUGHTER AND MY FAMILY THIS IS SO DISPRESPECTFUL AND IS AGAINST MY CHARACTER AND MORALS!!!!!"
https://www.instagram.com/p/Bs80CzIhQGT/
The woman accusing Brown of raping her is a 24-year-old model who recently did an interview under the pseudonym "Karima" with the French magazine Closer detailing what allegedly happened to her.
According to Closer, which broke the story about the rape investigation, Karima met Brown at the Mandarin Oriental hotel in Paris on the night of January 15th around 10:30 p.m. and then went to a nightclub.
The Blast did a great job of translating the rest of the article (which is written in French):
In the interview, the woman (who they refer to as Karima, but that is not her name) claims after hanging out with Brown and friends, they wanted to return to his hotel but she wanted to leave. She says someone insisted she come back with them and so she rode back to the hotel with Brown and another girl.

The woman says that before she entered his hotel suite, a bodyguard took everyone's cell phones (which she did not find surprising, given Brown's fame).

Once inside the room, the woman claims she observed cocaine and about 15 women. There was loud music playing and she described the scene as "a bit of a mess."

She says at one point, she got up to use the restroom and that is when Brown followed her and grabbed her by the arm and led her into a dressing room. She claims that is when he assaulted her, saying it lasted 25-30 minutes.

"It's still too difficult for me to explain in detail what he did," she said (the interview is in French, so we're using Google translate), "but it was brutal and violent. He was threatening and aggressive. I was very afraid."

Once it was over, the woman says she asked for her phone and to leave when Brown sent another man that she thought was going to take her to the bodyguard so she could get her phone.

But instead, she claims that man and the bodyguard abused her as well.

Afterward, she said she began to cry and that is when her cell phone was returned to her and she left.

She told Closer she was afraid to report the incident right away because they had all of her contact information.

"Chris Brown is the kind of person who thinks himself powerful and thinks himself above the law, but no," the woman said.
The Blast reported earlier that Brown was already maintaining his innocence, telling people in his circle that while he was at the hotel on the night in question, he was not in the same room where the alleged rape occurred.
"Our sources say Brown believes that if something happened involving the woman, he was not involved," the Blast reported.
Sources connected to Brown told a similar story to TMZ, saying the singer was never alone with the alleged victim, and Chris' girlfriend, Ammika Harris, was in the hotel room the whole time, along with 20 other people who were "hanging out" and listening to music Chris was playing through his phone.
Upon his release from a French jail, Brown was told that it was OK for him to leave France.
The prosecutor's office told TMZ: "The investigations, which are not closed at this stage, will continue under the authority of the Paris prosecutor's office."
Be the first to receive breaking news alerts and more stories like this by subscribing to our mailing list.