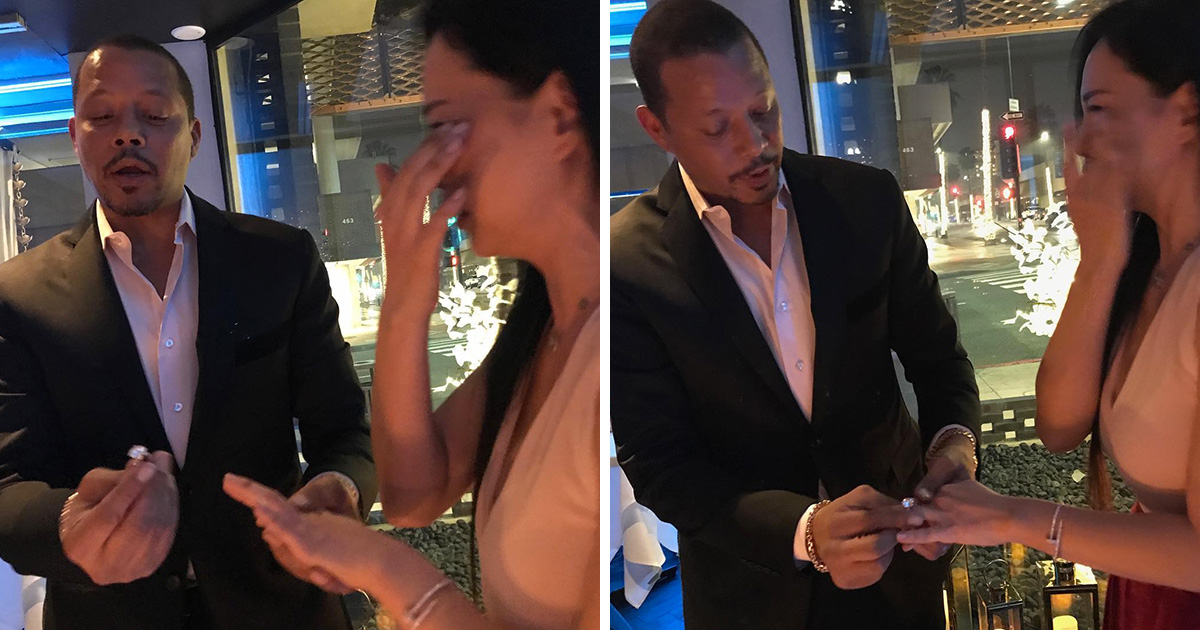 "If at first you don't succeed, dust yourself off and try again" is a statement Terrence Howard is taking seriously … because he just proposed to his ex-wife, Mira Pak, just three years after they divorced.
The "Empire" star reportedly popped the question Sunday night (Dec. 23) in front of friends and family at Crustacean Beverly Hills. According to TMZ, Howard presented Pak with a 7-carat VVS diamond and rose gold engagement ring worth around $1 million.
The 49-year-old actor announced the engagement via Instagram and posted a picture of the massive diamond ring. He also shared a video of him making a toast at dinner, telling Pak that he loved her.
"It took me 45 years to find you, honey. But now that I have you in my 50th year, I will spend the rest of eternity at your side. And I pray that everybody finds that one that will complete them for all eternity because it means everything. I love you," Howard told Pak.
"I love you too, baby," Pak replied.
Jeweler Ben Baller, who designed the engagement ring, showed it off on Instagram too:
Howard and Pak share two sons, 3-year-old Qirin Love and 2-year-old Hero. The couple got married in 2013 but Pak filed for divorce just two years later in 2015 when she was pregnant with Qirin. They got back together earlier this year, and now they're preparing to walk down the aisle for a second time.
Mind you, this isn't the first time Terrence Howard has re-married an ex-wife. He married his first wife, Lori McCommas, in 1989. They divorced in 2003 and re-married in 2005 before divorcing for a second time in 2007. They have three children together: daughters Aubrey and Heaven and a son named Hunter. Howard also has two grandchildren through his daughter Aubrey—a granddaughter born in December 2012 and a grandson born in February 2015.
Howard was also briefly married to Michelle Ghent from 2010 to 2013. Ghent filed for divorce in February 2011 and filed for a restraining order in December of that same year, accusing Howard of being physically abusive towards her. Their divorce was finalized in 2013.
Be the first to receive breaking news alerts and more stories like this by subscribing to our mailing list.