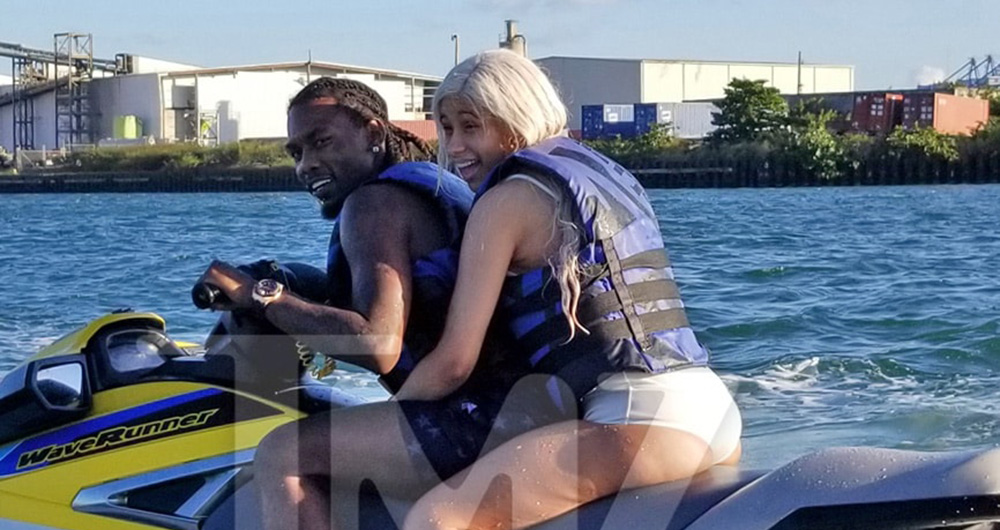 Cardi B says she has a perfect explanation as to why she got back together with Offset (temporarily) and why we saw them all "boo'd up" on a Jet Ski a few days ago.
The "Money" rapper, who announced her split with her husband of a little over a year earlier this month, took to Instagram to address the photos that surfaced showing her and the Migos rapper riding on a Jet Ski in San Juan Friday (Dec. 21) ahead of her performance in Puerto Rico at the Electric Holiday festival, explaining that it was all about satisfying her sexual urges.
"I just had to get f**ked. That's all," Cardi said in an Instagram Live video Saturday.
So, in other words, Cardi and Offset are NOT back together. This was just a d**k appointment for her.
The Grammy-nominated rapper also explained how TMZ got a hold to the photos.
"Let me tell you something about the jet ski n***a, right?" she said in the video. "The instructor or whatever the f**k he is, he was taking pictures of us on the phone like, 'Oh, I'm gonna send you these pictures so you guys can have a memory and I'm going to delete it.' I'm like, 'Oh, OK.'"
But Cardi said the man didn't delete the photos and sold them to TMZ. "What type of professional sh*t is that?" Cardi asked before holding up a copy of the company's brochure and advising people not to do business with them.
Cardi and Offset's brief reunion came shortly after Offset crashed her Rolling Loud Festival performance with a floral arrangement spelling out the words "Take Me Back Cardi."
Offset, who was slammed on social media for doing the most, had also taken to social media to beg Cardi for forgiveness, insisting that he didn't cheat on her and saying all he wanted for his birthday (which was December 14th) was for her to take him back.
Well, it looks like Offset's begging and pleading is finally starting to work.
Be the first to receive breaking news alerts and more stories like this by subscribing to our mailing list.