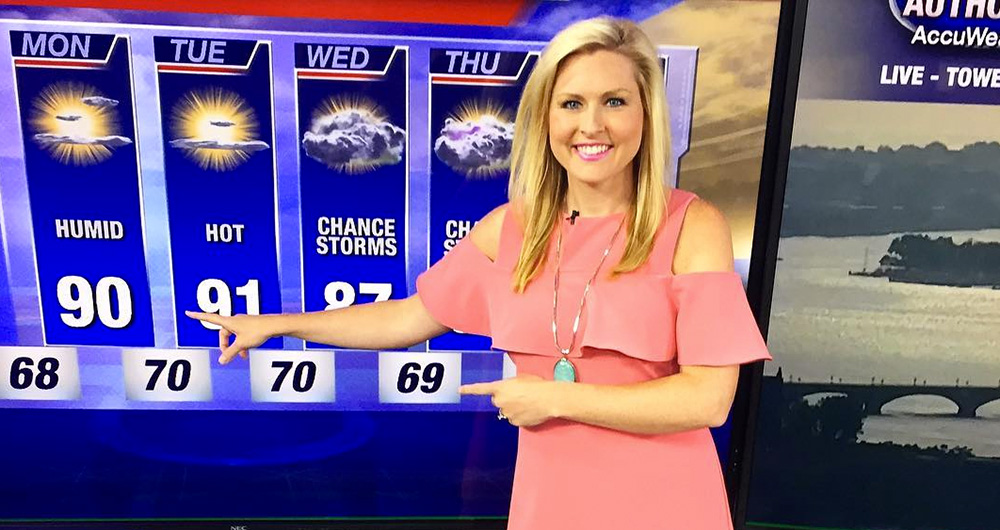 A 35-year-old Detroit meteorologist died by suicide after struggling for two months with a very challenging Lasik recovery period.
Loyal viewers of Detroit's WJBK Fox 2 news station were shocked on the morning of Thursday, December 13th to learn that popular meteorologist Jessica Starr had died of suicide the day before.
Starr, described by colleagues as "funny, bright and bubbly," had admitted to "struggling" with persistent dry eye and dimming vision after undergoing LASIK eye surgery in mid-October. She took a month off from work following the procedure and returned on November 13th.
In a Facebook Live video on her first day back at work, the wife and mother of two explained what she had been going through for the past month or so. "I had LASIK SMILE surgery done about a month ago, so I'm still healing. I wore contact lenses for 20 years and I also had a really high [prescription], so the vision is getting there," she said in the video.
"I have a tad side of dry eyes, so I have to use a lot of drops," she added. "When the drops are in, I can see clear, but then they fade pretty quickly."
She continued: "I am struggling a little bit, so I do still need all the prayers and the well wishes because this is a hard go. The doctor said it could take up to three months or so before I feel 100% again." Starr then asked for people to tell her in the comments about their LASIK recovery and how long it took them because she was "trying to stay strong and get through this recovery," she said.
The next day, Starr tweeted out what would eventually become her last interaction with the public via social media.
"Yesterday was a struggle for me. I really wanted to come back but I need more time to recover," she wrote. "Please keep me in your thoughts during this challenging time."
Update; yesterday was a struggle for me. I really wanted to come back but I need more time to recover. Please keep me in your thoughts during this challenging time. Will keep you updated. ??

— Jessica Starr (@Jstarrfox2) November 14, 2018
On Wednesday, December 12th, Starr hanged herself, according to officials at the Oakland County Medical Examiner's Office. "My colleague went out there… it was just a gruesome scene," a spokesperson for the medical examiner told Radar Online. "It's just very sad."
The next morning, Fox 2 Detroit morning anchor Amy Andrews reported on her colleague's devastating suicide.
"Our hearts are broken," she tweeted. "Last night we were informed our Jessica Starr took her life. Her Fox 2 family is deep shock and cannot believe such a wonderful, bright and intelligent woman is gone. Keep her family in your prayers in the coming days as we all deal with our grief."
Our hearts are broken. Last night we were informed our Jessica Starr took her life. Her Fox 2 family is deep shock and cannot believe such a wonderful, bright and intelligent woman is gone. Keep her family in your prayers in the coming days as we all deal with our grief. pic.twitter.com/z4km8Tsb9K

— Amy Andrews Fox 2 (@AmyAndrewsFOX2) December 13, 2018
"It's hard to believe someone so funny, bright and bubbly won't be here anymore," Kellie Rowe, another co-worker, wrote. "Thanks for the laughs, you'll be so very missed."
This was my favorite. One time she forgot you can't wear green in front of a green screen. https://t.co/L3Bg0hWSiD pic.twitter.com/gaIFPLWVvh

— Kellie Rowe (@kellierowe) December 13, 2018
Starr's death is putting a spotlight on LASIK eye surgery. According to LasikComplications.com, there has been more than 20 laser eye surgery-related suicides reported over the years, and many more are suspected. "Countless more are suicidal, blind, visually disabled, or in incapacitating pain," the website says.
27-year-old Max Cronin took his own life in 2016 "as a direct result of complications he experienced from LASIK," his mother said. "He left suicide letters stating this and kept details of his complications. He experienced vision loss, constant eye pain, dry eyes, haze, and loss of quality of life resulting in depression and his suicide. He was unable to work or continue his life goals due to his eye complications."
Colin Dorrian was 28 when he ended his life due to complications from LASIK six and a half years after having the procedure done. The surgery was done at a LASIK center in Canada that has since closed. "If I cannot get my eyes fixed, I'm going to kill myself," he wrote in a note police found on his body. "I just cannot accept the fact that I'm supposed to live like this."
In an article on the website Lawyers and Settlements, the author wrote that Dorrian had LASIK surgery to relieve himself from a condition known as chronic dry eye. However, instead of improving his vision and freeing him from his contacts, the procedure left Dorrian with so much eye pain and fussy vision that he took his own life.
"Dorrian should have been disqualified from having the surgery," the article's author wrote. "His pupils were overly large, and he suffered from extreme dryness of the eyes—two conditions that should have disqualified him from having the procedure. And yet he was cleared for it."
A 54-year-old Canadian man named Paul Fitzpatrick killed himself on October 6th, 2018—more than 20 years after laser eye surgery side effects "ruined his life," his family said.
Fitzpatrick, a resident of Ontario who had PRK surgery (the first form of laser eye surgery before LASIK was popularized), was believed to have suffered from a rare condition called "corneal neuralgia" that can cause severe pain, CTV News reported.
Fitzpatrick, a father of two, left a note for his family, writing: "I cannot experience any type of pleasure anymore. Just the pain of burning eyes inside my head and throughout myself … Since 1996 Pain, pain and more pain, please forgive me for not being strong enough to cope. The past few months have been unbearable." Paul's death is believed to be the first documented suicide linked to laser eye surgery in Canada, according to CTV News.
Jessica Starr's mother, carol Starr, told Radar Online that the LASIK procedure her daughter underwent was fairly new and she possibly suffered from "brain trauma" before her suicide. "She went to, like, four specialists," Carol said. "From what we're hearing now, it can have other implications, including on the optic nerve. It can cause some brain trauma."
Carol said the family had recently learned that the surgery Jessica underwent was risky because it was a new procedure created within the last couple of years. The heartbroken mom told Radar she had "no idea" that her daughter was struggling "so much."
Carol explained that Jessica suffered from poor vision throughout her life and she began wearing glasses and contacts at a young age, which is why she underwent the procedure in the first place. Ultimately, the complications wer too much for her to handle.
"It was affecting her sleep. She lost weight. You never expect it to get this bad," Carol said. "She made it through so many bad things in her life. She was always a trooper and a fighter. She was a strong woman. I raised a strong woman."
In another case, Paula Cofer says she has suffered through decades of pain following a LASIK procedure she underwent years ago. "My eyes began to burn and burn and burn and it just never let up. It was just constant burning sometimes stinging, stabbing," she told Inside Edition.
Cofer is now an anti-Lasik advocate who runs a LASIK online support group for patients of the surgery dealing with complications. "Pain is way more common than people realize," she told the New York Post. "When you throw in the fact that your vision is blurry in a way no one understands, you can't function anymore."
Dr. Eric Donnenfeld, a spokesman for the American Academy of Opthalmology, says that despite its apparent risks, LASIK is safe for the vast majority of patients. "The risk of complications is small and [in] the trials that have been done recently usually 96 percent of patients say they are extraordinarily happy with the procedure," he told Inside Edition.
But a doctor who helped get LASIK approved the FDA is now campaigning to have the eye surgery banned. "Don't do it! There's no reason to do it! You're just looking for trouble," Dr. Morris Waxler said.
Paula Cofer says you should be very careful when considering having an irreversible procedure done to your eyes. "It's your eyes, your only pair of eyes and it's a one-way street. If it goes badly there's no going back," she told Indianapolis news station Fox 59.
Be the first to receive breaking news alerts and more stories like this by subscribing to our mailing list.