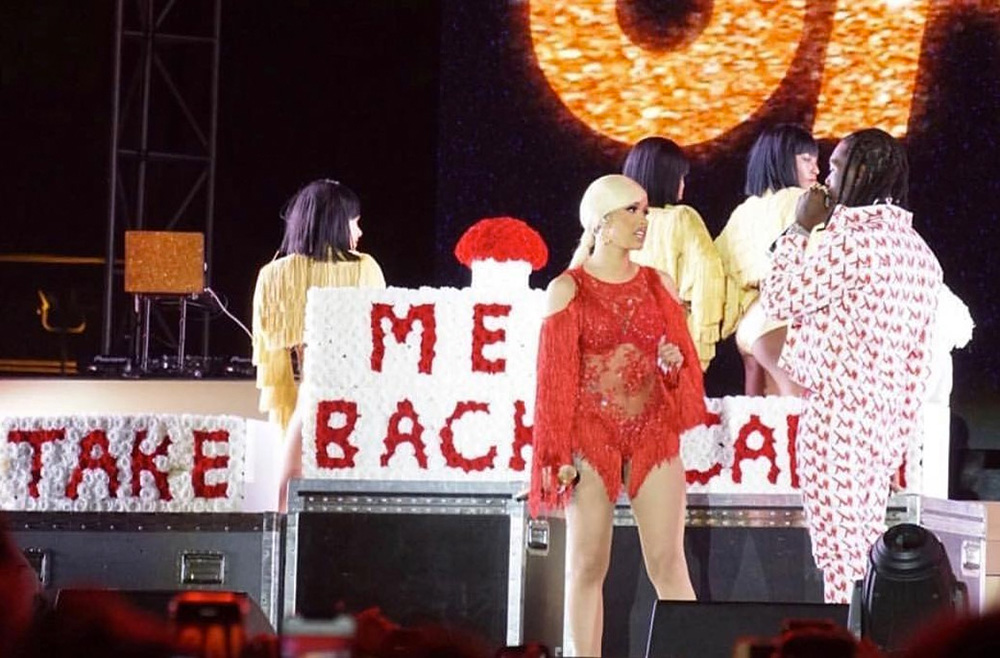 It's no secret that Offset is trying his hardest to win his wife Cardi B back, and he's pulling out all the stops to try and get her to forgive him.
After Cardi has basically left Offset on read the past couple of weeks, following his pleas on social media, the Migos rapper decided to up the ante a bit by crashing his wife's performance at the 2018 Rolling Loud festival in Los Angeles Saturday night (Dec. 15).
The serial cheater brought out flowers that spelled out "Take Me Back Cardi" on stage, and the whole thing was captured on video.
Yooo craziest shit happened at Rolling Loud. Offset interrupted Cardi B's HEADLINING performance, in order to publicly ask her to take him back. She was not HAVING IT. pic.twitter.com/xmOpgs3Vqz

— Romario Bautista (@coquihanii) December 16, 2018
While the crowd screamed, Offset said: "I just wanted to tell you I'm sorry, bruh, in person, in front of the world. I love you. Whatever I got to do to show that, I'll do it."
Cardi was clearly NOT moved and didn't seem to accept his apology in front of thousands of howling fans.
Many fans have already voiced their opinions on Twitter, and the reactions range from some folks asking Cardi to consider forgiving her cheating azz husband, to others scolding Offset for crashing Cardi's set, to people calling the pair out for pulling what some are calling a publicity stunt.
I won't say that Cardi B and Offset are possibly pulling off an amazing publicity stunt… But if somebody else thought that too… then ya know pic.twitter.com/Ug3NG7dJSA

— Virginia's Very Own ?? (@Dxrryl2Times) December 16, 2018
So @OffsetYRN tried to pull some slick shit at @RollingLoud @iamcardib wasn't having it at all. ???? pic.twitter.com/J6ZhoRwbkm

— ?.nn.rz (@OhManManManny) December 16, 2018
Offset tried to pull a Lil Mama on Cardi pic.twitter.com/IwmggQk8Yj

— CozyJulius (@FunnyJulius) December 16, 2018
Offset tried to pull a Lil Mama on Cardi pic.twitter.com/IwmggQk8Yj

— CozyJulius (@FunnyJulius) December 16, 2018
#CardiB and #Offset on stage now pic.twitter.com/qpP3zjQlgL

— SUPA CINDY (@SUPACINDY) December 16, 2018
Offset: "Please take me back"

Cardi: pic.twitter.com/DNDz1EnG20

— Josiah Johnson (@KingJosiah54) December 16, 2018
Offset is doing all these grand gestures when all he had to do was not cheat. SMH

— Kimberly Nicole Foster (@KimberlyNFoster) December 16, 2018
Offset has been begging Cardi B to forgive him all week, but to no avail.
Last Sunday (Dec. 9), just a day after Cardi B announced to the world that she and Offset were no longer together, the Migos rapper took to Twitter to tell everyone: "F**K YALL I MISS CARDI."
FUCK YALL I MISS CARDI

— OFFSET (@OffsetYRN) December 9, 2018
He followed that tweet up with a video he posted Friday (Dec. 14) on Instagram begging for her for forgiveness and asking her to take him back, which he said was all he wanted for his birthday.
"We're going through a lot of things right now, a lot of things in the media. I want to apologize to you Cardi. I embarrassed you. I made you go crazy," he said in the video on Friday.
He pleaded with his wife, "I'm trying to be a better person. I want to get this off my shoulders. I want to get this off my back. I apologize to you Cardi. I love you."
He continued: "I want to be able to spend the rest of my life with you. I apologize. I am sorry for what I have done to you. I didn't f**k that girl, but I was entertaining her… I apologize, and I love you, and I hope you forgive me. My birthday wish is just to have you back."
And Saturday, before he crashed Cardi's Rolling Loud performance, he used his guest appearance during 21 Savage's set to try and get her attention by inducing the crowd to chant "Cardi, take Offset back!"
For her part, Cardi reportedly remains "very torn" about getting back together with her husband of one year. A source told E! News that the "Money" rapper is "not on board" with taking Offset back right now.
The source explained, "They haven't been spending time together and Cardi expressed she still wants her space. She is very busy right now with her work and is focused solely on Kulture."
As for rumors that she and Offset are doing all of this for publicity, Cardi says that's 100% not true.
"I really don't like how people say my and my husband—whatever he is right now to me—is doing it for publicity," she said on Instagram Live last Sunday (Dec. 9). "I wouldn't put my family in a bad name for no f–king publicity, 'cause at the end of the day, ten years from now, my daughter, she's gonna be looking at these type of things and she's gonna be asking me about these type of things."
Be the first to receive breaking news alerts and more stories like this by subscribing to our mailing list.