A Florida man's mugshot has gone viral on social media, and a full-on roasting session is going on in the comments of the original post shared by police.
On Tuesday, November 13th, the Escambia County Sheriff's Office shared the mugshot of a man who had been arrested for running from police.
31-year-old Charles Dion McDowell was also charged with a number of other crimes, including possession of meth with intent to sell/manufacture/deliver, possession of cocaine with intent to sell, manufacture/deliver Schedule II, Possession of a controlled substance without a prescription, possession of marijuana, and possession of drug equipment.
He's being held on $57,000 bond.
The post quickly went viral once people noticed something odd about the man's neck—IT'S HUGE! (FYI: At the time this article was published, the post had more than 230K shares and nearly 250K comments.)
And the jokes haven't stopped flowing ever since. "His neck is still at LARGE!!!" and "Dude up to his neck in charges" are just some of the highlights.
Check out more hilarious comments below: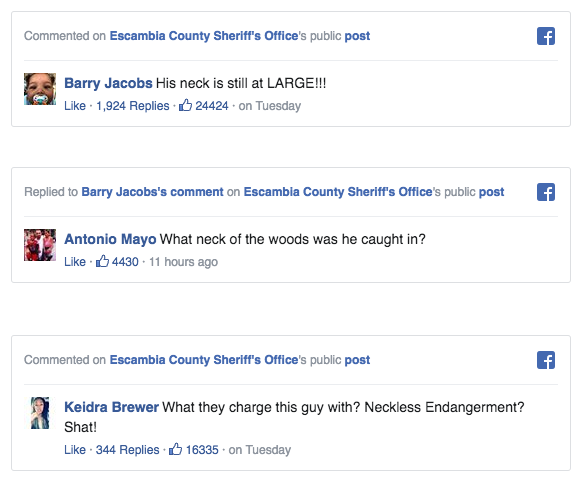 Be the first to receive breaking news alerts and more stories like this by subscribing to our mailing list.