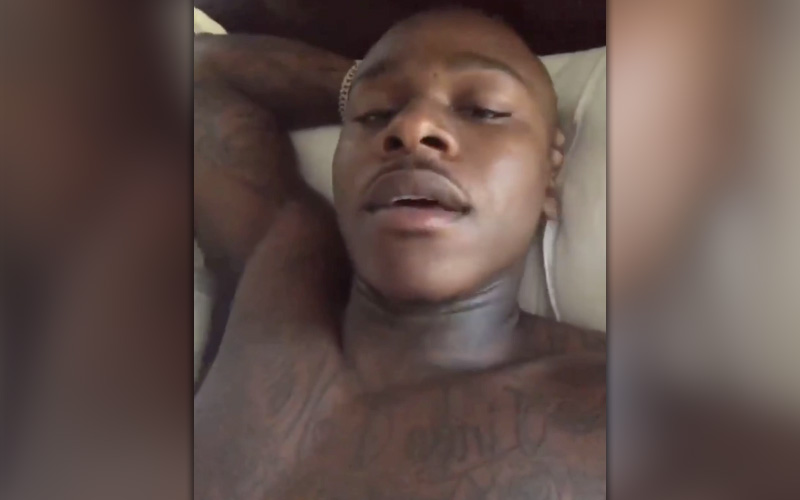 Earlier this week, DaBaby reportedly shot and killed a man at a Walmart in Huntersville, North Carolina (outside of Charlotte).
He was taken into police custody and released within 24 hours with no charges. At the time, rumors suggested that the Charlotte, N.C. rapper acted out of self-defense in the shooting, and now DaBaby is speaking out about the incident via social media.
In a series of videos posted on Instagram Live, DaBaby confirmed that he was involved in the deadly Walmart shooting, which police said stemmed from a fight between "several individuals in the store."
DaBaby said that he was shopping with his family (his 1-year-old daughter, 5-year-old son and baby mama) when he was approached by two men. At least one of the men had a gun, and he said security footage will back up his side of the story.
Without explicitly stating that he shot at the man, DaBaby explained exactly what went down at the Walmart and said that that the "gunshots" that customers in the store heard is what actually saved him and his family from being shot.
"If them gunshots ain't go off, n***a, my f***in' daughter could've got hit, son could've got hit, me," he says in a video recorded from his bed.
He said his lawyers had advised him not to speak about the incident, but he doesn't care. "F*** all that," he said. "Two n****s walk down on you and your whole mothaf***in' family, threatening y'all, whip out on y'all, n***a, let me see what y'all gon' do. You feel me?"
Initial reports stated that DaBaby was shopping in the produce section when the shooting happened, however, the rapper says that wasn't true. He was actually at Walmart to buy winter clothes for his daughter.
"I wasn't in no mothaf***in' produce section, I wasn't grocery shopping, I was buying my baby some more winter clothes, n***a, it's cold outside, n***a," he said.
"These n****s see me buying baby clothes and these n****s wanna come and show me how tough they is and sh**. Come on, my n***a, quit playing … I really don't give a f*** how y'all feel, a n***a tried to take my life in front of my 1-year-old daughter."
He went on to say to "let that man family [the victim] grieve in peace and leave my family alone because I'm dying about mine, right there on the spot."
The man who was shot and killed in the altercation was identified as 19-year-old Jalyn Domonique Craig.
After the shooting, investigators said that a suspect was being questioned, along with "several people" who were arrested at the store "due to an altercation."
According to Fox 46 Charlotte, police haven't filed any charges related to the shooting.
An officer told the news station that police were aware of DaBaby's social media videos, but won't release the names of those interviewed about the altercation unless charges are filed against them.
Be the first to receive breaking news alerts and more stories like this by subscribing to our mailing list.