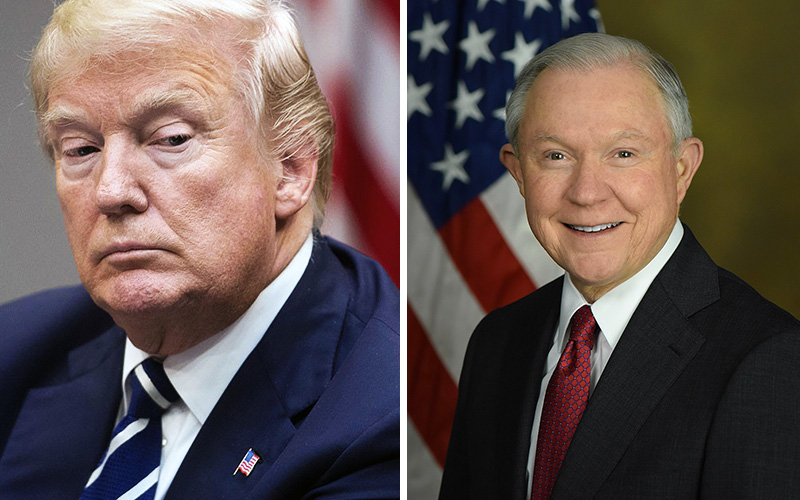 Following his insane post-midterms press conference, President Donald Trump fired U.S. Attorney General Jeff Sessions Wednesday (Nov. 7), forcing Sessions to immediately submit his resignation.
"At your request, I am submitting my resignation," Sessions wrote in a letter to White House chief of staff John Kelly.
Sessions' exit was expected for weeks amid Trump's attacks over Sessions' decision to rescue himself from the Justice Department's inquiry into Russia's meddling with the 2016 election.
With Sessions out, the attorney general's chief of staff Matthew Whitaker will serve as interim attorney general.
Sessions' departure comes after Trump's intense press conference one day after the midterm elections, in which Democrats took back the House.
Here's what we know (via USA Today):
Why did President Trump fire Jeff Sessions?
Even though Sessions was one of Trump's earliest supporters, the president has been laser-focused on targeting Sessions, going as far as appearing to completely disassociate Sessions with the administration.

"I don't have an attorney general. It's very sad," Trump said in an interview with Hill.TV in September. "I'm not happy at the border, I'm not happy with numerous things, not just this."

Trump has attacked Sessions in interviews, tweets, and press conferences as "beleaguered" and often expressing "disappointment" in his attorney general.
So why aren't the Committees and investigators, and of course our beleaguered A.G., looking into Crooked Hillarys crimes & Russia relations?

— Donald J. Trump (@realDonaldTrump) July 24, 2017
What does Sessions' firing mean for the Russia investigation and Robert Mueller?
Sessions' ouster immediately moves oversight of the ongoing investigation to interim successor Whitaker, who once called for the inquiry to be dramatically scaled back.

Sessions recused himself from the probe in March 2017 for failing to disclose election-year meetings with Russian Ambassador Sergey Kislyak.

That – and Trump's abrupt dismissal of FBI Director James Comey in May – prompted the appointment of former FBI Director Robert Mueller as the Justice Department's special counsel to direct the inquiry.

With Whitaker at the helm, it was not immediately clear what it meant for Mueller's future.

Deputy Attorney General Rod Rosenstein, who had been overseeing the probe, was at the White House Wednesday for what administration officials described as a previously scheduled meeting.
Who is interim Attorney General Matthew Whitaker?
Whitaker, a former football player in Iowa who rose there to become a federal prosecutor and chief of staff at the Justice Department, had been considered for a variety of jobs in the Trump administration.

Among Whitaker's possible posts included No. 2 at Justice or as White House counsel. Whitaker had served as Sessions' chief of staff since October 2017.

Whitaker, in a 2017 article published by CNN before joining the Justice Department, called on Rosenstein to "limit the scope" of Mueller's investigation and block review of Trump's family finances.

Whitaker also wrote a column for USA TODAY on July 5, 2016, that said he would have indicted Hillary Clinton, the Democratic nominee for president that year, for handling classified documents as secretary of State on a private email server.
How did Jeff Sessions react to the news of his firing?
In a resignation letter sent to the president, Sessions thanked Trump "for the opportunity" to be attorney general. He also listed what he considered his accomplishments during his tenure.

"Since the day I was honored to be sworn in as Attorney General of the United States, I came to work at the Department of Justice every day determined to do my duty and serve my country," Sessions wrote. "I have done so to the best of my ability, working to support the fundamental legal processes that are the foundation of justice."
What are the Democrats saying about Sessions' ousting?
Senate Minority Leader Chuck Schumer, D-N.Y., vowed to protect Mueller, saying it would create a constitutional crisis if Session's departure were a prelude to ending, or greatly limiting, Mueller's investigation.

"I find the timing very suspect," Schumer said.

House Minority Leader Nancy Pelosi, D-Calif., called Trump's move a clear effort to derail Mueller's probe.
Be the first to receive breaking news alerts and more stories like this by subscribing to our mailing list.