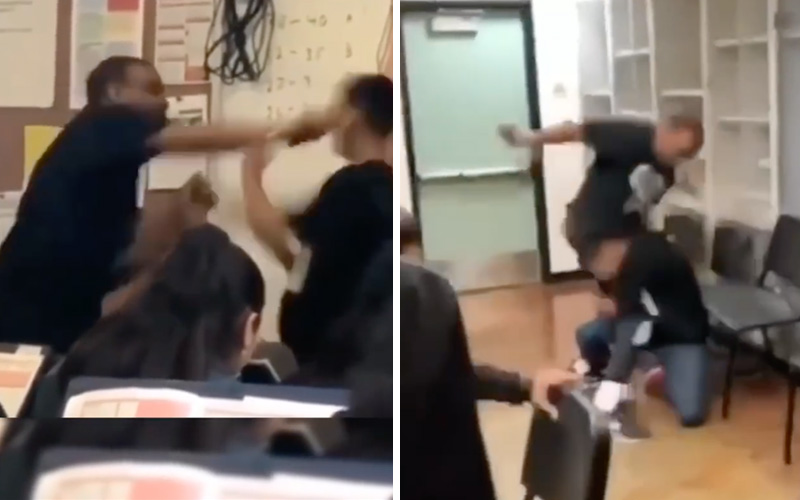 A California high school teacher was arrested after he was caught on video fighting a student in his classroom.
According to ABC 7, students in the class said an argument over a dress code violation led to the physical altercation between the teacher and the student.
Video footage from the confrontation at Maywood Academy High School in Maywood, CA went viral on social media last week.
After listening to the student hurl insults at him, the teacher swings at the student and punches him right in the face, and all hell breaks loose.
After all was said and done, the 14-year-old freshman student was taken to a local hospital for minor injuries and the teacher—later identified as 64-year-old Marston Riley—was arrested on suspicion of child abuse and causing great bodily injury.
Opinions on social media about the incident are divided. Some people who have watched the clip are on the teacher's side, while others believe the teacher should have handled the situation differently. But a student at the school says both parties were responsible for the fight.
"I think it was both of their faults, like the teacher and the student," said student Enrique Deharo. "I was scared for the kid, and partly for the teacher, too."
"It was just back and forth, back and forth, and then the teacher just decided to throw a punch and that's when everything happened," another student said.
The video shows the student cursing at and antagonizing Riley while repeatedly using the n-word. The student even calls Riley a bitch at one point in the clip. The below video shows the student hitting Riley with a basketball.
A Black band teacher-Marston Riley was arrested after he defended himself from a hispanic student who hit him with a basketball,called him multiple epithets, & continued to threaten him. If this were a Black student, the kid would have been arrested & the teacher would be a hero pic.twitter.com/0KkQi3Zk2t

— Tariq Nasheed (@tariqnasheed) November 4, 2018
"I felt, like, a little bothered, because you know, it's kind of racist," student Ivan Valencia said.
As for parents, they're divided on the issue. One mother said Mr. Riley was simply defending himself and was completely in the right.
Another woman said Riley is known for being aggressive.
"I think something needs to be done," Miriam Guizar said. "That's way out of hand. I don't know what is the teacher's problem. I know kids say stuff that they shouldn't, but he should be accountable."
"I'm shocked. Why did it have to escalate to this point?" one woman said. "I think something needs to be done. That's way out of hand," said another parent.
"I send my kids [to] school to learn, not to hit," another parent remarked.
Be the first to receive breaking news alerts and more stories like this by subscribing to our mailing list.