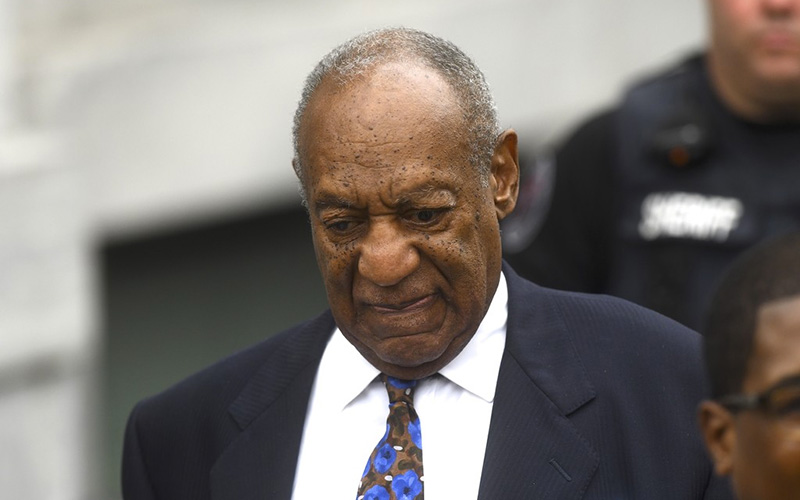 Despite rumors suggesting Bill Cosby is struggling in prison, according to a new report, he's is actually making the best of his time behind bars.
Since Cosby was sentenced to prison almost a month ago, tabloid stories have been running rampant online, but according to his publicists and jail officials, none of the reports are true.
No, he wasn't attacked with a chicken patty or a stale hot dog bun. And no, he didn't get pushed down or fall down a flight of stairs. In fact, there aren't any stairs for him to fall down, because the place where he's being held is stair-less.
The Washington Informer reports that Cosby's wife arranged for his longtime publicists Andrew Wyatt and Ebonee Benson to surprise him with a visit on Monday.
"You know, a person says that they are OK, but you really need to lay eyes on them. At least that's how I feel," said Benson, who along with Wyatt spoke of their visit exclusively with NNPA Newswire and radio host Frankie Darcell of WDAS and iHeart Radio in Philadelphia.

The pair said they wanted to share their visit with African Americans and on platforms that would allow their comments to air unfettered. They said Cosby's predicament is bigger than the comedian and should count a cautionary tale to all Black Americans about the perils of the criminal justice system.

Wyatt said Cosby got a kick out of hearing about published reports that he was attacked by other inmates with a chicken patty and a hot dog and that he's mistreated. "He laughed," Wyatt said. "The staff has been nothing but professional and none of that stuff has happened.

"He said it's just that the mainstream media is continuing its efforts to try and stop him from getting the facts out," Wyatt said. "He said to look at the facts, 'I shouldn't be here, but I'm here. But, I will be able to write about it, write music about it. They can put you away, but they can't take away your memory, your life experience.'"
Cosby's publicists said the actor is sporting a full beard and looks to be in great health, and he also has a new job while behind bars as an unofficial life coach.
"He has been able to speak with other inmates about their situation and impart advice," Wyatt said. "Mr. Cosby loves hearing other stories of the inmates whom he calls residents. It's that psychology part of him that takes them into his laboratory. He tells them, 'You don't have to swear or curse, this is what you do.' He's doing what he always have on the lecture circuit.

"Mr. Cosby said Malcolm X, Martin Luther King Jr. and Nelson Mandela helped him prepare for this chapter of his life," Wyatt continued. "He said they told him that if he was going to continue to fight for civil rights, something like this was bound to happen and he's been prepared for it and he knows he's in prison not for rape, but for infidelity. He knows he's innocent and he's kept his head up."
Bill's publicists also denied reports that his wife of more than 50 years, Camille Cosby, plans to file for divorce and take their $400 million fortune with her. In fact, she's been the one behind the scenes directing her husband's legal team on his behalf, and it was her who ultimately made the call to replace Cosby's former attorneys.
More from the Washington Informer:
Cosby, who grew up in the Philadelphia projects, also described his living conditions.

"He said the bed lies on thick steel or concrete and he's allowed to make phone calls, but he's still being assessed right now so he's not in general population," Wyatt said. "He follows the rules and respects the guards. They've given him a cane and, because he's blind, they have a trustee to help him."

Like just about all maximum security prisons, the facility is surrounded by razor-blade gates and concrete walls. However, because it's new, there is a refreshingly nice look to it. Cosby has hot water and the ability to shower.

And he continues to fight for his freedom.

"He says we, his team, is part of what he calls this revolution," Wyatt said. "When you look at his case, they convicted him with no evidence, no DNA evidence, no forensic evidence and on the word of a woman who isn't even American."

Both Wyatt and Benson said Cosby remains confident in his pending appeal.

"He has never been in any legal trouble before so this is brand new for him," Benson said. "At 81 years old, he's never had any problems with the law, never any legal issues until this case but he's positive and talking to people and he's concerned not about himself but about others who might find themselves in his position."

Wyatt said his boss has grown a full beard. Asked whether he and Benson felt compelled to want to groom him or encourage him to shave, both Wyatt and Benson said no.

"He's good. He looks really good," Benson said.

"He's sharp and he talked about what his team is doing on the outside and his wife, who has been so supportive," Wyatt added. "He's doing great, disregard what you're reading. We want people to really know that this man is an American citizen and he hasn't been treated like an American citizen.

"He's behind bars for infidelity," Wyatt said. "The reason he says and we say that this is bigger than Bill Cosby is, for other Black people, this could be your son, your father, your family member. They are trying to change the laws. Sexual assault is the only crime you can be convicted of with no evidence and no proof and we've seen the justice system and how it works with recent major things happening with [Supreme Court Justice] Brett Kavanaugh, or Harvey Weinstein.

"The judicial system is not the same for people of color," he said. "This is about civil rights. If people don't start paying attention, a lot more freedoms are going to be taken away. Remember, just last week a white woman accused a little black boy of sexual assault. Pay attention. Stay woke."
So Bill Cosby is out here giving out life advice to his fellow inmates? Interesting.
Be the first to receive breaking news alerts and more stories like this by subscribing to our mailing list.