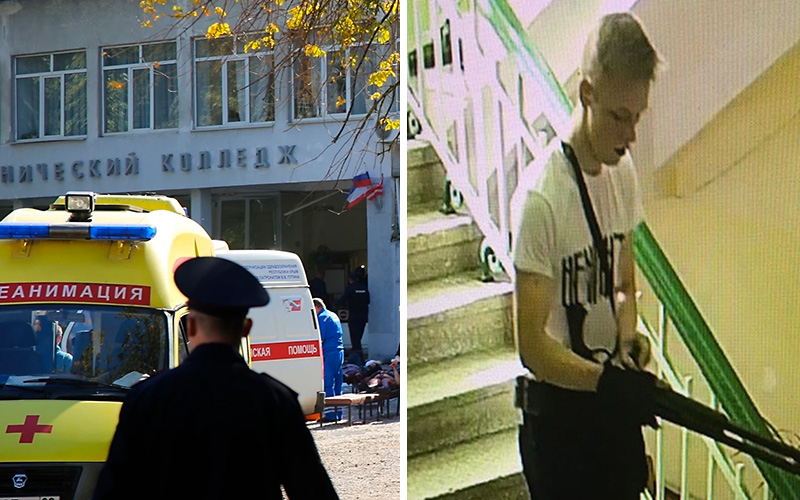 Tragedy struck a college in Crimea during the morning of Wednesday, October 17th when a lone 18-year-old set off an explosion before going on a shooting rampage. The student, Vladislav Roslyakov, killed at least 19 people and wounded an additional 70.
Reuters reports that Roslyakov set off a bomb in the Kerch Polytechnic College's cafeteria, and then walked through the school attacking fellow students with a shotgun. The massacre came to an end when Roslyakov took his own life in the school's library on the second floor.
It's a heartbreaking turn of events that has shaken the entire area. The director of the school, Olga Grebennikova, spoke to reporters about the scene, saying, "There are bodies everywhere, children's bodies everywhere. It was a real act of terrorism. They burst in five or ten minutes after I'd left. They blew up everything in the hall, glass was flying."
She continued, "they then ran about throwing some kind of explosives around, and then ran around the second floor with guns, opened the office doors, and killed anyone they could find."
Roslyakov was the sole perpetrator in the killings, and his motives are still being investigated. Russian broadcaster RBC spoke to a friend of Roslyakov who suggested he had hinted of the attack. The friend is quoted as saying that the suspect "hated the technical school very much because of the evil teachers, he hinted that he would take revenge on them."
There are also investigations into whether there's any connection to the killings and Roslyakov's admiration of the Novorossia project, which supports a reunification of parts of Ukraine with Russia.
Students who were onsite recounted the terrifying ordeal to local reporters, like Anastasia Yenshina, a 15-year-old student at the school.
When describing the scene, Yenshina said: "I came out and there was dust and smoke, I couldn't understand, I'd been deafened. Everyone started running. I did not know what to do…I saw a girl lying there…the wall was covered in blood…everyone was scared. People were crying."
Another student, Sergei, 15, who was rushed to the hospital following the attack described the aftermath.
"I arrived at the hospital, the scene there was awful," he told Reuters. "They're bringing in people all covered in blood, some with arms missing, some with legs missing."
In a strange twist, Roslyakova's mother was working at the nearby hospital where his fellow students turned victims were being taken. She was initially helping care for those who were injured when investigators arrived at her ward to let her know that her son was responsible before leaving with detectives.
After looking into Roslyakova's online presence, The Daily Telegraph's Russia-based reporter Alec Luhn says that he went by the moniker "Reich" online.
Luhn added that the suspect was "obsessed" with serial killers, with local media suggesting that he was emulating one of the Columbine High School killers Eric Harris by using a shotgun in his attack while wearing a white T-shirt.
Be the first to receive breaking news alerts and more stories like this by subscribing to our mailing list.