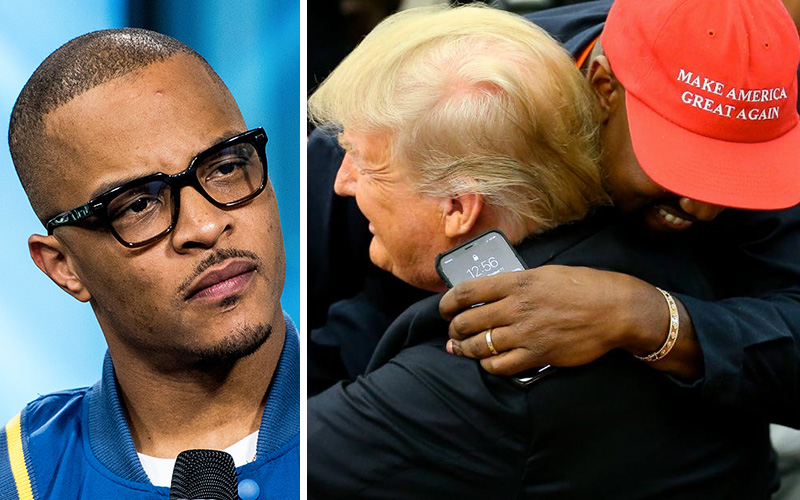 T.I. had had it up to HERE with Kanye West and his shenanigans.
Kanye West arranging a meeting with Donald Trump was one thing, says T.I., but him basically kissing Donald Trump's a** on national television is a whole 'nother thing.
T.I., who is close friends with Ye, has always defended him, even after he said 400 years of slavery was a choice. But Tip is on a new level of angry after the G.O.O.D. Music head honcho sat down in the White House Oval Office and said his MAGA hat feels like a Superman cape, and went out of his way to tell Trump that he loved him.
T.I. unleashed a fiery Instagram rant against Kanye, saying, "This sh*t is next level, futuristic, Sambo, Hopping Bob, Stephen off Django a** sh** Ye!!! From what I can gather… This is the most repulsive, disgraceful, Embarrassing act of desperation & auctioning off of one's soul to gain power I've ever seen."
Tip went on to say that Kanye actually asked him to join him at the White House Thursday (Oct. 11), but T.I. says he rejected the offer (for obvious reasons), and he's glad he did because if he had been there to personally witness Ye's antics, he would have been "compelled to slap de'Fuq outta [him] For the People!!!"
T.I. continued: "You a** kissing and boot licking on a whole new level & I refuse to associate myself with something so vile, weak & inconsiderate to the effect this has on the greater good of ALL OUR PEOPLE!!!"
If you'll recall, earlier this year, T.I. and Kanye collaborated on the track "Ye vs. the People," which was released not too long after his "slavery was a choice" comments during an interview with TMZ. But Tip says that will NEVER happen again. "At one time it was a pleasure to work alongside you," he said, "…now I'm ashamed ot have ever been associated with you."
At the end of the day, Tip says he feels like Kanye is only looking out for himself and putting himself in a position of power next to trump. "Let me make this clear," the Atlanta rapper said. "THIS SH** AIN'T COOL!!! THIS IS A MOVE YE MADE FOR YE!!! THIS IS A PLAY TO PUT HIM IN A POSITION HE'D LIKE TO SEE HIMSELF IN… WE ARE NOT ON HIS MIND AS HE MAKES THESE COMMENTS AND DECISIONS."
T.I. concluded his message with a plea and his last words to Kanye: "Don't follow this puppet. Because as long as I've lived I've learned that it benefits a man nothing at all to gain the world, if to do so he must lose his soul. We just saw Mr. West's soul on auction. If you listen closely you can hear the tears of our ancestors hit the floor. All I can say is… I've reached my limits. This is my stop, I'm officially DONE!!! F**k Trump and his lil cookie boy. #USorELSE."