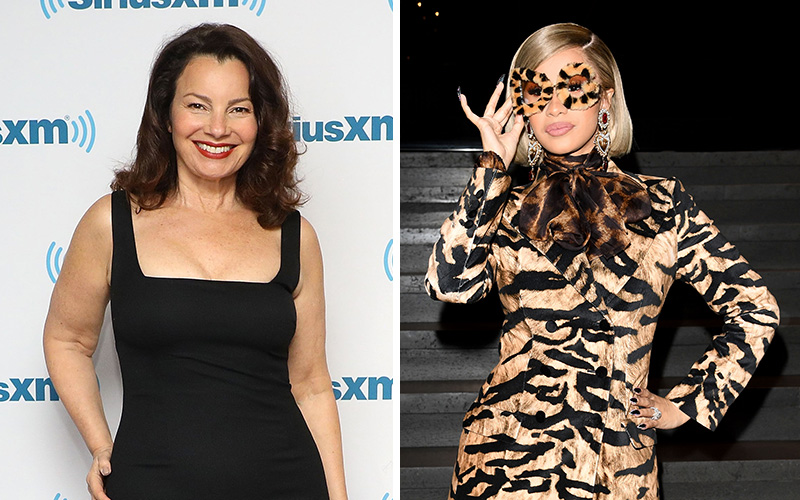 Fran Drescher wants to bring The Nanny back to television, and she has the perfect person to star alongside her: Cardi B.
Drescher recently revealed that she's a huge fan of the rapper, and she would like for her to play the role of her daughter in the potential series.
During a recent appearance on PeopleTV's Chatter, the 61-year-old veteran actress discussed a number of topics, including a potential revival of the sitcom that made her a household name.
"I wanna do a sitcom with Cardi B," Drescher said. "Wouldn't she be great as my daughter?"
Asked about giving "The Nanny" another go, Drescher said: "I'm totally down with doing it … I don't know what is going on with some of these networks out there because they do not seem to be hip to the fact that there's an obsession amongst millennials for the show and moi!"
Drescher said her idea to team up with Cardi B came when the rapper stepped out in leopard print during Milan Fashion Week and shouted her out on Instagram.
"I was so flattered," she said. "I just thought she paid homage to me wearing animal print and said 'Fran Drescher.' And then I got my juices flowing and thought, 'Wait a minute, she's from New York, we both have funny voices, she could be my daughter! Not from me and Mr. Sheffield, I would have to have a man of color. I'm down with the brothers."
The Nanny, which starred Drescher as a cosmetic saleswoman who becomes nanny to three children of a widowed British Broadway producer, aired for six seasons on CBS from 1993 to 1999.
Back in June, Fran said that she and show's co-creator, her husband of the past 34 years, Peter Marc Jacobson, were "talking about" reviving the series as other older shows make comebacks, but there aren't currently any confirmed plans that it's happening.
25 years after the "The Nanny" premiered, Drescher said, "People really love that show. It's unreal."
Cardi B playing her daughter in a reboot would be epic! We're all the way here for this.
Be the first to receive breaking news alerts and more stories like this by subscribing to our mailing list.