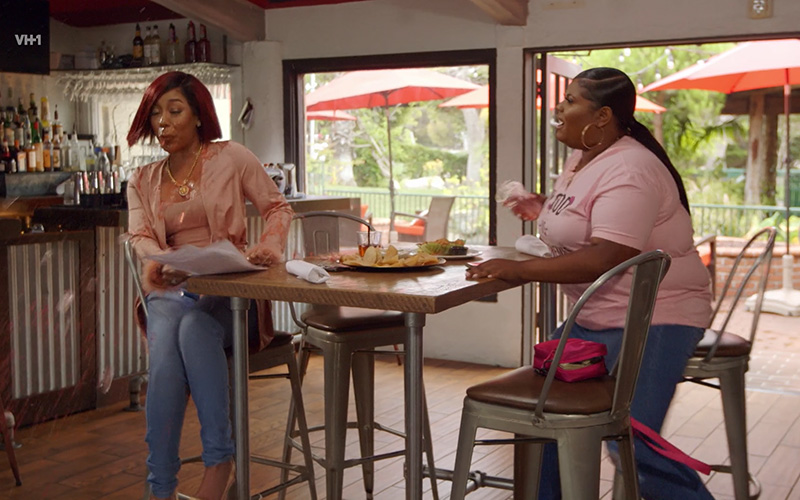 On this week's episode of Love & Hip Hop Hollywood, K. Michelle confronted her former assistant Paris for using her credit card for several Uber rides.
Paris, thinking that everything was cool between them, was taken aback by K. Michelle slandering her name on national television, and when K. Michelle continued to call her a thief, all hell broke loose.
Here's how it went down:
K. Michelle: "You cannot keep making excuses for what happened."

Paris: "It was a Uber ride!"

K: "A Uber ride is using my card…"

P: "But K, it was a $50 ride…"

K: "It wasn't $50, Paris…"
As K. Michelle reached for her receipts, Paris pulled out a stack of dollar bills: "How much was it, K?"
"You see this?! FRAUD! FRAUD! FRAUD! FRAUD! This was over $300!" K. Michelle shouted. "This is the proof!"
As Paris continued to try to pay her back in cash, K. Michelle calmly let her know that she didn't want her dollar bills: "Girl, I don't want that!"
After exchanging a few words back and forth, Paris threw a full drink at K. Michelle, nearly drowning the poor girl. (No, really, it looked like K. Michelle couldn't breathe for a few seconds!)
Surprisingly, K. Michelle didn't retaliate with any physical action. She just kept shouting "YOU ARE A THIEF!" to which Paris responded "YOU FAKE ASS KEYSHIA COLE!"
Their exchange ended with K. Michelle proclaiming "She almost messed up my new hose!"
Needless to say, Twitter went crazy over Paris and K. Michelle's altercation. Peep some of the best and funniest reactions below:
Next time on #LHHH

K Michelle: pic.twitter.com/RvbemrPmcQ

— ??? ???????? ?-?????????? (@beatrixforkiddo) October 2, 2018
K Michelle look like she just drowned ??? #LHHH pic.twitter.com/nJqVFaNJwB

— Danny Patton???? (@BladeBrown79) October 9, 2018
The whole restaurant when K. Michelle and Paris started fighting #LHHH pic.twitter.com/5lRj6M9wdD

— Tony Hawk Stan Account (@allysa_nicoleee) October 9, 2018
K said "who steals $8? What was you buying? Crackers?" I'm on the floor. #lhhh pic.twitter.com/BMxbCmDViV

— Ms. Butterflyz?? (@butterflyz_85) October 9, 2018
Im just here for K. Michelle's baptism #LHHH pic.twitter.com/MQhX71s4I1

— A²? (@aluminummedal) October 9, 2018
#LHHH #LHHHollywood
Paris: You fake ass Keyshia Cole

Me: pic.twitter.com/7mEIlMhfXW

— CaptnOfDaC00LKidz? (@ICanOnlyBeChino) October 9, 2018
Paris mad af that Kmichelle pulled the receipts out #lhhh #lhhhollywood pic.twitter.com/Gb5x1Wro6u

— La La ? ? (@0_lala) October 9, 2018
Paris talking about K. Michelle not letting it go, when she the one who keep talking about it and again it don't matter if it's $50 or $500 if it's not your money, don't spend it. #LHHH #LHHHollywood . pic.twitter.com/e1ETjY6q6K

— Landa ? (@eyeeAmSHE) October 9, 2018
Hold tf up! K. Michelle's makeup did not even SMUDGE!!!! I need her glam team! TF #LHHH

— J O R I A ? (@jorialajoy) October 9, 2018
K Michelle said she almost messed up my new nose ??. She definitely hit a sore spot with Paris and it obviously must be the truth or Paris ass wouldn't have gotten that mad. #LHHH

— Whitney Gaspard (@honestspokengir) October 9, 2018
Be the first to receive breaking news alerts and more stories like this by subscribing to our mailing list.