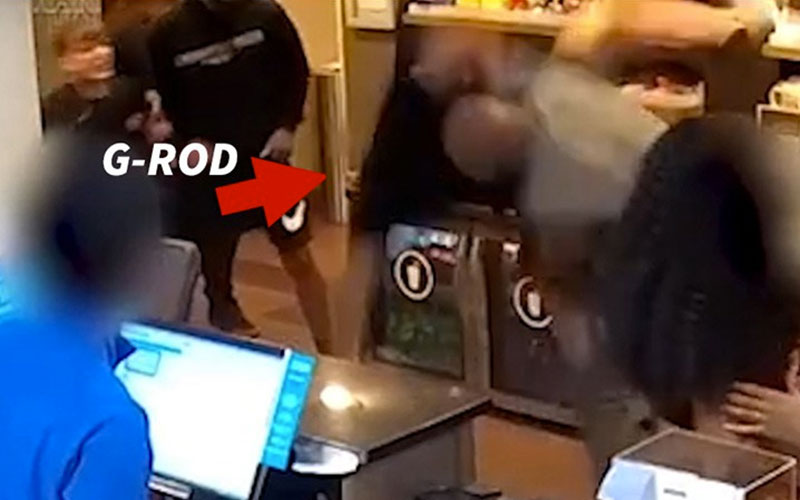 Last month, Machine Gun Kelly's crew was accused of brutally attacking actor Gabriel "G-Rod" Rodriguez, and now there's proof of the incident in the form of a recently released surveillance video.
As we previously reported, G-Rod approached MGK at a bar in Atlanta and called him a "p***y" over his beef with Eminem, which was allegedly sparked from a years-old tweet in which MGK called Em's then 16-year-old daughter "hot."
G-Rod's exact words were: "I'm gonna say it because it has to be said, you're a p***y for going for family!" Video footage showing G-Rod's initial altercation showed Machine Gun Kelly appearing to shove G-Rod, who told TMZ that five of Kelly's bodyguards got involved after the video stopped recording, and that's when MGK "suddenly got tough and started challenging him."
Two hours later, as G-Rod was walking towards his hotel, which was right across the street from the bar, he and MGK's crew got into yet another verbal confrontation, which caused the police to intervene. After the officers left, G-Rod said he offered to fight MGK and his bodyguards one-by-one, but instead, the bodyguards all jumped him at once.
The surveillance video, obtained by TMZ, shows the physical altercation that ensued, and in the footage, you can see a member of MGK's crew run up behind G-Rod and put him in a bear hug before picking him up and body slamming the 230-pound actor pretty hard.
Moments later, three other men from MGK's posse begin stomping and beating the crap out of G-Rod. Kelly isn't seen in the footage, but G-Rod said the rapper stood by and watched as his bodyguards punched him and kicked him in the face.
According to TMZ, one of the guys who assaulted G-Rod is MGK's drummer "R00K." Another guy in the video goes by the name "Slim."
G-Rod was reportedly treated at a nearby hospital for facial injuries, and he told TTMZ's he's already lawyered up and plans to sue MGK, but he said he'll call the lawsuit off and drop the criminal charges if MGK signs a waiver to fight him in the octagon "man-to-man without goons or weapons."
"Real f**king manly of this BITCH!!!" G-Rod said to TMZ in response to the surveillance footage. "Tell him I'll take him plus 1 of his goons to get him to my weight class!!! And I'll drop all charges!! MGP***Y"