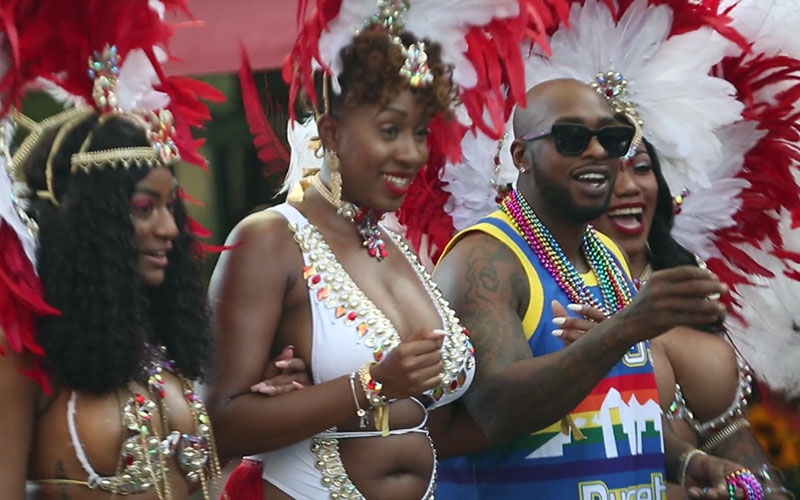 We're just days away from the Black Ink Crew (New York) Season 7 premiere, and VH1 is teasing fans by previewing the first six minutes of the episode.
The clip opens up with Ceaser throwing a block party at his 113th street shop in Harlem to celebrate the upcoming launch of a new shop in New Orleans. "You heard right! Four shops, bitches!" Ceaser says excitedly. "Now I have 113th, 125th, ATL, and New Or-leans!"
When the party moves inside the shop, the cameras cut to Alex and Donna tonguing each other down. "Dayummmmm!" Kitty says. "Is she gonna come up for air?!" Apparently, the two have gotten extremely close ever since professing their love to one another since the Miami trip at the end of Season 6. "I just love everything about this man," says Donna.
Because Sky can't do anything without being extra, she makes a huge grand entrance by being carried into the shop on a platform being held up by four shirtless men. "I am the Empress of Black Ink, so of course I deserve the same royal treatment that Ceaser got the last time he opened up a shop," she says. "Therefore, I'm here with these half-naked servants to celebrate the grand opening of Black Ink New Orleans, bitches!"
Things are still pretty tense between Tati and the rest of the cast, so when she walks in with an emotional support dog, the jokes start flying. "I need emotional support," she explains, because "I don't know what to expect from some of you guys."
Knowing exactly what she's talking about, everyone says "Ooh!" and looks at Jadah. If you'll remember, Jadah jumped on her in Miami for allegedly messing around with Teddy. Then, lest we forget, we're treated to a montage of Tati being attacked by Young Bae and Donna, and, of course, the Jadah incident.
The Black Ink Crew Season 7 Episode 1 preview ends with Ceaser announcing that he'll be taking some of the crew to New Orleans to help open the new shop, while others will stay behind to watch over the New York shops.
To find out what else the cast of Black Ink Crew (New York) is up to, be sure to tune in to the two hour Season 7 premiere this Wednesday, September 19th at 10/9c following the Black Ink Crew Chicago Season 4 Finale.
In the meantime, check out the Black Ink Crew Season 7 press release below to find out what you can expect from the cast this season:
After six years of inking their place in the New York tattoo scene, this season follows the crew as they set their sights on the future to grow their empires and families.

In the new season, Black Ink's head honcho, Ceaser, continues his reign as the tattoo king of New York while also opening the doors to his fourth shop in the Big Easy. The New Orleans hub is an upscale 24-hour tattoo parlor, bar and restaurant that is bound to become a scene staple.

Sky is more committed than ever to her newfound relationship with her son, Des, which she's balancing along with the launch of the new shop. After their sex tape scandal, Donna and Alex are tighter than ever as they work to build a substantial relationship. Young Bae begins her journey to U.S. citizenship and welcomes her first bundle of joy.

Walt's path to sobriety is tested when he heads to New Orleans and is tempted by the party scene. O Sh*t cooks up solo plans as he voices frustrations with the New York shop. Melody, now a mother, hopes to connect with her family after finally embracing her biracial identity.
Be the first to receive breaking news alerts and more stories like this by subscribing to our mailing list.