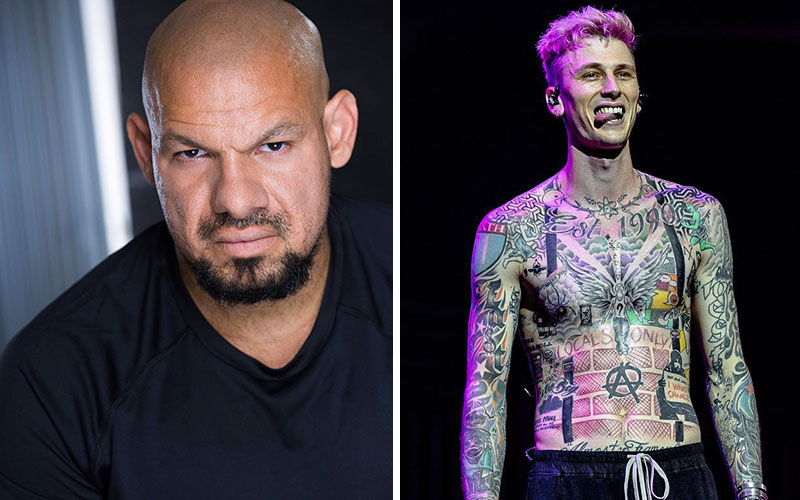 The feud between Eminem and Machine Gun Kelly just took an odd turn. Actor Gabriel "G-Rod" Rodriguez says he was physically assaulted by MGK's bodyguards after he confronted the rapper over his beef with Eminem.
TMZ posted a video clip of Rodriguez approaching Kelly at a bar in Atlanta on Friday (Sep 14). The video shows Rodriguez walking up to the rapper and repeatedly called him a "p***y."
G-Rod's exact words: "I'm gonna say it because it has to be said, you're a p***y for going for family!" He told TMZ he was especially upset with MGK because he's a husband and a father of three.
Apparently, the 40-year-old actor—who has appeared in shows like Power, Ozark, Ballers and NCIS—was none too pleased with MGK sparking the Eminem beef by calling the rap vet's daughter Hailie hot years ago.
Right before the video ends, MGK appears to shove G-Rod and turn the phone away. G-Rod told TMZ that five of Kelly's bodyguards got involved after the video stopped recording, and that's when MGK "suddenly got tough and started challenging him." G-Rod says the bar's manager immediately sided with MGK and kicked him out.
Two hours later, when the actor was walking towards his hotel, which was right across the street from the bar, he noticed MGK and his crew hanging outside their tour bus, and another verbal confrontation ensued. Cops intervened, which pissed Kelly off even more, and he started cussing at the officer, calling him a "p***y" and a "pig."
G-Rod says the officer didn't do anything, which pissed him off. He said he told the cop that if a black or Latino person had acted that way towards an officer, they would immediately be tased or worse.
The cops left, but G-Rod and MGK's confrontation spilled into the hotel lobby. G-Rod said that he offered to fight MGK and his bodyguards one-by-one if they wanted to fight, but instead, the bodyguards all jumped him at once.
The whole thing was captured on surveillance video. Cops who watched the footage saw one bodyguard slam G-Rod and then three others joined in and started punching him and kicking him in the face. G-Rod says MGK stood by and watched as his bodyguards beat him up. G-Rod was treated at a nearby hospital for facial injuries. Police are reportedly investigating the incident.
G-Rod told TMZ he's already hired a lawyer and plans to file a lawsuit against MGK, but he says he'll call it off "if we both sign waivers and meet in an octagon and go man-to-man without goons or weapons."
"#MGK P***Y!! Jump me with your 5 goons I'm still standing you F***ING PUSSY! @machinegunkelly" he wrote on a video on his Instagram story (above). "You're still a little p***y, real men fight one-on-one, they don't send their f***ing goons to fight for them. Fucking p***y, I'm still standing," he said in the clip.
Machine Gun Kelly has yet to comment on the alleged altercation, which happened the day Eminem responded to MGK's "Rap Devil" diss track with his own diss track called "Killshot."
Be the first to receive breaking news alerts and more stories like this by subscribing to our mailing list.