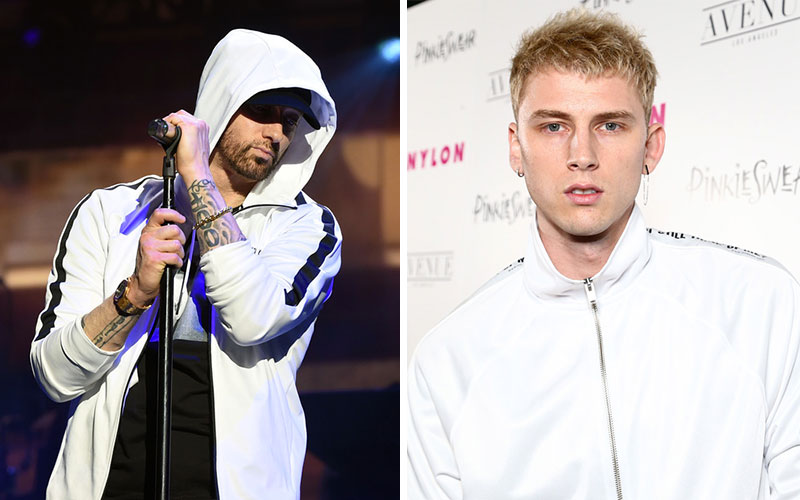 It took almost two weeks, but Eminem has FINALLY responded to Machine Gun Kelly's "Rap Devil" diss track with a diss record of his own titled "Killshot."
Eminem kicks the 4-minute track off by claiming he left hickeys on Rihanna's neck, and goes on to make references to Halsey, G-Eazy, and, oddly enough, Lil Tay. He also compares MGK to Taylor Swift and Iggy Azalea.
Em seems to respond to pretty much everything MGK said on "Rap Devil," and now, it's up to their respective fanbases to decide who took the W and who's walking away with an L.
Prior to "Rap Devil," Eminem fired the first shots with "Not Alike" from his Billboard 200-topping surprise album Kamikaze. The song took aim at MGK, with Em rapping: "Let me put a fucking silencer on this little non-threatening blond fairy cornball takin' shots at me/ You're not ready, fool, break yourself like Rocksteady Crew."
Notable lyrics from "Killshot":
"How you gonna name yourself after a damn gun and have a man bun?"

"I'm 45 and I'm still outselling you / By 29 I had three albums that had blew / Now let's talk about somethin' I don't really do / Go in someone's daughter's mouth stealin' food / But you're a f**kin mole hilil, now I'ma make a mount of you, woo!"

"Younger me? No you're the wack me / It's funny, but so true / I'd rather be 80-year-old me than 20-year-old you"

"Shootin' a video just to fuckin' dig your own grave / Got you at your own wake, I'm the billy goat / You ain't never made a list next to no Biggie, no Jay / Next to Taylor Swift, and that Iggy ho, you about to really blow"

"My biggest flops are your greatest hits"

"What good is a f***in' machine gun when it's out of ammo?"

"You're f***in' salty 'cause Young Gerald's balls-deep inside of Halsey"

"Just leave my d**k in your mouth, and keep my daughter out it"
Prior to today, in an interview with Sway Calloway, Eminem had praised Machine Gun Kelly for his "Rap Devil" diss track and said he wasn't sure whether he would respond. "It's not bad for him," Eminem said of the MGK song. "He had some good lines in it."
Eminem also talked about what sparked this "beef" between him and MGK. Apparently, Em found out about some comments MGK made about his daughter Hailie after going down "the f***ing wormhole of YouTube."
Em explained: "So I see 'Machine Gun Kelly talks about Eminem's daughter' whatever right. So, I'm like 'what the f***?' I click on it… he starts doing a press run basically about Hailie. I'm like 'what the f***? Yo, my man better chill.'"
But, seemingly contradicting himself, Em went on to say that MGK's comment about Hailie isn't why he went after him on Kamikaze.
"The reason I dissed him is actually a lot more petty than that. The reason that I dissed him is because he got on—first what he said 'I'm the greatest rapper alive since my favorite rapper banned me from Shade 45' or whatever he said, right? Like I'm trying to hinder his career," Eminem said. "I don't give a f*** about your career. You think I actually f***ing think about you? You know how many f***ing rappers are better than you? You're not even in the f***ing conversation."
Em continued: "Now, I'm in this f***ing weird thing because I'm like I have to answer this motherf***er and every time I do that, it makes that person. As irrelevant as people say I am in hip hop, I make them bigger by getting into this thing where I'm like I want to destroy him, but I also don't want to make him bigger because now you're a f***ing enemy. I'll leave it at that."
With Eminem dropping "Killshot," the ball is now in Machine Gun Kelly's court.
Be the first to receive breaking news alerts and more stories like this by subscribing to our mailing list.