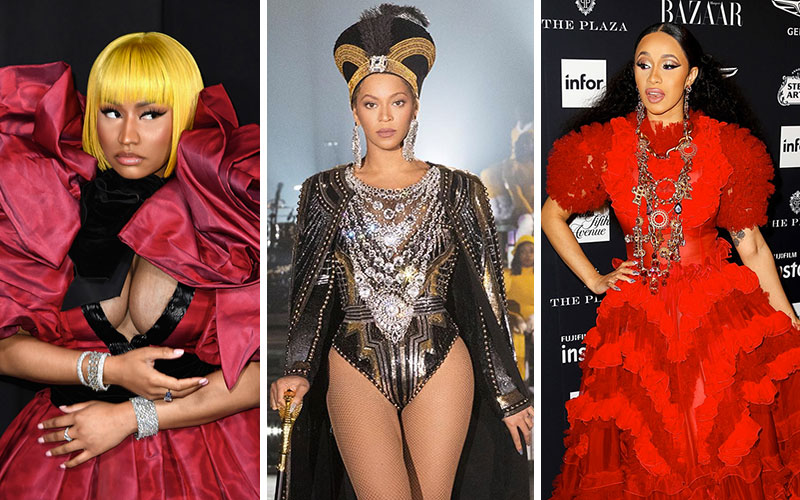 It seems like everyone in the world is taking sides when it comes to this explosive beef between Nicki Minaj and Cardi B. Even Beyoncé (allegedly).
Rumor has it that Beyoncé has pledged her allegiance to one of the two fighting femcees, but which one?
While Queen Bey has collaborated with Nicki Minaj and has performed with her on several occasions, she has also been seen showing love to Cardi B.
Cardi even posted a video of her breakthrough hit "Bodak Yellow" blaring through the speakers during the Columbia, South Carolina stop of Beyoncé and JAY-Z's On The Run II tour, which prompted fans to believe that the mother of three was Team Cardi.
But, on the flipside, Beyoncé also posted a picture of Nicki Minaj's mugshot on her website, which was taken during the OTR II concert in Arlington, Texas Tuesday night (Sep. 11).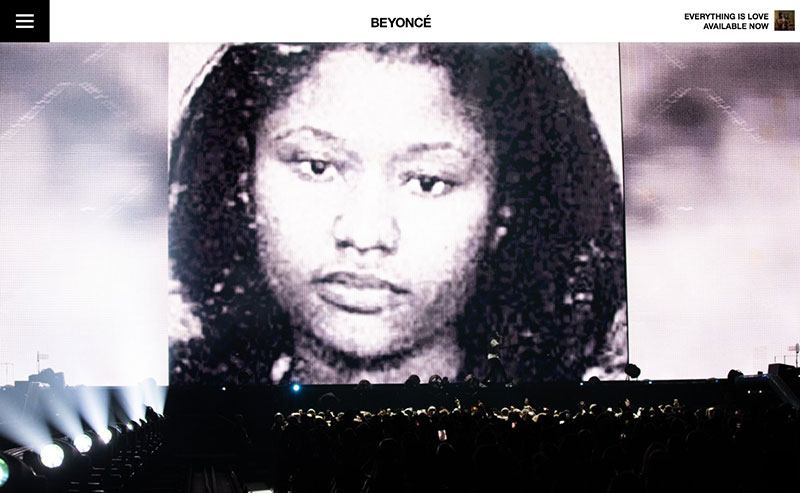 The image shows up while JAY-Z is performing "99 Problems" and has been used on every night of the tour, along with mugshots of other famous people like Snoop Dogg, Meek Mill, Justin Bieber, and even Jay himself.
So fans are wondering why she chose now to post the pic on her website. Is she's saying that she's Team Nicki?
Beyoncé is the queen of subliminals, so this could very well mean that she's letting the world know who's side she's on. Or this could just be pure coincidence. But some of Bey's fans are saying that she's 100% team Nicki.
Beyoncé picked a side! She and Jay show this picture in every concert after Cardi B tried to attack Nicki Minaj at the NYFW. #queensupportqueen pic.twitter.com/pzuGEk1Zm1

— Steven Estrella (@StevEstrella) September 12, 2018
"Beyonce posted a pic of Nicki on her website. Bey making it CLEAR who she really f*** with, especially after cardi posted a video of OTRII fans rapping bodak yellow," one fan tweeted. "Beyonce been using approved funny mug shot photos of different celebs at her show. She decided to post the actual pic of Nicki on her website, after cardi was bragging on IG how OTR fans f***ed with her. She posted a old ass video of them rapping bodak yellow."
https://twitter.com/CocoPuffs_1994/status/1039960089367437312
https://twitter.com/CocoPuffs_1994/status/1039962712590057473
Others, however, are saying there's nothing to see here.
The barbs are convinced Beyoncé is on Nicki's side cause she's been using Nicki's mug shot on tour and the bardi gang think she's on Cardi B's side cause DJ Khaled is playing her music on the tour and ppl are singing the lyrics loudly. Y'all are so… pic.twitter.com/z2m0hZIbX6

— Funke Oduwole (@OduwoleF) September 12, 2018
And some just want y'all to leave the Queen out of it.
Leave Beyonce out of this Nicki/Cardi Drama. Thanks.

— Terrell Mallory (@_Twinndiesel) September 13, 2018
Be the first to receive breaking news alerts and more stories like this by subscribing to our mailing list.